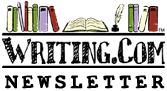 Drama





This week: Fun Drama

Edited by: Annette
More Newsletters By This Editor



1. About this Newsletter
2. A Word from our Sponsor
3. Letter from the Editor
4. Editor's Picks
5. A Word from Writing.Com
6. Ask & Answer
7. Removal instructions



Hello dramatic writers and readers, I am Annette
, your guest editor for this issue.

| | |
| --- | --- |
| ASIN: B01IEVJVAG | |

Fun Drama





Drama can make you laugh.



I know it is hard to believe, but before Writing.Com, there was Aristotle. Lucky for those who had to write or read before August 2000, because Aristotle laid it all out for those who wanted to find out about the best way to entertain by telling stories.

Aristotle broke drama down like this: Comedy is a dramatic imitation of poor or below average people while tragedy imitates rich or better than average people. In short, if a poor man falls from a train, it's funny. If a rich man falls from a train, it's sad and we are not allowed to laugh but have to show concern.

As messed up as it sounds, that's how Charlie Chaplin made us laugh with his impersonation of a poor chap who gets into one accident after the next. In the same era of silent movies or the beginning of rudimentary sound motion pictures, when a well-dressed person had an accident, everybody else in the movie stood with shocked and worried faces.



War and Wine (13+)
Young Edmund Huet struggles to maintain his family's vineyard during World War II.
#

1452559

by StephB aka Rona Virus
road accident (E)
an incident from my life.... which could have killed me......
#

1615810

by Mystic Soul
Invalid Item
This item number is not valid.
#

1888669

by Not Available.
Birmingham Plagues are boring (13+)
Class isn't
#

2014108

by Dragyn
Necessity (ASR)
And this quirk could only signify the beginning of the end of their relationship.
#

1159738

by storyteller [retired]
A Rookie's Tale (13+)
Nothing exciting ever happened in Logan's Helm, until the night she came ...
#

1068306

by iKïyå§ama
Invalid Item
This item number is not valid.
#

775838

by Not Available.
Invalid Item
This item number is not valid.
#

1988055

by Not Available.
Invalid Item
This item number is not valid.
#

1873134

by Not Available.
The Defiant Hunter (18+)
A hunter determined to protect the defenseless.
#

1992123

by Chasing Worms
Invalid Item
This item number is not valid.
#

1805328

by Not Available.
Invalid Item
This item number is not valid.
#

1463757

by Not Available.



Have an opinion on what you've read here today? Then send the Editor feedback! Find an item that you think would be perfect for showcasing here? Submit it for consideration in the newsletter!
https://Writing.Com/main/newsletters/action/nli_form



Don't forget to support our sponsor!




| | |
| --- | --- |
| ASIN: B07B63CTKX | |

Comments I got for my last Drama Newsletter "Sad Drama"
.

StephB aka Rona Virus
wrote: Loved your look at Drama this week. The drama masks which are generally used to represent drama depict "tragedy" and "comedy." Here's a one act play I wrote, meant to focus on "drama." I agree - there's a lot more tragedy out there as compared to comedy. I think comedy gets overlooked in the drama genre. "War and Wine"
Thank you for your praise of my newsletter and for giving me an item to showcase.
Quick-Quill
wrote: I lable Drama as somehting that isn't in one of the other obvious genres. Not particularky a a mystery, fantasy acifi or thriller. A story that is character driven with the point being the conflicts or dramatic events. Nicklas Sparks comes t omy mind.



Yes, definitely.



SkyHawk - Into The Music
wrote: Octobersun,

The writing I do that I consider "dramatic" usually has at least one conflict of some sort. It can be an overall conflict, say man vs nature (e.g. medical helicopter teams evacuating patients before a hurricane arrives). It can be personal conflicts (e.g. clashes of personalities, or scheming by one person to damage / destroy another's career). It could be man vs machine, such as mechanics having to deal with a helicopter that, despite their best efforts, can never stay in service because of needing more repairs. It can even be person vs future, as someone tries to figure where they go next in their career.

I also feel that any good "drama" has at least momentary, well-placed splashes of "comedy." Case in point -- in the film "Apollo 13", the crew suddenly finds their CO2 levels climbing dangerously high. Freddo Hayes, who computed the rates, suddenly realizes he only figured for two people, not the whole three-person crew. Jack Swigert, a last-minute change to the crew, quips, "Does that mean I have to hold my breath?" A quick comedy line that punctuates the underlying dramatic problem. "road accident"
Love the many helicopters here. Especially the one with that cheeky personality and kept resisting repair attempts. That sounds like comedy gold right there. (If it weren't so serious.)

| | |
| --- | --- |
| ASIN: B01CJ2TNQI | |



To stop receiving this newsletter, click here for your newsletter subscription list. Simply uncheck the box next to any newsletter(s) you wish to cancel and then click to "Submit Changes". You can edit your subscriptions at any time.