Printed from https://www.writing.com/main/newsletters/action/archives/id/6891
Horror/Scary: March 25, 2015 Issue [#6891]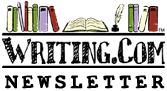 Horror/Scary





This week: Men vs Women

Edited by: LJPC - the tortoise
More Newsletters By This Editor



1. About this Newsletter
2. A Word from our Sponsor
3. Letter from the Editor
4. Editor's Picks
5. A Word from Writing.Com
6. Ask & Answer
7. Removal instructions



Sage Quotes:

"Most writers regard the truth as their most valuable possession, and therefore are most economical in its use."
~ Mark Twain

"And as imagination bodies forth
The forms of things unknown, the poet's pen
Turns them to shapes and gives to airy nothing
A local habitation and a name."
~ William Shakespeare (from A Midsummer Night's Dream)

"There's no such thing as writer's block. That was invented by people in California who couldn't write."
~ Terry Pratchett



| | |
| --- | --- |
| ASIN: B07N36MHWD | Kindle |

Men vs Women



Sexism in Speculative Fiction Publishing – Is it Real?



I've always published my Horror short stories under a man's name. I've felt that men in the industry are taken more seriously than women.

Is sexism in publishing a real thing?

Here are some surprising facts and figures.


Top Selling Authors of All Time
84 authors – (64 men, 20 women)

Author Name Appr. Total Book Sales Genre

William Shakespeare 2 billion - 4 billion Plays and poetry
Agatha Christie 2 billion - 4 billion Mysteries
Barbara Cartland 500 million - 1 billion Romance
Danielle Steel 500 million - 800 million Romance
Harold Robbins 750 million - 750 million Melodrama
Georges Simenon 500 million - 700 million Mysteries
Sidney Sheldon 370 million - 600 million Melodrama
Enid Blyton 300 million - 600 million Children's literature
Dr. Seuss 100 million - 500 million Children's literature
Gilbert Patten 125 million - 500 million YA Adventures
J. K. Rowling 350 million - 450 million Fantasy
Leo Tolstoy 413 million Melodrama/Philosophy
Corin Tellado 400 million Romance
Jackie Collins 250 million - 400 million Romance
Horatio Alger, Jr. 200 million - 400 million Adventure
R. L. Stine 100 million - 400 million Horror/Comedy
Dean Koontz 325 million - 400 million Horror
Nora Roberts 145 million - 400 million Romantic/suspense
Alexander Pushkin 357 million Plays, poetry
Stephen King 300 million - 350 million Horror
Louis L'Amour 230 million - 330 million Western
Erle Stanley Gardner 100 million - 325 million Mystery
Jin Yong 100 million - 300 million Chinese Wuxia
Jiro Akagawa 300 million Mysteries
Janet Dailey 300 million - 300 million Romance
Edgar Wallace 300 million Mysteries
Robert Ludlum 110 million - 290 million Thriller
James Patterson 150 million - 275 million Thriller
Frédéric Dard 200 million - 270 million Mysteries
Jeffrey Archer 120 million - 270 million Mysteries
Stan and Jan Berenstain 200 million - 260 million Children's literature
John Grisham 100 million - 250 million Thriller
Zane Grey 250 million Western
Irving Wallace 250 million Thriller
J. R. R. Tolkien 200 million - 250 million Fantasy
Karl May 100 million - 200 million Western
Mickey Spillane 100 million - 200 million Mysteries
C. S. Lewis 100 million - 200 million Fantasy
Kyotaro Nishimura 200 million Mysteries
Dan Brown 200 million - 200 million Thriller
Ann M. Martin 172 million - 180 million Children's literature
Ryotaro Shiba 180 million Historical
Arthur Hailey 150 million - 170 million Thriller
Gérard de Villiers 150 million Mysteries
Beatrix Potter 100 million - 150 million Children's literature
Michael Crichton 150 million Thriller
Richard Scarry 100 million - 150 million Children's literature
Clive Cussler 40 million - 150 million Adventure
Alistair MacLean 150 million Thriller
Ken Follett 90 million - 150 million Thriller
Astrid Lindgren 100 million - 145 million Children's literature
Debbie Macomber 60 million - 140 million Romance
Paulo Coelho 92 million - 140 million Literary
Eiji Yoshikawa 120 million Musashi Japanese
Catherine Cookson 100 million - 120 million Romance
Stephenie Meyer 100 million - 116 million Paranormal/Romance
Norman Bridwell 100 million - 110 million Children's literature
David Baldacci 110 million Thriller
Roald Dahl 100 million Children's literature
Evan Hunter 100 million Mysteries
Andrew Neiderman 100 million Horror (ghost writer for V.C. Andrews since 1986)
Roger Hargreaves 100 million Children's literature
Anne Rice 75 million - 100 million Horror
Robin Cook 100 million Thriller
Wilbur Smith 80 million - 100 million Adventure
Erskine Caldwell 80 million - 100 million Literature
Eleanor Hibbert 100 million Romantice/suspense
Lewis Carroll 100 million Children's literature
Denise Robins 100 million Romance
Cao Xueqin 100 million Chinese literature
Ian Fleming 100 million Thriller
Hermann Hesse 100 million Literature
Rex Stout 100 million Mystery
Anne Golon 100 million Adventure/Melodrama
Frank G. Slaughter 100 million Historical/Adventure
Edgar Rice Burroughs 100 million Adventure
John Creasey 100 million Thriller
James Michener 100 million Historical
Yasuo Uchida 100 million Mysteries Japanese
Seiichi Morimura 100 million Mysteries Japanese
Mary Higgins Clark 100 million Thriller
Patricia Cornwell 100 million Thriller
Tom Clancy 100 million Thriller
Penny Jordan 90 million Romance

(from Wikipedia - http://en.wikipedia.org/wiki/List_of_best-selling_fiction_authors)


"Best" Modern Horror Authors
29 authors -- (25 men, 4 women)

1 Clive Barker
2 Ramsay Campbell
3 Richard Matheson
4 Stephen King
5 James Herbert
6 Richard Laymon
7 Dean Koontz
8 Robert McCammon
9 Peter Straub
10 Dan Simmons
11 Robert Block
12 Shirley Jackson
13 Graham Masterton
14 Joe Hill
15 Jack Ketchum
16 Bentley Little
17 Brian Keene
18 F. Paul Wilson
19 Joe Lansdale
20 Bryan Smith
21 Ray Garton
22 John Saul
23 Mark Z. Danielewski
24 Billie Sue Mosiman
25 Graham Joyce
26 Poppy Z. Brite
27 Bryan Carroll
28 Christopher Golden
29 Anne Rice
(from Ranker.com)


There's a belief in the writing community that women "can't" write Horror (or Science Fiction) or that the male readers (who buy most of the books) don't want to read speculative fiction written by women. While it's true that some female writers have encountered the "Boy's Club" attitude and misogyny at conferences and speakers panels, it seems that another reason is that fewer women write speculative fiction than men to begin with.


Julie Crisp, Editor at TOR Publishing, "Sexism In Genre"


"… every genre publisher in the UK has female commissioning editors and 90% of the genre imprints here are actually run by women. ... The sad fact is, we can't publish what we're not submitted."



TOR Inbox Submissions from Women Men

Historical/epic/high-fantasy 33% 67%

Urban fantasy/paranormal romance 57% 43%

Horror 17% 83%

Science-fiction 22% 78%

YA 68% 32%

Other (difficult to categorise) 27% 73%

Total 32% 68%

(from http://www.torbooks.co.uk/blog/2013/07/10/sexism-in-genre-publishing-a-publisher...)




So if TOR (and probably most publishers) receive only 17% of Horror submissions from women, no wonder there are few women Horror writers being published.





Do you buy and read Horror written by women – or do you stick to books by the famous male authors? Do you think men are better Horror writers than women?
Until next time: Let the horror bleed onto the pages with every word!

Highlighting Women Horror Writers!
The Music Box (18+)
Honorable Mention Winner in the 75th Writer's Digest Competition.
#

1093302

by StephBee Salutes 2 Service
The Faithful Servant (18+)
Summoned by careless words, he loves them all until the very end.
#

1442273

by Adriana Noir
Invalid Item
This item number is not valid.
#

1159777

by Not Available.
Witch Trials (13+)
A short story about the Salem Witch Trials, written for a contest. Please R&R!!
#

876320

by spidey
This is the Best Trap, Yet! (18+)
An amusing tale of terror.
#

1335818

by ẂebẂitch
Invalid Item
This item number is not valid.
#

1141492

by Not Available.
Invalid Item
This item number is not valid.
#

1156615

by Not Available.
Dreamcatcher (18+)
What happens when a dreamcatcher is full? 120 word flash
#

1270576

by Arakun the Twisted Raccoon
Mary, Mary, Quite Contrary! (13+)
If only she had a bell to ring like in olden days. The Writer's Cramp 08-03-2012 winner
#

1883193

by J. A. Buxton
Invalid Item
This item number is not valid.
#

1473588

by Not Available.



Have an opinion on what you've read here today? Then send the Editor feedback! Find an item that you think would be perfect for showcasing here? Submit it for consideration in the newsletter!
https://Writing.Com/main/newsletters/action/nli_form



Don't forget to support our sponsor!




| | |
| --- | --- |
| ASIN: B01FST8A90 | |

Your full time Horror Newsletter Editors:
billikus and
LJPC - the tortoise
have published --
** Image ID #1969199 Unavailable ** ** Image ID #1969200 Unavailable ** ** Image ID #1969201 Unavailable **
Soul Cutter--Lexa Cain (Amazon)
The Watercourse--W.D.Wilcox (Amazon)
Possession--W.D.Wilcox (Amazon)



To my delight, some writers took the time to comment on my last newsletter: "Fear the Unseen"
Thank you!
Comments listed in the order they were received.
Vampyr14
writes: Another great newsletter. The senses are so important to experiencing things and it's easy to forget one of them when writing… Usually smell.

Yes, I always try to make sure my writing smells.
Quick-Quill
writes: In the movie SECONDHAND LIONS There is the time when the young boy discovers the lion. Then allows the lion to live in the corn field. When his relatives come to visit the children go into the cornfield. I know something is going to happen. There is that moment when you mind says A lion and an unsuspecting kid with no smarts. You mind will calculate the outcome faster than your eyes will read the words on the page or the movie will play out. That is crafting a scary scene. I wonder what the director thought when he read the screen play?

Great point about how our imaginations can run wild! Thanks for writing to the newsletter.
Osirantinous
writes: As usual, a great newsletter that makes me think. I'm bad at prioritising showing over telling, and I usually forget the senses; but they're a great way of showing. Especially in horror/scary. And you're right, our imagination is the greatest 'frightener'. I had to stop reading a scary chapter on the train once because I was going home to a dark, empty house and I didn't want my imagination to turn me into a freaked out home-owner checking behind every door and under every bed!! And thanks for mentioning my story too
That's funny!
Thanks so much for writing to the newsletter.
Phoenix
writes: You hit the nail on the hand in advocating the use of sensory information. Getting readers to see the images we're crafting with words almost requires using sights, smells, sounds and textures to make it possible to take the words from the page and translate them into something the reader can not only imagine but feel. Great newsletter!

Yes, every sense we emphasize lets the reader "feel" they're actually in the place of the character. Thanks so much for replying to the newsletter.


drifter46 writes: Senses inspire the imagination and we all know how dangerous that can be.

Yes – nothing's more powerful than the imagination. Thanks for replying to the newsletter!

| | |
| --- | --- |
| ASIN: B085272J6B | Kindle |



To stop receiving this newsletter, click here for your newsletter subscription list. Simply uncheck the box next to any newsletter(s) you wish to cancel and then click to "Submit Changes". You can edit your subscriptions at any time.



Printed from https://www.writing.com/main/newsletters/action/archives/id/6891