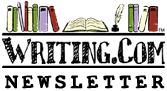 Noticing Newbies





This week: You've Read These Millions of Times.

Edited by: Reader? Check out 2233315
More Newsletters By This Editor



1. About this Newsletter
2. A Word from our Sponsor
3. Letter from the Editor
4. Editor's Picks
5. A Word from Writing.Com
6. Ask & Answer
7. Removal instructions




The Noticing Newbies Newsletter's goal is to make the newer members feel welcome and encourage them with useful information and/or links to make navigating Writing.com easier. Writing.com members of all ages and even veteran members can find useful information here. If you have specific questions, try visiting "Writing.Com 101"
and/or "Noticing Newbies"
.

Meet The Noticing Newbies Full-Time Newsletter Editors

| | |
| --- | --- |
| ASIN: B085272J6B | |


Okay, so "millions of times" is an exaggeration, right? It's actually called 'hyperbole". That term falls into a similar category as idiom, simile, and metaphor. We've all seen them. So let's learn what they all are.

Both similes and metaphors are forms of comparison that compare words in a sentence. They can be used to make your sentences more interesting. How are similes and metaphors different? I hadn't really given it much thought lately until I received an email from the talented member The prodigal son returns 2021.
who emailed me to talk about my last newsletter regarding the "Objective Correlative" literary device. In it he wrote:



"Speaking of metaphors in particular, I felt it was important to mention how writers need to maintain like symbols and similes when using narrative to describe and enhance a specific scene -- especially when the intention is to evoke strong emotions or other sensory impact.

The words flowed from him like water from a fountain, and fell upon his audience like a hammer.

In the sentence above, we see an awkward, inappropriate use of dissimilar similes. Here's a better version:

The words flowed from him like water from a fountain, and fell upon his audience like a torrential rainstorm.

I see these kind of mistakes made frequently by newer writers especially."



What a great thing to point out and it got me thinking, what a great idea for a newsletter topic for new authors. So I thought the first thing to do is to learn about these terms.


Metaphors: Metaphors are like similes in that two subjects that are not usually linked are linked. Metaphors are different in that, rather than a simple comparison, a metaphor states that the two subjects are the same or equal. The effect of this is to give one object the attributes of the other. Here are two simple and common metaphors.


Brooke is a chicken.
Time is money.



Other forms of metaphor are:


Dead metaphor
is a figure of speech which has lost its original imagery of its meaning due to extensive, repetitive, and popular usage
Extended metaphor
is when an author exploits a single metaphor or analogy at length through multiple linked vehicles, tenors, and grounds throughout a poem or story.
Simile: The best way to find a simile in a text is to ask yourself whether or not two unlike things are being compared. Why do we use them? They add depth to the language.


Life is like a box of chocolates.
He was snug as a bug in a rug,
Hyperbole: an obvious exaggeration that should not be taken literally


I'm so hungry I could eat a horse.
I've driven this same road a million times.
Idioms: a figurative phrases that are commonly used. Unlike similes and metaphors, there are no rules that define them, other than being figurative. You use idioms all the time without even noticing them. Some include actions:


It's raining cats and dogs.


Literally = cats and dogs are falling from the sky.
Figuratively = It is raining heavily.

While some include using color to convey another meaning:


She was really feeling blue.


Literally = the person was the color blue.
Figuratively = the person is feeling melancholy and sad.


Regional Idiom is an idiom that varies in different locations and cultures.


As in the example above, "raining cats and dogs" might be confusing in another country. In Africa, the more regional idiom would be "it's raining old women with clubs".
In America, we sometimes say "beating around the bush" when someone is not getting to the point. In Norwegian and Czech, they might say "walking around hot porridge".
Personification: a figure of speech where a composer has given human traits to an object or animal.


My computer throws a fit every time I open more than one program.
The ocean danced in the moonlight.



I hope you found these examples interesting and learn to use them to enhance your own writing.

Write and Review on! ~ Brooke


"In I Never Metaphor I Didn't Like, quotation maven Dr. Mardy Grothe fixes his attention on the three superstars of figurative language—analogies, metaphors, and similes. The result is an extraordinary compilation of nearly 2,000 feats of association that will entertain, educate, and occasionally inspire quotation lovers everywhere."
| | |
| --- | --- |
| ASIN: 0061358134 | |



I had two entries from last month's "Invalid Item"
so to celebrate their participation, both of them received a Word Economy Merit Badge. Thanks to you both for participating and doing a fantastic job.
~
~






Now on to the editor's picks for this week. I've highlighted items that have to do with our topic this month - Metaphors, Similes, Idioms, and Personification. Enjoy!



~
~
~
~
~
~
~
~
~
~
~
~
~
~
~
~
~
~



Have an opinion on what you've read here today? Then send the Editor feedback! Find an item that you think would be perfect for showcasing here? Submit it for consideration in the newsletter!
https://Writing.Com/main/newsletters/action/nli_form



Don't forget to support our sponsor!




| | |
| --- | --- |
| ASIN: B085272J6B | |


I received some wonderful feedback to my last newsletter [#6884] "The Objective What?"
and I'm proud to share it with you.

From phanpub with "Invalid Item"

Good points, Brooke. I think of what Elliot calls "objective correlative" as creating sort of a story within a story symbolically. It is important that this "story" dovetails with the overt story. That may provide a more powerful expression of the theme. It is important also, though, that the reader meet the writer halfway. If the reader does not think that the writer has this ability, he/she may miss the story that the objective correlatives tell. Like one of my college English teachers once said, "to learn to write better, you must learn to read better."

I couldn't agree more.
Thanks for writing in!

From Jimmy E. Durham, RN-BC

Thank you so much for including my story in the Editor's Picks section of this newsletter! I appreciate the recognition
You're very welcome.
Keep writing!

| | |
| --- | --- |
| ASIN: B085272J6B | |



To stop receiving this newsletter, click here for your newsletter subscription list. Simply uncheck the box next to any newsletter(s) you wish to cancel and then click to "Submit Changes". You can edit your subscriptions at any time.