Printed from https://www.writing.com/main/newsletters/action/archives/id/6964-Where-Inspiration-Finds-Us.html
Noticing Newbies: May 06, 2015 Issue [#6964]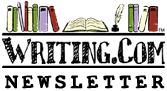 Noticing Newbies





This week: Where Inspiration Finds Us

Edited by: ember_rain
More Newsletters By This Editor



1. About this Newsletter
2. A Word from our Sponsor
3. Letter from the Editor
4. Editor's Picks
5. A Word from Writing.Com
6. Ask & Answer
7. Removal instructions





I'm still using the hot spot on my phone to sign in and connect with all of you. But, I wouldn't miss this opportunity for the world.



| | |
| --- | --- |
| ASIN: B00KN0JEYA | |



When I was a little girl there were two things that were always true. My family would spend every moment we could at one of Arkansas's many state parks and I was going to talk just to hear the sound of my own voice. Way back then, I didn't have the appreciation for silence that I do now—thank you Simon and Garfunkel.

My mother's way to get me to leave her alone was to tell me to go chase squirrels, right up until the day I nearly caught one. She saw me standing over this poor squirrel, the sun casting my shadow behind me and the wind blowing my scent away, so the squirrel didn't notice. She began screaming for my father to stop me. She just knew I was going to pick the squirrel up and it was going to seriously hurt me. I mean, I was all of three or four, at the time. Instead, I leaned over and whispered boo to the squirrel as I clapped my hands. According to my mother that squirrel did about three flips in the air, hit the nearest tree and never looked back. Mom however, never told me to to chase squirrels again.

Mom's new solution was to tell me that the trees were talking to me. I just had to close my mouth long enough to hear them. I was probably around thirteen or fourteen when I started to believe her. I was sitting under an oak at the Greer's Ferry State Park just outside of Heber Springs, Arkansas when I noticed that the fir tree, in front of me, looked like an old woman wrapped in a cloak of morning. I went home and wrote a story about her. I couldn't get the image out of my head until I did.

That has carried over into adulthood for me. I have for the last 18 years lived on the same piece of timberland just a bit south and east of Petite Jean Mountain. My house sits in what is essentially a large oak grove. When I went out tonight, to sit on the front porch, I was greeted with quite a visual. In front of me and a little to the left, was the tall oak tree that looks like Mother Goose flying by. Under it was a small evergreen of some sort –ceder maybe or fir-- when the bottom branches of the mother goose tree combined with the smaller evergreen I saw the face of a man wearing a coyote headdress All I could think of was, Loki, trickster that he is, was paying me a visit. The human looking part of the face made up by the branches of the evergreen was looking off to my right to another evergreen that in the breeze appeared to be a dragon flapping his wings.

These are the things of imagination that lead to some awesome story ideas. What if the old gods are real? What if they survive in the trees waiting to be noticed and remembered? What if they never went away and we just stopped appreciating them? What if they were just really good stories used to explain the unexplainable and with all the things we still don't understand appear occasionally in a tree in hopes that we will write one more story to explain something science has yet to figure out?

It was my sixth grade reading teacher that had me write my first story and got me hooked. It was the Blanchard Springs Caverns that inspired that story and it was the spirit of the trees that I couldn't get to talk to me, at the time, that saved the boys lost in a cave.

Nature inspired me then, it inspires me now. What inspires you?








All these items are from some of our newest members.


Night Dragon: Academy Days (13+)
five young people embark on a journey to become pilots of giant robots.
#

2040317

by Derakas
Invalid Item
This item number is not valid.
#

2040269

by Not Available.
Sitting on The Sidewalk (E)
A poem when I was going thru a hard patch and needed someone to understand
#

2040183

by gaudil0cks
Invalid Item
This item number is not valid.
#

2040170

by Not Available.
Daydreams (E)
What are daydreams and why I think they are important
#

2040084

by FiFi



Have an opinion on what you've read here today? Then send the Editor feedback! Find an item that you think would be perfect for showcasing here? Submit it for consideration in the newsletter!
https://Writing.Com/main/newsletters/action/nli_form



Don't forget to support our sponsor!




| | |
| --- | --- |
| ASIN: B07NPKP5BF | Toy |



Well? What does inspire you?


| | |
| --- | --- |
| ASIN: B07YJZZGW4 | Kindle |



To stop receiving this newsletter, click here for your newsletter subscription list. Simply uncheck the box next to any newsletter(s) you wish to cancel and then click to "Submit Changes". You can edit your subscriptions at any time.



Printed from https://www.writing.com/main/newsletters/action/archives/id/6964-Where-Inspiration-Finds-Us.html