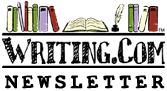 Romance/Love





This week: What is a romance novel?

Edited by: Elle - on hiatus
More Newsletters By This Editor



1. About this Newsletter
2. A Word from our Sponsor
3. Letter from the Editor
4. Editor's Picks
5. A Word from Writing.Com
6. Ask & Answer
7. Removal instructions





I find that those who don't read romance novels tend to see them in one of two lights - either all romance novels are formulaic and virtually identical, or the opposite and any book that includes a potential relationship is a romance novel, regardless of whether they actually end up as a couple or not. Is there a truth that lies somewhere between these two? Is there a definition of what a romance novel is or is not?



| | |
| --- | --- |
| ASIN: B083RZ37SZ | |



I've always had my own ideas about what a romance novel must include, but that's just one opinion. Are there actually requirements for what romance novels must include or exclude? Is it unique to a certain publisher or common across the genre? I set out across cyberspace to find out.

At first glance the internet agrees with my personal opinion - a romance novel must have a happy ending. If it doesn't, it's not a romance novel. Romance Writers of America states that a romance novel must have 'an emotionally satisfying and optimistic ending'. Megan Frampton of Heroes and Heartbreakers states that 'Romance readers agree on only one thing: Each romance novel should have a Happily Ever After.' And on it goes. In the New York Times Magazine, author Jayne Ann Krentz is quoted as saying that 'Romance novels end happily. Try another approach, and you'll anger a lot of readers'.

Despite an almost universal agreement that a romance novel must have a happy ending, that in itself is not enough to qualify a book as a romance novel. There are lots of novels that have satisfying endings (perhaps the mystery is solved, the murderer is apprehended or the villain is conquered) but are not romance novels. They may even have two characters who fall in love, start or continue a relationship, but not be romance novels. So what is the all-important second criteria? A focus on the relationship. Romance Writers of America says that 'The main plot centers around individuals falling in love and struggling to make the relationship work. A writer can include as many subplots as he/she wants as long as the love story is the main focus of the novel.' In an article titled 'What Makes A Romance A Romance?', Christie Craig and Faye Hughes suggest that 'All forms of popular fiction will likely contain a romance for the main character. The difference, however, between a romance novel and other types of fiction is that the developing romantic relationship will always be front and center in a romance.'

So you've got a focus on the relationship and a happy ever after.... Does that mean that you're restricted to a basic formula? Is there a lack of freedom for authors who want to write romance novels? In a word, no. Even Harlequin says in its submission guidelines 'Innovate, don't imitate! There is no formula—only a format, as with all genre fiction, which allows room for creative expression, unique writing voices and memorable characters. So throw those clichés out the window!'

Romance Writers of America provides six broad subgenres for romance novels - contemporary, historical, inspirational, paranormal, suspense and young adult. Does that mean a contemporary romance hero must be a Greek billionaire? No! Nor must he be a cowboy or in the military. The possibilities are endless. Why can't he be a nurse or a librarian? And I know I've read one about a male nanny! What about location? Contemporary gives you the freedom to use any location on Earth, provided you set your novel in the current era. Historical doesn't have to be Regency, it could be medieval or even set in the ice age like Jean M Auel's Earth's Children series. And paranormal gives you as much freedom as you can imagine. Paranormal can often combine with other categories - some Scottish Highland historical romances feature 'seers' who can see visions of the future, or even witches. You can play around with combinations and write the story that you want to tell.

What do you think are the crucial elements of a romance novel?





Write a poem in the romance genre to be in to win BIG prizes in this official contest!

Journey Through Genres: Official Contest (E)
Write a short story in the given genre to win big prizes!
#

1803133

by Writing.Com Support


The romance round of this contest started on May 4th.

Invalid Item
This item number is not valid.
#

1948893

by Not Available.


Write a romance short story set in spring for this contest.

A Romance Contest (13+)
A short story contest for the Seasons of Romance: Summer
#

1892844

by Osirantinsel



Why not review these romance themed contest entries and give the authors some feedback?


A sunset to remember (E)
Two teenagers bond watching a sunset
#

1969911

by Soh ~ Luminousa
Snow White and the Red Bear (18+)
Everyone else has left her, so she'll steal his secret to keep him.
#

2039504

by K Renée
Invalid Item
This item number is not valid.
#

2039539

by Not Available.
Invalid Item
This item number is not valid.
#

2039548

by Not Available.
A memory of spring (18+)
Xavier 'reads' memories from photos. This time it's love, war and a bench.
#

2040338

by Osirantinsel
Miss Mary's Meadow (E)
a mystery of a missed tryst inspired a painting
#

2029513

by turtlemoon-dohi
Invalid Item
This item number is not valid.
#

2030466

by Not Available.



Have an opinion on what you've read here today? Then send the Editor feedback! Find an item that you think would be perfect for showcasing here? Submit it for consideration in the newsletter!
https://Writing.Com/main/newsletters/action/nli_form



Don't forget to support our sponsor!




| | |
| --- | --- |
| ASIN: 0995498113 | |



Thanks to those who sent in feedback for my last newsletter, "Romance/Love Newsletter (April 8, 2015)"
:

'I do and I don't agree that romance readers are happier in their relationship. Maybe they are just happier people in general? I doubt that, but maybe they are just more optimistic. I was a voracious reader of romance. From the early girl-nextdoor Betty Cavanaugh books to Barbara Cartland, gothic romance, then Harlequin and so on to bodice rippers the more explicit books and then vampires. I discovered I escaped into books because my married life wasn't even close to what I wanted or expected. After 41 years of marriage life changes and husbands change to a point. Now I don't NEED to read them. I love reading good romance books. I'm just a lot more picky. I want the plot now and romance is just the icing.' - Quick-Quill


'I haven't read many romance stories. Here's my guess: The heroine chooses her quarry, who makes many romantic mistakes, even sometimes to the point of being the antagonist. The heroine pursues her desires, and finally gets her way - usually - but that's the lesser part of the fun.
So the message is that your Significant Other will be a major pain, create massive problems and *thereby* make life worth living?
Expectations are only 'unrealistic' if they have a deadline that allows them to fail. Otherwise, it's just basic rationality to assume that success is possible... there's so many things to want, that to conclude you won't get some of them is perverse, unreasonable and dare I say, destructive?
So yeah, people with these expectations ARE better off.' - Joto-Kai


'The percentage of divorces is almost hard to believe, although I knew it was high, never thought it was so high. Going to check it out for my state.' - monty31802

'Great newsletter, Elle - on hiatus
. As you say, our expectations are not based on what we read. If they were, I would be very disgruntled with this world, as I read a lot of science fiction.' - Teerich - 2019


'Thank you, Elle, for believing in me.' - ChrisDaltro-Chasing Moonbeams

| | |
| --- | --- |
| ASIN: B01FST8A90 | |



To stop receiving this newsletter, click here for your newsletter subscription list. Simply uncheck the box next to any newsletter(s) you wish to cancel and then click to "Submit Changes". You can edit your subscriptions at any time.