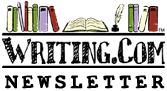 Drama





This week: Five Ways to Pace Your Story

Edited by: Lonewolf
More Newsletters By This Editor



1. About this Newsletter
2. A Word from our Sponsor
3. Letter from the Editor
4. Editor's Picks
5. A Word from Writing.Com
6. Ask & Answer
7. Removal instructions



Pacing is a crucial component of fictional writing. After all, it's important to keep your readers "hooked" throughout your story. Whether you are just getting started in writing or looking to break into fiction writing, you'll need to know the basics of how to pace a story.

| | |
| --- | --- |
| ASIN: 1945043032 | |

What is Pacing in Fiction?

Pacing is a tool that controls the speed and rhythm at which a story is told and the readers are pulled through the events. It refers to how fast or slow events in a piece unfold and how much time elapses in a scene or story. Pacing can also be used to show characters aging and the effects of time on story events.

Pacing differs with the specific needs of a story. A far-reaching epic will often be told at a leisurely pace, though it will speed up from time to time during the most intense events. A short or adventure story might quickly jump into action and deliver drama.

Pacing is part structural choices and part word choices, and uses a variety of devices to control how fast the story unfolds. When driving a manual transmission car, you choose the most effective gear needed for driving uphill, maneuvering city streets, or cruising down a freeway. Similarly, when pacing your story, you need to choose the devices that move each scene along at the right speed.



~ ~ ~



As you write your story, you'll find conflict is a key tool in developing the readers' interest; conflict goes hand-in-hand with the pace of your scenes. Understanding how to pace your story is one of the most important tasks an author has to learn. Without this skill, we end up writing stories that lack momentum, feel uneven, become anti-climactic, and seem melodramatic. The following are five tips that I find to be useful for taking this important plot skill beyond instinct to conscious action:

1. Length controls momentum

Short scenes,chapters, sentences, and choppy dialogue all contribute to a feeling of intensity and speed. However, long scenes, chapters, sentences, and extended dialogue ground the story with a sense of place and time. Your sentences should be meaningful, of course, but quick lines make for faster reading which, in turn, increases the tempo. This is probably the easiest way to control your pacing, simply because it's so obvious. As your story nears the tense scenes, make it a point to condense everything. Limit the length of your scenes to 500-800 words, cut your scenes short at important moments, and switch back and forth between Points of view.

2.Vary Pacing

As important as the high-tension scenes are, it's even more important to vary your pacing with slow, introspective scenes. Without the slow scenes you'll give neither your characters nor your readers a chance to catch their breaths. Even the most exciting of scenes loses its intensity if it's never balanced with moments of deliberate quiet.

3. Sentence Fragments

One secret often missed is working with sentence fragments, which work well to increase the pace of your writing. Of course, fragments are frowned upon in the writing world, yet the judicious use of them can be quite effective. In those nail-biting scenes that hinge upon the conflict in your story, well-used and well-positioned fragments can increase the excitement, and thus, the pace of the conflict. "Always," "Every time," and "Like this." are great if used at the right moment. Use discretion here because if you're not careful when writing in sentence fragments you can lose control.

4. Pay Attention to Details to Build Momentum

One of the best ways writers can put scenes into slow motion is to indicate a tremendously dramatic scene by slowing the writing way down. Pile on the details. Let's say one of your characters is shot. This is an important moment in the story, and you want the readers to feel its impact. You can do this by taking your time and describing every detail: the look on the gunman's face as he fires, the recoil of the pistol, the flash of the barrel, the horror that chokes the victim, and finally the collision of the bullet.

5. Control Your Tell vs. Show Ratio

Although "showing" your audience the details, the blow-by-blow account of your characters' actions, is key to engaging them and making them feel the tension, sometimes the best way to hurtle them through a scene is to condense certain actions into "telling." Perhaps you want to use that same scene in which your character is shot, but you don't want to linger on it. You want to do a quick flyby, shock your readers, and plunge them into the action after the gunshot. Instead of taking the time to show the details, you can thrust the gunshot upon the reader simply by telling him what happened.


Follow His Heart (13+)
Romance Story
#

454093

by ♥HOOves♥
I'll Always Be Your Friend (18+)
A disturbing tale of two young friends and the different lives they lived.
#

1171473

by L. A. Powell
A better tomorrow? (ASR)
Take away the pain
#

208169

by Stormy Lady
The Lot (13+)
An ambigious foe waits in the dark.
#

854171

by MD Maurice
Invalid Item
This item number is not valid.
#

1274002

by Not Available.



Have an opinion on what you've read here today? Then send the Editor feedback! Find an item that you think would be perfect for showcasing here? Submit it for consideration in the newsletter!
https://Writing.Com/main/newsletters/action/nli_form



Don't forget to support our sponsor!




| | |
| --- | --- |
| ASIN: B01MQP5740 | Kindle |


| | |
| --- | --- |
| ASIN: B01FST8A90 | |



To stop receiving this newsletter, click here for your newsletter subscription list. Simply uncheck the box next to any newsletter(s) you wish to cancel and then click to "Submit Changes". You can edit your subscriptions at any time.