Printed from https://www.writing.com/main/newsletters/action/archives/id/7222-You-Too-Have-The-Power-To-Review.html
Noticing Newbies: September 23, 2015 Issue [#7222]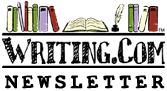 Noticing Newbies





This week: You Too Have The Power To Review

Edited by: ember_rain
More Newsletters By This Editor



1. About this Newsletter
2. A Word from our Sponsor
3. Letter from the Editor
4. Editor's Picks
5. A Word from Writing.Com
6. Ask & Answer
7. Removal instructions





I love doing this newsletter. It gives me a chance to refocus myself on what I need to be doing as well as helping out our newer members find their way around this massive site. For those of you who don't already know, everyone has a chance to make friends and improve their writing here. How do I know? I'm a dyslexic writer who the made a mod and trust to do this newsletter. I am the last person most people would think could be successful here and yet I have been. It's a journey I wouldn't give up for all the chocolate in the world.



| | |
| --- | --- |
| ASIN: B07B63CTKX | |



Reviewing can be scary. I think we all agree with that. I remember my first hundred reviews, I actually got complaints for being too nice. I couldn't believe it. Of course, I rarely reviewed anything I didn't truly love, so I didn't have anything to say that wasn't nice. Most people I hear from about reviewing though, don't do it because they don't want to upset anyone. They don't really like when someone says something bad about their work and so they want to follow the reverse golden rule and not put anyone else in the position of feeling bad either. I get it. Believe me, I get it. My first few months here every time someone gave me a less than spectacular review I would get my feelings hurt. The worst were people who went through and fixed all my spelling mistakes for me. Some took the time to read my bio block and knew I was dyslexic and were just trying to help, others didn't and some even told me I was stupid for not being able to spell. I hated those. I actually left the site and didn't come back for several years due to reviews like that. But, then my mother said something I couldn't get out of my head.

"Grow a thicker skin. If you can't take the heat from people trying to help, how are you going to take rejection from professionals?" She actually had a lot more to say. If any of you knew my mother, the social worker turned librarian, you would know that she takes writing and writers seriously and has always basically told me I couldn't cut it if I didn't get a grip on taking things personally. So, I came back to WDC grew a thicker skin and started telling people about the mistakes I often saw in my own writing and wasn't always sure how to fix. My main problem is and always will be passive voice and lack of description. What I couldn't always see in my own work, I could see in others. So I did reviews, tried to be gentle with the star ratings, and as kind as I could be when I told them what was wrong with their work.

Each time I did a review, I tried to make sure the writer knew that I wouldn't bother reviewing if I didn't think they could be a writer I one day wanted to read. Every time I got a review... Well, I have thin skin and I know it so I would start to read and walk away until hubby would come home and I would make him read it to me. If the words were coated in his voice then, okay, maybe the reviewer was right. It was the only way I could do it. Now, I don't have to have him read them anymore. I just have to take it in small chucks, read a bit, evaluate it release my potential negative feelings about it and keep going. By the end, I can accept what they are saying unless it is just totally off in left field and I'm wondering if they read the story I wrote or dreamed what they were reviewing. I then go back to hubby who has at least heard every story I have ever written and let him decide if I should accept or reject the criticism. I know my weaknesses and I know my strengths.

I know that I don't have to use spell check nearly as often thanks to the good folks who showed me my most common mistakes and helped me become aware of them through their reviews. I know I have to find a balance between the Arkansas Writing style and Popular writing styles of the time in order to get published and I know that I will never stop reviewing because I learned as much through reviewing for others as I ever did for anyone else.

Scared to do a review... Make me or any of our blue cases your first review. I promise we will appreciate your efforts and we won't yell at you if you don't say things exactly right. .. If you like you can even ask for a few tips on how improve your reviews. I am sure that we all would be more than happy to help. It is what we are here for.



Items From Our Newest Members
Group of Haikus (E)
This reflects my review bonanza today!
#

2058234

by A Michelle feeling alive again
Muses and Writing (E)
Description of the Muses of Greek Mythology
#

2058229

by amyjo-Keeping it real and fun!
Consumed (E)
Poem of obsession
#

2058225

by Francis Orion
What's in a Name? (E)
What my terrible name means to me and the woman I'm named for. 100 words or less.
#

2058203

by B Evans Hudson
मुक्ति की चाह (E)
a poem about aspirations and ambitions n wishing them to be fulfilled.....
#

2058202

by sangeetga
Escaping Yourself (18+)
You can't get away from what lives within your mind....
#

2058139

by Jen~
Red Ribbons (ASR)
I don't remember how I ended up hating them or how they came to control my life.
#

2058127

by Valerie Rutherford
Changes (E)
Poem about the difficulty of change
#

2058124

by Jules77
Bizarre Family Traditions (E)
Just a little short story just a little under 500 words. (This is a writing prompt)
#

2058117

by Queen
Dear Darling (13+)
This is a poem about a girl who has no hope and someone is telling her to never give up...
#

2058074

by Shannon Allen
Invalid Item
This item number is not valid.
#

2058001

by Not Available.



Have an opinion on what you've read here today? Then send the Editor feedback! Find an item that you think would be perfect for showcasing here? Submit it for consideration in the newsletter!
https://Writing.Com/main/newsletters/action/nli_form



Don't forget to support our sponsor!




| | |
| --- | --- |
| ASIN: B000FC0SIM | |



So what is your biggest concern about reviewing?


| | |
| --- | --- |
| ASIN: 1945043032 | |



To stop receiving this newsletter, click here for your newsletter subscription list. Simply uncheck the box next to any newsletter(s) you wish to cancel and then click to "Submit Changes". You can edit your subscriptions at any time.



Printed from https://www.writing.com/main/newsletters/action/archives/id/7222-You-Too-Have-The-Power-To-Review.html