Printed from https://www.writing.com/main/newsletters/action/archives/id/7286
Comedy: October 28, 2015 Issue [#7286]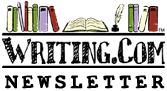 Comedy





This week: Performing on Command

Edited by: Elle - on hiatus
More Newsletters By This Editor



1. About this Newsletter
2. A Word from our Sponsor
3. Letter from the Editor
4. Editor's Picks
5. A Word from Writing.Com
6. Ask & Answer
7. Removal instructions





How many times have you thought up the perfect witty retort... far too late to actually use it? We are all capable of being witty, smart, or funny, but very few of us can deliver it on demand.



| | |
| --- | --- |
| ASIN: 0997970618 | Book |



I have seen a number of blogging prompts recently that say such things as 'Tell us a funny story about...' or 'In a humorous way, tell us...' Without fail, the bloggers grind to a halt. Many of the bloggers are humorous writers on an everyday basis, but when commanded to perform, they can't.

Whether it's the pressure of the moment or some instinctive reaction to being commanded to be funny, we aren't the only ones who suffer from it. Most comedians will fail to come up with 'something funny' on the spot unless they have prepared something for just such a situation. Indeed, a comedian's responses to audience interjections and heckles usually shows their true wit. Many resort to insults and name-calling, but a few can truly banter with their audience and these are the ones I personally admire. If you've ever watched Jeff Dunham perform, you will probably know that he reacts very well to unforeseen circumstances. We saw him live and after stumbling over his lines, his own dummy gave him a hilarious dressing down on stage. It was brilliant. But most of us aren't like that. So what's the solution?

Ignore the pressure. If the prompt says to write a funny story about a children's birthday party, ignore the 'funny' part of the prompt and just write as you normally would. If the prompt says 'In a humorous way, tell us about a time you got in trouble at school', ignore the 'In a humorous way' part. Is it that simple? Yes, it probably is. As I said earlier, many bloggers are funny on a day-to-day basis, it is only when commanded to perform that they stumble. So ignore the command, ignore the pressure, and just blog what you feel. You'll be a happier blogger, and your readers are more likely to enjoy your posts.





If you're looking for blog prompts (funny or otherwise), check out these great groups:


30-Day Blogging Challenge (13+)
WDC's Longest Running Blog Competition - See you in January for another Official Round!
#

1786069

by Fivesixer
Blogging Circle of Friends (E)
A group for WDC bloggers.
#

1901868

by Witchy woman
Blog City ~ Every Blogger's Paradise (E)
Blog City - Every Blogger's Paradise.
#

1972895

by Witchy woman
Invalid Item
This item number is not valid.
# by Not Available.



I found some interesting blogs for you to check out. Some are funny, some aren't. But humour is such a personal, objective thing that you should check them out and make up your own mind.
Whispers In The Night (18+)
About What the Voices Made Me Write Today
#

2062371

by remusmdh
Sanguine Tenacious Tidings (E)
A Journal to impart knowledge and facts
#

2050107

by Apondia
Snapshots (13+)
This is a series of descriptions -- hopefully one per day.
#

2024137

by Bryce Kenn
My Newbie is Showing...Part 3 (13+)
Thoughts and takes on the way life presents....
#

2050715

by Cheri Annemos
The QPdoll Blog (18+)
Put your blog out into the world and hope that your talent will speak for itself. ~D. Cody
#

2057094

by QPdoll
The Non-Blogger's Blog (18+)
a look at my Muse, her misadventures, and her political opinions--right or wrong...
#

2062342

by Jim Hall
Can We Talk 2 (13+)
Musings on anything.
#

2058371

by pumpkin
Sandy Supposes.... (18+)
My random thoughts and reactions to my everyday life. The voices like a forum.
#

2017254

by SandraLynn



Have an opinion on what you've read here today? Then send the Editor feedback! Find an item that you think would be perfect for showcasing here? Submit it for consideration in the newsletter!
https://Writing.Com/main/newsletters/action/nli_form



Don't forget to support our sponsor!




| | |
| --- | --- |
| ASIN: B07NPKP5BF | Toy |



This is my first time editing the Comedy newsletter, so I'd love to get feedback and responses from you.

| | |
| --- | --- |
| ASIN: B07P4NVL51 | |



To stop receiving this newsletter, click here for your newsletter subscription list. Simply uncheck the box next to any newsletter(s) you wish to cancel and then click to "Submit Changes". You can edit your subscriptions at any time.



Printed from https://www.writing.com/main/newsletters/action/archives/id/7286