Printed from https://www.writing.com/main/newsletters/action/archives/id/7321
Poetry: November 18, 2015 Issue [#7321]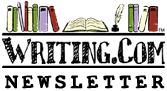 Poetry





This week: A Perpetual Poetry Pupil

Edited by: Elle - on hiatus
More Newsletters By This Editor



1. About this Newsletter
2. A Word from our Sponsor
3. Letter from the Editor
4. Editor's Picks
5. A Word from Writing.Com
6. Ask & Answer
7. Removal instructions





I enjoy learning, so I find it fascinating when I encounter a new perspective on a topic, or a new depth to something I thought I was familiar with. One thing I can always count on, with Writing.com, is that I will continually learn new things and encounter new views on various topics. As I do, I find my personal style of poetry changes and adapts as I incorporate new ideas and concepts. Does that mean I lack a personal style, and have yet to find my own unique poetical voice, or does it merely mean I am open to learning and growth as poet?



| | |
| --- | --- |
| ASIN: 0995498113 | |



I started writing poetry in my early teens. My first poems reflected my mother's poetic style - simple rhyming poems. Then my best friend started writing poems and I still don't have a name for the kind of poetry she wrote. Maybe a mix of free form and poetic prose? So that encouraged me to experiment with my own poetry a little more. Then I found Writing.com.

I took my first poetry class at "The Poetic Pen Workshop/Contest"
(hosted by the "The Rockin' Reviewers"
). It was there I learned how to incorporate imagery and figurative language into my poems, and I started learning about meter.

I took my second poetry class at "Muse Masters"
. I learned a variety of different forms, and expanded on my previous knowledge of imagery and figurative language. I gained confidence in my own poetry and started entering contests and sharing more of my work, which meant I also received more feedback.

But then I read some of the poems written by Cinn
and I gained an appreciation for how much I didn't know about poetry. Why did you have a line break there? Why did you indent that line? Why have you used italics there and bold font there? Cinn offered to tutor me, and although I haven't had the time to take her up on it yet, I definitely will. She looks at poetry from a different viewpoint than I do, and that means she can teach me to expand my poetical horizons.

Doing the "Construct Cup Chinese New Year Edition"
and "Invalid Item"
challenges both pushed me out of my comfort zone and forced me to think fast, and to draw inspiration from my everyday world. Both were a real learning curve.

I am currently working on a poetry class at the "Poetry Forum"
(hosted by "Fantasy and Science Fiction Society"
), which is designed to cover the basics of poetry. Yes, I've written some poetry I'm proud of. Yes, I've won some poetry contests. But I never make the mistake of thinking I know everything about a subject, or that there isn't more to learn. Even going back over the basics is a wonderful thing for a poet, reminding us to stop leaning on our favourite poetical devices and start utilising some of the many other possibilities that exist. I am a learner when it comes to poetry, and I think I always will be. That is one of the wonders of poetry.





These are some of my favourite recent poems from some of the poets who inspire and challenge me. I hope you enjoy them.


Little Secrets (E)
Between the pages
#

2064836

by Charlie ~ thx anon
Garden Vagabond (E)
For 13 Days of Halloween contest
#

2063519

by Elfin
Befalling Donegall (ASR)
Inspired by a photo Viggo Mortensen posted to his FB Art page. Credits are at the bottom.
#

2048446

by Ren the Klutz!
The Beauty of Candy (E)
Best friends transform cute to beautiful.
#

2046910

by Cinn
Escape (13+)
Written using the word Yellow for Amy's Yellow contest.
#

2054177

by Ren the Klutz!
Ink Stained (ASR)
Ramblings of the listless
#

2034506

by Charlie ~ thx anon
Crabbed Apple Crone (E)
Written in response to another poem: Maple Musings
#

2058748

by Elfin
Waiting for Tang (18+)
Amused by child-like and/or childish behavior.
#

2033647

by Cinn
Life By Comparison (13+)
A poem inspired by a WDC friend
#

2055759

by Charlie ~ thx anon



These are great places to learn more about poetry:

Poetic Exploration (E)
A group exploring the vast wonders of Poetry
#

1725497

by ShelleyA~12 years at WDC
The Poet's Place (E)
Poets can discuss, review, request reviews, etc. of their unique form of writing.
#

1937699

by Dave



Have an opinion on what you've read here today? Then send the Editor feedback! Find an item that you think would be perfect for showcasing here? Submit it for consideration in the newsletter!
https://Writing.Com/main/newsletters/action/nli_form



Don't forget to support our sponsor!




| | |
| --- | --- |
| ASIN: 0997970618 | Book |



What was the last thing you learned about poetry? Or, alternatively, what do you still want to learn about poetry?


| | |
| --- | --- |
| ASIN: B07B63CTKX | |



To stop receiving this newsletter, click here for your newsletter subscription list. Simply uncheck the box next to any newsletter(s) you wish to cancel and then click to "Submit Changes". You can edit your subscriptions at any time.



Printed from https://www.writing.com/main/newsletters/action/archives/id/7321