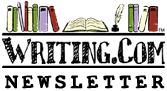 Noticing Newbies





This week: Character Connections

Edited by: ember_rain
More Newsletters By This Editor



1. About this Newsletter
2. A Word from our Sponsor
3. Letter from the Editor
4. Editor's Picks
5. A Word from Writing.Com
6. Ask & Answer
7. Removal instructions





As a dyslexic writer, I understand how scary it can be to put yourself out there for others to read your work. But, it is something every writer needs to do. Whether your submitting to a publisher or posting here for the WDC world to see, you have to get over it eventually or die forever in obscurity with your children wondering why Momma/Daddy never did anything with their work.

The purpose of my newsletter is to entertain a bit, if I can, but it is also to help you look at writing ideas as a new member you might not have thought of. To address issues every writer faces at some point in time so you know your not alone. On occasion, I will throw in a WDC technical issue on how to find your way around here or the ML. What I won't do is give you something that bores me. Yes, I know there will be spelling mistakes. I won't use every their, there or they're correctly. I may spell collage when I mean college. But, what you will get are real answers to problems I have conquered and some I'm still struggling just like some of you.

My one and only goal is to help our new members feel like the belong, because you do. Different ideas are welcome. Different styles are welcome and yes even if you have in the past spelled cat K A T out loud and thought you were right or struggle to let characters lead and the plot follow, you have a place here on WDC. None of us are prefect. We all struggle and we are all here to help each other in that struggle.

Friends have jokingly suggested that I drank the WDC kool-aide. I will happily agree. I did and I am so glad I did. Here is to all of our new members finding their writing home with us as well.

Quick note: I lost my editor, He's moved three hours away and has very little internet access, all for the love of a girl. So please bear (or is it bare) with me there will be mistakes. I'm doing the best I can.



| | |
| --- | --- |
| ASIN: B004PICKDS | |



After last months newsletter on love/hate relationships, I received a request to write more on how to connect to your antagonists. How do you connect to a character whose whole purpose is to torment the characters you created and love? Where do you even start in creating said characters. Personally, I think this is why Hemingway said, "There is nothing to writing. All you do is sit down at a typewriter and bleed." You can always save yourself trouble by making the antagonist an abstract issue they struggle with instead of another character.

Unfortunately, not all stories can be told that way and you're in a unique position as a writer of having to love a character you really want to hate so that you can give him the depth he deserves and that your other characters deserve for him to have. I mean how can your Hero save the day and have everyone feeling better about everything, if the antagonist is a sniveling twit you wish you could write him as, because you despise him so much?

I can't say I have the answer here. I can say I went looking for an answer and the ones I got didn't really help. The best advice I saw was pattern him or her after someone in your own life you can't stand.

So, what if you don't have that? What if your the forgiving type who just lets things wash over you like water? What if your still young and you lived a protected sheltered life and no one ever really hurt you? Or worse, what if you have plenty of people you could pattern the character after but opening up that old wound would hurt so bad it would paralyze you and send you back to licking your own wounds, accomplishing nothing?

I fall into the latter category. I know what my story needs, getting there can leave me curled up in the fetal position for days on end. So after days of research all I have for you is sit down at the computer, put a leather strap between your teeth to help absorb the pain and bleed because that is what you have to do. Writing is cathartic but to get to that catharsis you must allow yourself all those emotions you don't want to feel. I'm going to spend my day working on that. I found a leather strap in some of My fathers old stuff. So, now its time to bleed for my craft. Hopefully, I come out the other side a bit more whole instead of what its going to do to my protagonist.


A quick note: Camp Nano April round is starting next month and cabins are opening soon. This year you can start a cabin and invite up to twelve people to join you instead of hoping your friends request a cabin at the same time you do. I am opening a cabin soon for any WDC members who want to join me. I can admit up to eleven people. So if you wish to try your hand at writing everyday for a month, and mind you in April you can set your own word count, unlike NANOWRIMO in November. So weather you want to write 1000 words or 100,000 words just drop me an email with your username for camp nano's website and I will get you set up. Need the website? Email me for that too.





These have nothing to do with the topic at hand. I freaked myself out badly enough with the whole Idea of working on my antagonist that I need something a bit more lighthearted and I figured why not just share the work of some of our newest new members. Then again, some of them might apply nicely.


Imagination (E)
A children's poem about children's imaginations
#

2077184

by Mari McKee
The Life Of An Introvert (13+)
It's a story about an introvert trying to fit in the society.
#

2077166

by shadowhunter
Counting Down to The Worst Day Ever (E)
We all knew it was happening, it just had to happen so fast.
#

2077149

by writteninthestars
Invalid Item
This item number is not valid.
#

2077151

by Not Available.
Invalid Item
This item number is not valid.
#

2077104

by Not Available.
Heroes (18+)
Psychic learns how to become a hero.
#

2077088

by Darrenn Deffenbaugh
#1 Did I make the right decision? (E)
A young man tries his best to not open his eyes. Did he make the right decision?
#

2077054

by J.O.C.
Shakespeare panic (E)
A happy ending to yet another panic attack.
#

2077036

by Hope
One Seven (E)
A sniper takes his shot.
#

2077015

by Ryan Michael Karn
Invalid Item
This item number is not valid.
#

2077009

by Not Available.



Have an opinion on what you've read here today? Then send the Editor feedback! Find an item that you think would be perfect for showcasing here? Submit it for consideration in the newsletter!
https://Writing.Com/main/newsletters/action/nli_form



Don't forget to support our sponsor!




| | |
| --- | --- |
| ASIN: 0996254145 | |



Any suggestions on how to write a decent character you hate or how to put your characters you love through hell? We are all ears.


| | |
| --- | --- |
| ASIN: B07YJZZGW4 | Kindle |



To stop receiving this newsletter, click here for your newsletter subscription list. Simply uncheck the box next to any newsletter(s) you wish to cancel and then click to "Submit Changes". You can edit your subscriptions at any time.