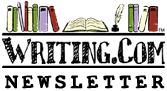 Noticing Newbies





This week: Tom Kelly's Bottle House

Edited by: I like big books #2233315
More Newsletters By This Editor



1. About this Newsletter
2. A Word from our Sponsor
3. Letter from the Editor
4. Editor's Picks
5. A Word from Writing.Com
6. Ask & Answer
7. Removal instructions




The Noticing Newbies Newsletter's goal is to make the newer members feel welcome and encourage them with useful information and/or links to make navigating Writing.com easier. Writing.com members of all ages and even veteran members can find useful information here. If you have specific questions, try visiting "Writing.Com 101"
and/or "Noticing Newbies"
.

Meet The Noticing Newbies Full-Time Newsletter Editors

| | |
| --- | --- |
| ASIN: B01DSJSURY | |



The title of this newsletter is inspired by a house in Rhyolite, Nevada. Now, I don't live in Nevada, but thanks to Google, I can still see Tom's house and learn about one of the most photographed ghost towns in the West.




Now, I could go on about how unique and creative this house made primarily from beer bottles is and we could talk about what kind of man we think he was, but that's not really the point of the editorial. If you want to learn more about it, just Google it. In fact, I hope you do. I hope it makes its way into one of your stories. I stumbled across Tom's house looking on AtlasObscura.com because I like to look for unique places or things to see when I go on a trip, especially a mundane trip. As many of you might know, driving on a trip you've taken several times can get pretty boring. By altering the route, you can see different things and stumble upon things that may spark your imagination. As a writer, nothing should escape your attention. Things that seem boring and normal can quickly take a turn for the other side of the spectrum with a little imagination.

That is what this editorial is about.

For instance, on my ride home from work (which I've driven/ridden with my husband many times) we drive through the country to cut through towns and there is a house that has a sign outside that simply says "Ribs $5". Now personally, I wouldn't go up to a semi-farmhouse to buy some 'ribs' but hey, maybe some people would. In my mind, ideas started fluttering around thinking ... just ribs huh? BBQ I am guessing but that's pretty cheap. Maybe they aren't cooked? I wonder how many you get for $5. Who'd buy raw ribs from a random house? Who would SELL raw ribs from their house? I wonder if they're pork or beef ribs ... OMG, maybe they're human! Wonder if a couple lives there or just ONE SUPER CREEPY GUY.


You can probably see right away, it's not fun to be in my head. Okay, maybe it is sometimes but the what if scenario played in a relatively normal setting can get out of control pretty fast. It could get funny, scary, or just plain weird. Remember what people always say when they interview neighbors around crime scenes. "He always seemed like such a nice man."

When you need a story idea, look around your neighborhood, take notes. Next time you're at the mall, take a few moments and just sit on the bench outside one of the stores to people-watch. Notice the man with the long gray hair and baggy coat looking into the window of that jewelry store. What's that poking out of his jacket pocket ... is it a wizard's wand? Perhaps he is looking for the exact gem he needs to activate his wand so that he can save humanity in another world?

Next time you're out walking your dog, did you see that golden-haired cat that just peeked around the corner? Is she just a stray or could she be the lost king of a legendary lineage of talking cats? No? Okay, perhaps if you got closer, you'd see that key hanging on his collar with the tag that reads "For Elle. You're never alone. Love, Graham." How will you ever find his owner? Maybe you're a detective or a private investigator, or a psychic! I have a feeling you'll figure out a way.

See how this works? Pick a normal object in your life - then give it a life of its own. Build your own bottle house and share it with me. I'd love to read all about it.

Write and Review on! ~ Brooke


Photo by Finetooth - Own work, CC BY-SA 3.0, https://commons.wikimedia.org/w/index.php?curid=6028855


AtlasObscura
"This book gives you exactly one thousand idea-generating prompts that focus on the coldest, warmest, toughest and funniest days of the four seasons."
| | |
| --- | --- |
| ASIN: B009GLMF7U | |


I'm highlighting some items from people who were moved to write in to me about my last newsletter and some wonderful new authors in our community. Check them out and leave a review.


Excerpt:


It has come to my attention that many people do not really have a basic understanding of steam and Steampunk technology. While there are many exhaustive references available for steam technology, here is some basic information concerning steam power.




~
~



Excerpt:


Often, people who are affected by mental illness can be described as eccentric, aloof, cold, and many other adjectives with negative connotations and people who are suffering from a mental illness are also unable to address such comments due to their inability to interact with people in what is considered a normal manner. In essence, people who are considered part of "normal" society are adding on to their problems with the general agreement to shun them out of society. But why is it that people in everyday society act this way?




~
~



Excerpt:


A derisive snort followed these words. "Ever the optimist. Don't let her fool you. The moment you start treating them like normal people they take another turn for the worse. Only this time they'll have you in their crazy cross-hairs." My new fan laughed at himself. Charming.




~
~


"Church Limo"
by Fivesixer

Excerpt:


Overhead,
the blue skies of prevailing wisdom
command you to fall to your knees...
farther away, to get closer.
Prepare for your soul to be seized.
Given up. Cast away.




~
~



Excerpt:


Drowsy eyes awaken quick.
His enchantment waltzes in.
Reflexive straightened posture.
Between them the ballroom floor.




~
~



Excerpt:


See, by 2045 humanity had grown to 14 billion, far outpacing all projections. The Earth just couldn't handle it. I could go on about the CO2 storms that suffocated tens of thousand in Hong Kong and Rio de Janeiro in minutes, or the spread of hyper-allergies, or the sudden meteoric increase in terminal cancers. I could talk about the flooding in California and along the Gulf Coast, the outbreak of Neo-Bubonic in Eastern Europe, or the nuclear failure in Pyongyang, but in truth nothing mattered so much as the food shortages.




~
~



Excerpt:


I felt the loss of my bleeding heart
Loneliness engulfed me
Dragged down by its weight
Desperation and darkness
Devoured my soul




~
~



Excerpt:


Jake sat in his truck and sighed. His hands were sweaty on the wheel, no sound but the engine idling. He had pulled up to the place because his fence had told him the owner of the house died and left loads of valuable merchandise alone. Not that he could tell by looking at the place; it was a two-story wreck. The paint was peeling in several places, even in the meager light shed by the moon and his headlights he could see patches of the rotting, corpse-gray wood beneath the sun-faded apricot paint.




~
~



Have an opinion on what you've read here today? Then send the Editor feedback! Find an item that you think would be perfect for showcasing here? Submit it for consideration in the newsletter!
https://Writing.Com/main/newsletters/action/nli_form



Don't forget to support our sponsor!




| | |
| --- | --- |
| ASIN: B000FC0SIM | |


I received some wonderful feedback to my last newsletter [#7584] "Mental Health Awareness"
and I'm proud to share it with you.

From 💟Crissy~Hijacked

Thank you for this newsletter. I, also, am a BiPolar survivor and advocate for mental health awareness.



You're welcome. I am glad you enjoyed the editorial.



From Fivesixer

Thank you for sharing this info...in all my years here this might be the most important newsletter I've come across on WDC. There are many, many different groups here, and I still often wonder if there are enough dedicated to mental illness and its many forms (I keep meaning to look, but I never seem to just remember). As someone who fights severe depressive disorder and generalized anxiety, it helps knowing that there are others out there who can relate to what I'm going through, and I appreciate it any time someone raises awareness.

I don't know that there are too many. I appreciate you taking the time to write in though and share your thoughts.


From A*Monaing*Faith
with "Invalid Item"

I think the largest misconception about mental illness is that it's a permanent state of mind. Like the flu, mental health has ups and downs; one 'episode' does not automatically mean that person 'becomes' the diagnosis given to describe how they were feeling/acting during 1, 2, or even 3 tough times in their entire life.

What a great point. I agree, it fluctuates on a daily and sometimes hourly basis.


From MelanKoliK Ben
with "Mental Illness"

Greetings.

Because of my experience of caring for someone with a mental illness,I recently wrote an article about mental illness and was wondering if you could read it and perhaps give input as I was hoping to get it published in our local community paper.



I hope sharing it in our newsletter above brings you some wonderful feedback. Thank you so much for writing in and sharing your work.



From Vincent Coffin

How true this is. I know it firsthand because of the depression I experience. When I first heard about it, I laughed. When I was diagnosed with it, I laughed. Then I realized my laughing was triggered by a response of denial. It's called "Seasonal Affective Disorder" and that's part of what makes it laughable at first. It's hard to tell someone that you "have" SAD as opposed to your ARE sad. With the help of monitoring and having a wife who is willing to tell me that she sees something wrong, I deal with SAD much more effectively than I ever did before. It seems like a small thing, but the support of others is ALWAYS a good thing!



I appreciate you taking the time to write in and share your story with us. I have seen that illness discussed on television but actually have not known anyone suffering from it. It's very nice to meet you.




| | |
| --- | --- |
| ASIN: B01FST8A90 | |



To stop receiving this newsletter, click here for your newsletter subscription list. Simply uncheck the box next to any newsletter(s) you wish to cancel and then click to "Submit Changes". You can edit your subscriptions at any time.