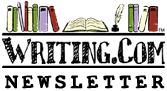 Romance/Love





This week: Is this the End?

Edited by: Lonewolf
More Newsletters By This Editor



1. About this Newsletter
2. A Word from our Sponsor
3. Letter from the Editor
4. Editor's Picks
5. A Word from Writing.Com
6. Ask & Answer
7. Removal instructions



Writing the perfect ending to a story does not have to be a challenge. The ending of a story or novel forms a readers' final impression of what they have read. An effective ending seals the readers' satisfaction with your piece. It leaves them thinking and maybe talking about it long after they have finished reading. A story ending can be either happy or sad; it can leave the reader uplifted, pensive or heartbroken. But it has to feel right.

| | |
| --- | --- |
| ASIN: 1945043032 | |

A good ending won't save a bad story, but a bad ending will unfailingly kill a good story. The ending is why the reader just invested their valuable time reading your story, and if it stinks, then they've wasted that time. Your ending has to be good, or your story is doomed.

So, what do I mean by a Good Ending? Does every story have to end with Happily Ever After?

No. Of course not. Good does not necessarily mean happy. However, it should at least be satisfying. It should resolve the conflict, and tie up the main storyline and any secondary story-line's you had. The ending should grow organically out of the plot and the action of the story, not come out of left field at the reader, who can find no other justification for it than the whim of the author.

It is essential that you conclude your story with the same style, tone and flow you've established throughout. For example, if the entire story features a series of high-impact, dramatic events and you end on a quiet note, your reader will be confused and disappointed.

There are different types of endings that you'll ultimately use in your stories. Here is a closer look at a few of the most common type of endings:

Explicit ending This is the ending that wraps everything up and answers all the questions. This ending will frequently tell what happens to each of the major characters, and is usually very satisfying in its completeness. Particularly well suited for novels (over short stories), when using this ending, it is especially important to watch for plot holes and missing clues.

Implicit ending If you like an ending that is strongly based on interpretation, then you like implicit endings. These endings are more common in short stories.

Twist ending As the name implies, this ending is unexpected or twisted. As a writer, everything you've led your reader to believe gets thrown out the window at the end, and is replaced by a new revelation when done well. If done poorly, your reader will feel cheated.

Tie back Ending This ending ties everything right back to the beginning; using the same dialogue, descriptions, setting or idea. It creates a feeling of balance and completeness.The events of the story come full circle.

Unresolved ending In unresolved endings, the main conflicts are left unanswered, and leaves the audience hanging to some extent. However, in this case, the author chooses a cliffhanger approach that could be a set up for a sequel or not. It may be that the protagonist is faced with a choice at the end and you leave it up to your audience to decide his/her fate.

I'm not sure if you're a fan of Castle or not, but the series finale had an ending that was based on:

The After-the-Fact Ending Also known as the epilogue, this is a scene that is fully removed from the story in both setting and time frame. You may choose to revisit the characters weeks or months after the climax or a generation into the future when their children are fully grown. Either way, you must provide some insight into what has happened in the meantime to send your audience off on a high note. It should also be filled with the character's retrospective insights to provide a different perspective on the events that had occurred.

Invalid Item
This item number is not valid.
#

2080301

by Not Available.
Invalid Item
This item number is not valid.
#

2080293

by Not Available.
Invalid Item
This item number is not valid.
#

2079868

by Not Available.
Invalid Item
This item number is not valid.
#

2079577

by Not Available.
Invalid Item
This item number is not valid.
#

2078079

by Not Available.



Have an opinion on what you've read here today? Then send the Editor feedback! Find an item that you think would be perfect for showcasing here? Submit it for consideration in the newsletter!
https://Writing.Com/main/newsletters/action/nli_form



Don't forget to support our sponsor!




| | |
| --- | --- |
| ASIN: B07N36MHWD | Kindle |


| | |
| --- | --- |
| ASIN: B085272J6B | Kindle |



To stop receiving this newsletter, click here for your newsletter subscription list. Simply uncheck the box next to any newsletter(s) you wish to cancel and then click to "Submit Changes". You can edit your subscriptions at any time.