Printed from https://www.writing.com/main/newsletters/action/archives/id/7754-Do-you-know-where-to-get-help.html
Noticing Newbies: July 20, 2016 Issue [#7754]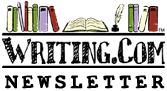 Noticing Newbies





This week: Do you know where to get help?

Edited by: Sisco ~ Back!
More Newsletters By This Editor



1. About this Newsletter
2. A Word from our Sponsor
3. Letter from the Editor
4. Editor's Picks
5. A Word from Writing.Com
6. Ask & Answer
7. Removal instructions





Hello from Sisco ~ Back!
. I am a new permanent editor of the Noticing Newbies newsletter. You will see my contributions here every four weeks and I hope they help you with using this great site.



| | |
| --- | --- |
| ASIN: 197380364X | |



Do you know where to get help using WDC? It's not about knowing everything, just knowing where to look for the answers.

The best place to start is always the "Writing.Com 101"
. I often find myself looking through this book as I can usually find 80% of the answers I need there.
If your question is a commonly asked one from newbies, you can check the "Invalid Item"
our wonderful Pat ~ Rejoice always!
has put together for you.
If you can't find an answer to your question, you can always ask it in the "Non-Technical Support Forum"
or "Writing.Com General Discussion"
. These forums are a valuable resource and I have used them myself when I have failed to find an answer. It always amazes me when I don't just get a reply, I often get a link pointing to the information itself. Try it next time you are stuck.
The "Technical Support Forum"
is for technical queries only, not general questions about the site or writing.

You can join a newbies group.

These groups are formed specifically to help our newbies with site navigation, using the WDC tools, and writing. We were all newbies once, and I certainly remember how daunting this site seemed when I joined. I was lucky to strike up a friendship with someone who went on to be my mentor while I was finding my way around. Groups also give you the added advantage of more one-to-one help and the opportunity to form friendships with other newbies who are experiencing similar challenges.

There are several group that exist to help our newbies:
"Rockin' Reviewers - Award Page "

"Newbie Help And Support Group on hiatus"

"The Newbies Academy Group"
One I admit I am a little bias toward.


If you forget where to find these groups, just look on the Noticing Newbies Forum. "Noticing Newbies"
This is a forum for you to introduce yourself to other members of WDC. You can always ask a question with your post and maybe form a friendship or two.


Another option is to ask any member on here. If you are not sure about doing that, you can always be assured of a friendly and helpful answer from one of our moderators. (Blue Cases) Our ability to interact with others is a factor when we are considered for promotion, so put the theory to the test.
Preferred authors (yellow cases) are also very approachable. They will have demonstrated community spirit to be considered for a yellow case.
However, if you see anyone on here who you feel you can approach, regardless of case color, send them your question in an email.

Whatever you do, please don't give up or think that you will appear 'Stupid' if you ask. The only stupid question I know of is the one you don't ask when you know you want help.



Items recently submitted by newbies to a contest.


Invalid Item
This item number is not valid.
#

2087003

by Not Available.
Acrostic Angel (13+)
Poem written in acrostic form revealing a secret that gave truth to the world.
#

2086812

by LacyLashes
Invalid Item
This item number is not valid.
#

2078594

by Not Available.
Invalid Item
This item number is not valid.
#

2088356

by Not Available.
The Winter Solstice (E)
Deckard stood on the edge of the darkness finding a revelation in this night of rebirth.
#

2087988

by Girlinwhite
Doggie Time (ASR)
A few hours into the life of my dog
#

2086327

by WakeUpAndLive
Time Flies (Unless You're Hogtied) (13+)
Don't ever assume you know who is knocking at your door.
#

2085185

by lisalee
A Drifting Shell (E)
loss and love, transformations,
#

2083426

by Blackjynx



Have an opinion on what you've read here today? Then send the Editor feedback! Find an item that you think would be perfect for showcasing here? Submit it for consideration in the newsletter!
https://Writing.Com/main/newsletters/action/nli_form



Don't forget to support our sponsor!




| | |
| --- | --- |
| ASIN: B01FST8A90 | |



Have you found a resource on WDC that has been helpful to you as a newbie that I haven't mentioned?
Have you enjoyed my first newsletter? Let me know if you have any topics you would like covered.


| | |
| --- | --- |
| ASIN: 0995498113 | |



To stop receiving this newsletter, click here for your newsletter subscription list. Simply uncheck the box next to any newsletter(s) you wish to cancel and then click to "Submit Changes". You can edit your subscriptions at any time.



Printed from https://www.writing.com/main/newsletters/action/archives/id/7754-Do-you-know-where-to-get-help.html