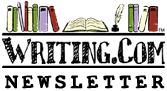 Mystery





This week: Mystery-Solving Team-Ups

Edited by: Jeff
More Newsletters By This Editor



1. About this Newsletter
2. A Word from our Sponsor
3. Letter from the Editor
4. Editor's Picks
5. A Word from Writing.Com
6. Ask & Answer
7. Removal instructions



"The possession of knowledge does not kill the sense
of wonder and mystery. There is always more mystery."
-- Anaïs Nin
Mystery Trivia of the Week:
In addition to writing books about time travel, alternate history, historical fiction, and adventure fiction, Kirk Mitchell has also had a lucrative career writing movie novelizations (often under the pseudonym Joel Norst) including the likes of The Delta Force, Lethal Weapon, Mississippi Burning, and Backdraft.


| | |
| --- | --- |
| ASIN: B01DSJSURY | |


Sherlock Holmes and John Watson. Fox Mulder and Dana Scully. Cagney and Lacey. Crockett and Tubbs. Batman and Robin. Michael Knight and Kitt. Some of the most enduring mystery and crime solving stories we have are told through partnerships between two or more characters. They might be professional partners, personal acquaintances, or even complete strangers, but there's a strength and vibrancy to a story that's solved through the collaboration of multiple characters.

One of the most practical reasons to write mystery-solving team-up is to give your characters someone to interact with. While it's an absolute necessity in a visual medium like film and television, it's also helpful in prose and theater where just because you can follow a character's inner dialogue doesn't necessarily mean you always should. It's true that some stories are ideally suited to getting lost in the complex mind of a singular character, but those stories are in the minority when compared to stories that are best told through characters interacting with one another.

There are a couple of ways you can have characters team up. The direct partnership is one of the easiest, where you give your protagonist a character to help investigate and talk things through with. In the best partnerships, each brings something to the table that helps the other and helps the case. In Bones, forensic anthropologist Temperance Brennan teams up with FBI agent Seeley Booth. In Castle, NYPD detective Kate Beckett teams up with bestselling author Richard Castle. In White Collar, FBI agent Peter Burke teams up with the brilliant con man he caught, Neal Caffrey. In film industry terms, it's called a two-hander... there are two protagonists who jointly pursue the same narrative.

If your story doesn't lend itself to actual professional partners, that's where supporting characters come in. In Janet Evanovich's Stephanie Plum books, Stephanie is a solo bounty hunter but engages the help of her on-again-off-again vice cop boyfriend Joe Morelli, fellow bounty hunter Ranger, and prostitute-turned-file-clerk Lula. In James Patterson's Alex Cross books, Alex frequently turns to supporting characters like Ned Mahoney and Doctor Adele when he needs to consult with someone. And Lee Childs' Jack Reacher has a revolving door of help in each new book: Elizabeth Roscoe in The Killing Floor, Holly Johnson in Die Trying, Julia Sorensen in A Wanted Man, etc. Even when the protagonists are a team (for example, in procedural shows like NCIS, Criminal Minds, etc.), there are technicians and experts and other background players that the character can use to find clues, get answers, bounce ideas off of, and so forth.

When writing a mystery, even if your protagonist is a lone-wolf type or doesn't play well with others, don't underestimate the advantages of having a few other characters for your protagonist to team up with every once in a while. People need other people to interact with. When it's just you and your own inner thoughts, it can get real tiresome real fast... both on the page and out in the real world. Mix things up a little and don't be afraid to interact with others. It's amazing what can be accomplished with a little collaboration.


Until next time,
Jeff


If you're interested in checking out my work:
"Blogocentric Formulations"

"New & Noteworthy Things"

I encourage you to check out the following mystery items:
EXCERPT:
For my money, one of the BEST uses of my money is to subscribe to a cable TV service that includes The Hallmark Channel and Hallmark Movies and Mysteries among its choice of available channels for its subscribers.
EXCERPT:
As I opened the marked-PRIVATE door to my modest office, she was gathering her twill skirt up behind a fine set of legs capped by Gucci's, and settling herself and her problems onto my pre-owned burgundy naugahyde sofa.
EXCERPT:
Lauren awoke in a bed that wasn't her own, but she recognized it. The white silk comforter and the imported fluffy pilows. Whose bed was she in? She rubbed her eyes with a hand in a feeble attempt to soothe the pain of a pounding headache.
EXCERPT:
Later that Friday night, Amy Johnson laid on her stomach on top of her four-poster bed while doing her homework with her boyfriend, William Hoffered. Like her, he's one of the richest and smartest kids at Whiteton Academy, and with his short sandy blonde hair and crystal blue eyes he was super yummy!
EXCERPT:
The house was but a cold shell after Millie's murder. What was seemed as a sealed jar containing life had now been upended, haunted by sheer desolation.



Have an opinion on what you've read here today? Then send the Editor feedback! Find an item that you think would be perfect for showcasing here? Submit it for consideration in the newsletter!
https://Writing.Com/main/newsletters/action/nli_form



Don't forget to support our sponsor!




| | |
| --- | --- |
| ASIN: B004PICKDS | |


Feedback from my last newsletter about nature's mysteries ("Mystery Newsletter (July 27, 2016)"
):
DB Cooper
writes:
"This is a particularly interesting subject. God bless the scientists for chasing down obscure facts hoping one day to complete a bigger picture."
Amen to that!
chord0 writes:
"thank you for such interesting articles! Perhaps I also should write something about Nature, besides poetry. My 2 ebooks are been sold to Amazon, Barnes and Noble, etc. but are listed in Bookrix.com, not sure if anyone can see them in Amazon. One is a collection of my book reviews and the other is an anthology of my short stories and poetry. gchord0"
You're welcome! And good luck with your book sales!

| | |
| --- | --- |
| ASIN: B004PICKDS | |



To stop receiving this newsletter, click here for your newsletter subscription list. Simply uncheck the box next to any newsletter(s) you wish to cancel and then click to "Submit Changes". You can edit your subscriptions at any time.