Printed from https://www.writing.com/main/newsletters/action/archives/id/7857-Get-The-Job-Done.html
Mystery: September 14, 2016 Issue [#7857]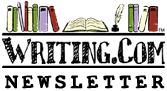 Mystery





This week: Get The Job Done

Edited by: Gaby ~ Simply Wicked 💋
More Newsletters By This Editor



1. About this Newsletter
2. A Word from our Sponsor
3. Letter from the Editor
4. Editor's Picks
5. A Word from Writing.Com
6. Ask & Answer
7. Removal instructions



Leisure is the time for doing something useful. This leisure the diligent person will obtain the lazy one never.
~ Benjamin Franklin

Lazy people tend not to take chances, but express themselves by tearing down others work.
~Ann Rule



| | |
| --- | --- |
| ASIN: B01CJ2TNQI | |

Most writers can relate to each other - lazy or not. Question is, which one are you? Do you know how to schedule your time wisely and use it to your advantage or are you a procrastinator who'll find an excuse for not having enough time to write?

If you are anything like me, you have a busy schedule and the little bit of free time you have, you'll use to have some fun rather than try to figure out the next best novel.
However, if you do know how to arrange your schedule and know how to use it, you're most likely to have a certain amount of time scheduled each day for writing.

Neither is wrong. It's just, being more organized will get you better results. Needless to say, I lack that particular organizational skill. I'm better at creating things than writing. But! If you want to change your own behavior, if you want to try to reach specific goals within a certain time frame, than you need to sit down and get serious. There are many places on this site which will help you get to where you want to be. All you have to do is stick with them.

"Weekly Goals"
would be the place to start you off on the right foot! No one tells you what you need to get done or how to go about it. On Monday's you set your own goals for the week and come back to report your progress each Friday. How much you want to get done and what is up to you. In the process of doing so and completing your goals, you get GP rewards each time you post your accomplishments. It is one of the best and easiest things to keep up with.

"Monthly Writing Accountability Challenge"
is another place where you're the person who determines your own progress. Being accountable for your own goals. Once again, you decide what you'd like to accomplish and go for it. While there is an entry fee, it might inspire you to achieve what you strive for because of the small investment.

"Give It 100!"
A personal

failure

favorite of mine.
Once again, you decide what you want to do. With this however, you stick with it for a 100 days, giving yourself 14 days of leeway or time off. This is a daily exercise and definitely not for those with a weak heart. Entry fee is 10K in GPs for each project where, upon completion, you receive another 10K on top including any extra GPs from those who decide to sponsor you.

"October Novel Prep Challenge"
is more for those who are planning on participating in NaNoWriMo, but one of the best ways to prepare yourself for writing a book during November. I've had the pleasure of participating in this a few years back and wouldn't have gotten anywhere without it! Daily assignments are easy, give you the push in the right direction and don't require much of your time while still staying on track and figuring out what you want to get out of your own book.

One thing you must remember is, you're the one responsible for all your goals. You have to be your own alarm clock and reminder. You are the only one who can accomplish all that you want and no one else will be there to lean on. It's not a burden and not something to be afraid of but you do have to consider whether or not you can pull the things off you wish to achieve.

'Til next time!
~ Gaby

How Do You Like My Baby? (E)
contemplating the harsh realities of life
#

2096309

by JOHN
The Girl in the Painting (13+)
Liv Almstond is having a hard time dealing with her best friend Jessica's disappearance.#2
#

2092497

by Hanna ~ Be Kind 💕
Mystic Reading (w0lfbane) (E)
Tarot Card Divination - Ten Card Non Poetic. A little more of me.
#

2094721

by w0lfbane
Invalid Item
This item number is not valid.
#

2096046

by Not Available.
Invalid Item
This item number is not valid.
#

2095721

by Not Available.
Invalid Item
This item number is not valid.
#

2096166

by Not Available.
Dogged Detecting (ASR)
Bard's Hall contest winning entry. Solve the mystery in 16 sentences. I wrote fiction!
#

2096099

by Whata Turkey
Invalid Item
This item number is not valid.
#

2096094

by Not Available.



Have an opinion on what you've read here today? Then send the Editor feedback! Find an item that you think would be perfect for showcasing here? Submit it for consideration in the newsletter!
https://Writing.Com/main/newsletters/action/nli_form



Don't forget to support our sponsor!




| | |
| --- | --- |
| ASIN: B083RZ37SZ | |


| | |
| --- | --- |
| ASIN: B000FC0SIM | |



To stop receiving this newsletter, click here for your newsletter subscription list. Simply uncheck the box next to any newsletter(s) you wish to cancel and then click to "Submit Changes". You can edit your subscriptions at any time.



Printed from https://www.writing.com/main/newsletters/action/archives/id/7857-Get-The-Job-Done.html