Printed from https://www.writing.com/main/newsletters/action/archives/id/7917-National-Novel-Writing-Month.html
Noticing Newbies: October 19, 2016 Issue [#7917]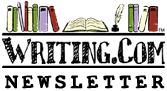 Noticing Newbies





This week: National Novel Writing Month

Edited by: ember_rain
More Newsletters By This Editor



1. About this Newsletter
2. A Word from our Sponsor
3. Letter from the Editor
4. Editor's Picks
5. A Word from Writing.Com
6. Ask & Answer
7. Removal instructions





As a dyslexic writer, I understand how scary it can be to put yourself out there for others to read your work. But, it is something every writer needs to do. Whether you're submitting to a publisher or posting here for the WDC world to see, you have to get over it eventually or die forever in obscurity with your children wondering why Momma/Daddy never did anything with their work.

The purpose of my newsletter is to entertain a bit if I can, but it is also to help you look at writing ideas as a new member you might not have thought of. To address issues every writer faces at some point in time so you know you're not alone. On occasion, I will throw in a WDC technical issue on how to find your way around here or the ML. What I won't do is give you something that bores me. Yes, I know there will be spelling mistakes. I won't use every their, there or they're correctly. I may spell collage when I mean college. But, what you will get are real answers to problems I have conquered and some I'm still struggling just like some of you.

My one and only goal is to help our new members feel like the belong because you do. Different ideas are welcome. Different styles are welcome and yes even if you have in the past spelled cat K A T out loud and thought you were right or struggle to let characters lead and the plot follow, you have a place here on WDC. None of us are perfect. We all struggle and we are all here to help each other in that struggle.

Friends have jokingly suggested that I drank the WDC kool-aide. I will happily agree. I did and I am so glad I did. Here is to all of our new members finding their writing home with us as well.

Quick note: I lost my editor, He's moved three hours away and has very little internet access, all for the love of a girl. So please bear (or is it bare) with me there will be mistakes. I'm doing the best I can. Lucky for us all Firefox now offers a Grammarly app and it works here on WDC



| | |
| --- | --- |
| ASIN: B07P4NVL51 | Toy |



So it's that time again. To our newest members you may have noticed a flurry of activity as some of our members run around preping for November 1st. But, before I explain how National Novel Writing Month affects WDC, let me give you an overview of what it is.

About 20 years or so ago a group of friends started meeting in a coffee shop somewhere in California. They liked to issue dares to each other and one day someone suggested that they try writing 50,000 words in one month. From that humble beginning something amazing started. The Office of Letters and Light. They are a nonproffit organization that runs National Novel Writing Month. NaNoWriMo, as those of us who participate every year like to call it, is their annual fundraiser. So what do they do? They get books into the hands of kids that might not have access to them otherwise. The fundraiser is just the beginning. Groups around the country also collect books to send to the office for them to hand out. They offer free lesson pllans to teachers of every level to help kids learn how to write. In otherwords, participation means that your helping other kids who might one day want to grow up to be writers learn about their craft.

It is also a chance to meet other writers you might not meet otherwise and test your writing abilities. If you go looking you can find many reasons not to participate. The main arguement for it being a bad idea is that people submit their nano novels to publishers without editing. Publishers have started to embrace the phenominon. And the best thing I can tell you, is edit before you submit. That is true of any book.

But, Nano isnt about publishing anyway. It's about getting the story out of your head and onto paper. It's about challenging yourself in ways you never have before. It's about learning how to sit down in front of your keyboard and just write. The best part is that even though it is a fundraiser, its free. You don't have to donate or raise funds if you cant afford it or are like me and don't really know anyone. If you want to donate most people donate $10 dollars to get a halo on their NANO forum image.


So how does all of this fit in with WDC. There are many of us who like a challenge. WDC has its own word counter so that we can all compete against each other right here. You can find it at "The WDC NanoLounge"
Its one of the links at the top of the page. Conversation hasn't started yet. You can also find a link to an article about Nano there as well.

Then of course, if you get signed up by October 3rd so its to late for this year, you can particpate in "October NaNoWriMo Prep Challenge"
There is a chance of winning some merit badges with this.

But, for November itself sign ups are still happening for "NaNoWriMo Write-A-Thon"
. It is a fundraiser in and of itself but it is for groups right here on writing.com and their are some awesome prizes to be had by the top winners.

You still have till October 31st to sign up so consider it and maybe give it a shot. Who knows you just might find its your favorite way to write.



Please advise me on one! (E)
this is my first long term project. hope you enjoy! (please critique!)
#

2099248

by BeginnerMan01
From Another Place (18+)
The mood struck again, and boy it didn't want to leave.
#

2099229

by Arthus
TIME SLIP (E)
Dave finds that the episodes he has are more than they appear to be..
#

2099207

by Kyle
Soul Mate (18+)
A Poem Written for My Love
#

2099249

by Mimi
Invalid Item
This item number is not valid.
#

2098982

by Not Available.



Have an opinion on what you've read here today? Then send the Editor feedback! Find an item that you think would be perfect for showcasing here? Submit it for consideration in the newsletter!
https://Writing.Com/main/newsletters/action/nli_form



Don't forget to support our sponsor!




| | |
| --- | --- |
| ASIN: B083RZJVJ8 | |



So will you be doing NaNoWriMo this year?


| | |
| --- | --- |
| ASIN: B07K6Z2ZBF | |



To stop receiving this newsletter, click here for your newsletter subscription list. Simply uncheck the box next to any newsletter(s) you wish to cancel and then click to "Submit Changes". You can edit your subscriptions at any time.



Printed from https://www.writing.com/main/newsletters/action/archives/id/7917-National-Novel-Writing-Month.html