Printed from https://www.writing.com/main/newsletters/action/archives/id/7923-Something-For-Everyone.html
Contests & Activities: October 19, 2016 Issue [#7923]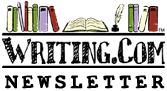 Contests & Activities





This week: Something For Everyone

Edited by: Elle - on hiatus
More Newsletters By This Editor



1. About this Newsletter
2. A Word from our Sponsor
3. Letter from the Editor
4. Editor's Picks
5. A Word from Writing.Com
6. Ask & Answer
7. Removal instructions





For a lot of people, October is about Halloween and all that the occasion inspires. As someone who comes from a country where Halloween is not widely celebrated or considered important, I find it interesting to see what else is out there. And the most obvious (apart from the exciting fact that the huge fireworks extravaganzas of Guy Fawkes Night are on their way!) is that it is National Novel Writing Month in November and so all the novelists (and would-be novelists) are in full preparation mode. What has the site got in store for those doing NaNo this year, and what about those who aren't?



| | |
| --- | --- |
| ASIN: 1542722411 | Book |



National Novel Writing Month (also known as NaNoWriMo) is understandably a big deal on a writing site like Writing.com. We have our share of published and unpublished novelists, and even more wannabe novelists who are still hoping to complete their first novel. Currently, most of those planning to participate are busy working on outlines, developing characters, and stocking up on microwavable dinners in the hope that they'll manage to write 50,000 words of their new novel in November.

There are a number of NaNoWriMo-themed activities around the site, including the "October Novel Prep Challenge"
which has been running full steam since October 1st. I'll list some more activities you might like to check out below.

But what if you're not doing NaNoWriMo? Don't despair!
There are still plenty of things going on in late-October and November for you too. There are, of course, a number of Halloween-themed contests that close on 31 October. There are also heaps of monthly activities and contests that run continuously throughout the year.

Just a tip from someone who has sat through a few Novembers on this site... November is typically a quiet month for contest entries. If you're a little shy about putting your name forward, this is the perfect time, because the competition is not quite as fierce as it can be.

These contests and activities close at the end of October:
New Merit Badge Commissioning (13+)
Would like a specific community MB commissioned but can't afford it? Come on in!
#

1148751

by Gaby
Short Shots: Official WDC Contest (ASR)
Use the photo to inspire your creativity. Write a short story and win big prizes!
#

1221635

by Writing.Com Support
The Grim Reaper Contest - Closed! (13+)
This is a Horror Flash Fiction Contest. See you on October 2022!
#

2046245

by Fictiøn Ðiva the Wørd Weava
Other Worlds Contest (18+)
Science Fiction Short Story Contest. Open: 1st - 31st January 2022
#

2078460

by A E Willcox
Magic Words Contest (13+)
A fantasy short story contest. Fantastic Prizes. Open 1st- 31st December 2021
#

1871010

by A E Willcox
'SCREAMS!!!' HALLOWEEN CONTEST! (XGC)
A MONTHLONG CONTEST IN CELEBRATION OF THE SPOOKIEST DAY/NIGHT OF THE YEAR!
#

2060065

by Fangus
Dark Dreamscapes Poetry Contest (13+)
Round 48 Open December 2021.
#

1971713

by 🌑 Darleens lost in the Dark
SENIOR CENTER FORUM (ASR)
The Place for Seniors!
#

427318

by Monty
Check out these special November contests and activities:
Gangsta's Paradise Contest (18+)
The low down and dirty story paradise
#

1080342

by Gaby
NaNoWriMo Write-A-Thon (ASR)
A NaNoWriMo fundraiser... compete as a NaNo writer or donate by sponsoring one!
#

1546312

by Jeff
Paranormal Romance Short Story Contest (13+)
A Monthly Romance Contest -- a 2016 & 2020 Quill Award Winner & 2020 Quill Award HM Winner
#

2089860

by Jim Hall
30-Day Blogging Challenge (13+)
WDC's Longest Running Blog Competition - See you in January for another Official Round!
#

1786069

by Fivesixer
Journey Through Genres: Official Contest (E)
Write a short story in the given genre to win big prizes!
#

1803133

by Writing.Com Support
And these contests are regular or ongoing, but definitely worth checking out!
Invalid Item
This item number is not valid.
#

2085951

by Not Available.
Invalid Item
This item number is not valid.
#

1948893

by Not Available.
Invalid Item
This item number is not valid.
#

1966417

by Not Available.
Write from the Heart - Poetry (CLOSED) (E)
Write a heartfelt poem based on the prompt and form provided.
#

2093224

by Lilli, the Coffee Elf ☕️
Supernatural Writing Contest - Closed (18+)
With a monthly prompt, the Supernatural Writing Contest returns!
#

1771874

by Shaye
Invalid Item
This item number is not valid.
#

2088411

by Not Available.
Invalid Item
This item number is not valid.
#

2054775

by Not Available.
Weekly SCREAMS!!! (XGC)
A Terrifying Contest Of Horror And Three Time Quill Award Winner!
#

2020439

by Fangus
The PET NEWS CONTEST (E)
CLOSED
#

1986337

by GeminiGem💎
The 4 Controversies Contest (18+)
OPINIONS? Groovy! The 4C's is a 3X Quill Winner! Enter Your Non-Fiction Next in SUMMER '21
#

2083509

by Whata Knows Black Cats Rule!
WDC Teen Contest (13+)
A teen- themed contest FOR EVERYONE! NEW ROUND- March/April
#

2036804

by Dragyn
A Romance Contest (13+)
A short story contest for the Seasons of Romance: Summer
#

1892844

by Osirantinsel
The Dialogue 500 (18+)
Dialogues of 500 words or less.
#

941862

by W.D.Wilcox
WEIRD TALES CONTEST (18+)
A Contest Inspired by the Old Pulp Fiction Covers of Weird Tales Magazine
#

2083492

by Beacon - Light 4ever
Invalid Item
This item number is not valid.
#

2061904

by Not Available.
The Writer's Cramp (13+)
Write the best STORY OR POEM in 24 hours and win 10K GPs!
#

333655

by SoHoHoHophy
Invalid Item
This item number is not valid.
#

2055579

by Not Available.



Have an opinion on what you've read here today? Then send the Editor feedback! Find an item that you think would be perfect for showcasing here? Submit it for consideration in the newsletter!
https://Writing.Com/main/newsletters/action/nli_form



Don't forget to support our sponsor!




| | |
| --- | --- |
| ASIN: B000FC0SIM | |



What do you look forward to most about this time of year? Is it Halloween, Guy Fawke's Night, NaNoWriMo or something else entirely? Let us know!


| | |
| --- | --- |
| ASIN: 0910355479 | |



To stop receiving this newsletter, click here for your newsletter subscription list. Simply uncheck the box next to any newsletter(s) you wish to cancel and then click to "Submit Changes". You can edit your subscriptions at any time.



Printed from https://www.writing.com/main/newsletters/action/archives/id/7923-Something-For-Everyone.html