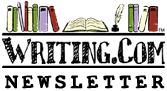 Fantasy





This week: Tradition

Edited by: Annette
More Newsletters By This Editor



1. About this Newsletter
2. A Word from our Sponsor
3. Letter from the Editor
4. Editor's Picks
5. A Word from Writing.Com
6. Ask & Answer
7. Removal instructions



Hello, I am Annette
and I will be your guest editor for this issue.

| | |
| --- | --- |
| ASIN: B083RZ37SZ | |

Tradition





How important is it to uphold traditions in fantasy?





Traditions can help a reader to find common ground with a story that is otherwise entirely alien.



Many people have read, watched, or at least heard about Harry Potter. In the Harry Potter books, there are many things that are completely strange in comparison with normal non-fantastic life.

There is a whole world full with creatures, spells, potions, magic, and wizards that we can't see. As the story progresses, things get stranger with each installment. Even more fantastical things come up such as flying cars or talking spiders.

One event, that many of us are familiar with, happens over and over in every installment. That is the celebration, or lack of celebration of Christmas (depending on where the adventure is at the time.) Christmas is an event that is celebrated worldwide by many people. Even those who do not celebrate Christmas are often made aware of it through the decorations and the sales.

In the Harry Potter books, the tradition to celebrate Christmas creates a tradition that is the same for the magical people and the non-magical people (muggles). It is a tradition J.K. Rowling chose to bridge the gap between fantasy and tradition so that the reader has a cultural point of reference. Whether because they also celebrate Christmas or because they know people who do.

What you can take away from that as a writer: no matter how far off your fantasy story is, you should consider giving it at least one large mundane influence that an average reader can identify with. That doesn't mean it has to be a religious festival or even a celebration at all. It could be a horse, a castle by the sea, a beach ... pretty much anything that the average reader can understand without an explanation and that is universal enough that you can assume your target audience will have some notion of it.



Invalid Item
This item number is not valid.
#

2069608

by Not Available.
The Christmas Curse (13+)
Three teenagers must save Christmas from an ancient spell.
#

2069216

by brom21
"Magical" Animals (E)
A poem about these animals' magical flight once a year.
#

2068956

by Harry
Invalid Item
This item number is not valid.
#

2021306

by Not Available.
Invalid Item
This item number is not valid.
#

2050864

by Not Available.
Invalid Item
This item number is not valid.
#

2097500

by Not Available.
COPING WITH LIFE IN 2525 (13+)
What will life be like five hundred years from now. A snapshot from the cradle.
#

1980069

by charlie55
Cosmic Substitution (E)
Ringing in the new year far from home.
#

1969381

by Jatog the Green
Army's Concern (E)
Concern the humans may be dying out.
#

1934125

by Don Two



Have an opinion on what you've read here today? Then send the Editor feedback! Find an item that you think would be perfect for showcasing here? Submit it for consideration in the newsletter!
https://Writing.Com/main/newsletters/action/nli_form



Don't forget to support our sponsor!




| | |
| --- | --- |
| ASIN: B07YXBT9JT | |

For my Fantasy Newsletter "What to Call Your Fantasy"
, I got the following replies:
Elfin Dragon - poetry fiend
wrote: It's true that nowadays fantasy is a wide very wide genre. From it's original Fairytale fables to High adventure. But it's also now including some horror, erotica, historical, science fiction, western, and a vast many other genres. If writers can put fantasy in the setting, then they most likely will. We are no longer limited to just one type of story any more. Our readers are a vast mix of cultures, ideas, and ages longing for that something different to read. And as writers we are more than happy to accommodate their imaginations.



I agree. As a consumer of fiction, I always find it more entertaining when there is a fantastical element in the story.



StephBee
wrote: I agree about Fantasy titles - they need to be a bit offbeat - imply the fantasy. My fantasy is The Green Rose. I mean how often do you see a green rose? Hopefully you the reader will be thinking, what makes that green rose special? Smiles, Steph



What an interesting idea! I does make me curious.



Shadowstalker-- We got this!
wrote: Oh! Mah! Gurd! OMG, Omg, Omg! *shrieks like an empty headed tween watching the twilight movies* you used my story as an editors pick! *slaps some sense into himself.* Ahem, so anyways... Thanks
I did have something important to say though about choosing your labels. And that is--- don't focus on it until your story is done. This is what I do a lot of times. For short stories only one chapter long, it is no problem. But for multi chapter stories (that I tend to write a lot of) I don't really focus on genre, except maybe just fantasy. I might add in action/adventure etc to the chapter when i put it up on the site, but after I finish, i reread it and get a real feel for what genres the story is about, changing the tags as needed.

If you focus too much on what genres to tag it under (at least in my case) it creates this imaginary little box you feel it "must" fall into. --Oh I tagged this as fantasy, emotional, dark... I can't put humor into this chapter! Sometimes the story and the characters run away with what you "planned" for them, turning that dark and gritty death scene you envisioned into a humorous celebration of life. It might not be what you planned, but sometimes these changes when they are allowed that freedom, turn out to make the story more alive and just plain "feel right".



Thank you! I have such a hard time giving titles to my stories. You gave me a great idea to try out.






| | |
| --- | --- |
| ASIN: B07P4NVL51 | Toy |



To stop receiving this newsletter, click here for your newsletter subscription list. Simply uncheck the box next to any newsletter(s) you wish to cancel and then click to "Submit Changes". You can edit your subscriptions at any time.