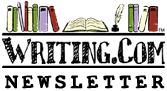 Noticing Newbies





This week: Writers Block

Edited by: ember_rain
More Newsletters By This Editor



1. About this Newsletter
2. A Word from our Sponsor
3. Letter from the Editor
4. Editor's Picks
5. A Word from Writing.Com
6. Ask & Answer
7. Removal instructions





As a dyslexic writer, I understand how scary it can be to put yourself out there for others to read your work. But, it is something every writer needs to do. Whether you're submitting to a publisher or posting here for the WDC world to see, you have to get over it eventually or die forever in obscurity with your children wondering why Momma/Daddy never did anything with their work.

The purpose of my newsletter is to entertain a bit if I can, but it is also to help you look at writing ideas as a new member you might not have thought of. To address issues every writer faces at some point in time so you know you're not alone. On occasion, I will throw in a WDC technical issue on how to find your way around here or the ML. What I won't do is give you something that bores me. Yes, I know there will be spelling mistakes. I won't use every their, there or they're correctly. I may spell collage when I mean college. But, what you will get are real answers to problems I have conquered and some I'm still struggling just like some of you.

My one and only goal is to help our new members feel like the belong because you do. Different ideas are welcome. Different styles are welcome and yes even if you have in the past spelled cat K A T out loud and thought you were right or struggle to let characters lead and the plot follow, you have a place here on WDC. None of us are perfect. We all struggle and we are all here to help each other in that struggle.

Friends have jokingly suggested that I drank the WDC kool-aide. I will happily agree. I did and I am so glad I did. Here is to all of our new members finding their writing home with us as well.

Quick note: I lost my editor, He's moved three hours away and has very little internet access, all for the love of a girl. So please bear (or is it bare) with me there will be mistakes. I'm doing the best I can. Lucky for us all Firefox now offers a Grammarly app and it works here on WDC



| | |
| --- | --- |
| ASIN: B01FST8A90 | |



I find myself in an interesting situation. I have several things I need to write and one of them is difficult for me. I have completely let it block me. I realize that was what I was doing as I sat down here to write this and yes, without trying to sound like I am bragging, because I'm not, I am completely confused. I have never had writer's block before. Don't know how to start the next chapter, write a poem. Don't know where you're going with a short story? Ask the characters. I wrote my first short story in the 6th grade and my first poem in the 7th and I never looked back. If I got stuck I just wrote something else until it was unstuck. I suppose in a way that is what I am doing now. I'm just not sure a newsletter is going to help. I've never thought that before.

Of course it's going to help. It's words on a page. Anything you get written down is writing and writing is good. Nope, not working this time. See, I decided to step out of my comfort zone and take a writing course with some friends of mine. Now, not all of the ladies are known to me. I've been gone, other than my newsletters for right around a year now. I have only recently made it back full time. But, I consider them friends because we are all on this journey of struggle and self-exploration that is writing. Some of them may be struggling just like I am. I should have waited until NANOWRIMO was over. This block for the current lesson that is due tomorrow right now,past due by the time your reading this, has done something no other piece of writing has ever done. It's blocked my poetry, my song, my muse, my other stories.

Though it has never happened to me before, my husband who is plodding away with his November Novel just smiled and said "See Honey, you are a real girl. Isn't it nice." Maybe for him. But, for me it's frustrating. I am sure it is for all of you as well. So for all of you out there struggling, I encourage you to write a blog post, go for a walk, eat some cake, drink some hot chocolate, play with your pets. Do whatever you need to do for one day to give yourself a break and let the words find you again. It's what I did and hey, at least I'm writing this newsletter. My word count is taking a serious hit, but I am writing something. So for everyone with the mid-November blaws just let me say. Hang in there. We can do this together. Eat some cake. I know I did. May go get a second piece. That was good cake.



Through the Portal (E)
A poem about my father who left his country to start a new life.
#

2102536

by denatured
Diary Of A Teenage Potion Master (E)
Meet Nicholas. A teenager villager who doesn't want to be a miner like his parents.
#

2102459

by jamestewie
Before the fall of Humanity. (E)
The year leading to the near eradication of Humanity.
#

2102441

by kajidoh
Homeless (E)
The way I feel about a very special man, and putting my fear of losing him into words
#

2102331

by Z a
A note to self: (E)
A small reminder to be beautiful and at one with our world.
#

2102273

by Lucy



Have an opinion on what you've read here today? Then send the Editor feedback! Find an item that you think would be perfect for showcasing here? Submit it for consideration in the newsletter!
https://Writing.Com/main/newsletters/action/nli_form



Don't forget to support our sponsor!




| | |
| --- | --- |
| ASIN: B07N36MHWD | Kindle |



So tell me about your worst Writers Block?

Just a few comments from my last newsletter

bogengine - Hi all. I am new. I am glad I found The Newbies Academy Group. It will help with every question you can imagine. I am going to try nano, though I'll be going across the desert. (Hope to find lots of rocks)Internet access will be an issue. Good luck.

Elfin Dragon - contest hunting
- I'm one of those who have just began doing NaNoWriMo. I tried it last year but wasn't really prepared for it and crashed with a gigantic thud heard around the WDC world. But this year I've just completed the Oct NaNo Prep with great enthusiasm and believe I'm far more ready for NaNo next month. Even though I'm not necessarily a "Newbie" to WDC, I'm certainly a Newbie to NaNo. I believe it takes time, patience (a lot of that), and a good deal of perseverance. Here's hoping all of us some luck and love in the next month.

Dream ~★~ Justly
- I'll be NaNoing!


...

Well...I hope.
I don't know what story I'll be writing, but I'm stubbornly committed to writing something. Fortunately, I still have a little more than a week to figure out where to start. Plenty of time, right?




********




Good Luck to you all! And have fun, wherever this November takes you.


| | |
| --- | --- |
| ASIN: B07NPKP5BF | Toy |



To stop receiving this newsletter, click here for your newsletter subscription list. Simply uncheck the box next to any newsletter(s) you wish to cancel and then click to "Submit Changes". You can edit your subscriptions at any time.