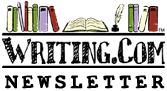 Drama





This week: Valentine's Day Drama

Edited by: Kittiara
More Newsletters By This Editor



1. About this Newsletter
2. A Word from our Sponsor
3. Letter from the Editor
4. Editor's Picks
5. A Word from Writing.Com
6. Ask & Answer
7. Removal instructions





It's that day of the year when everything can go very right, or horribly wrong. As writers, we can make good use of that.

This week's Drama Newsletter is all about romance, and its ups and downs.

Kittiara

| | |
| --- | --- |
| ASIN: B004PICKDS | |



Hello everyone! I hope that you have had a lovely Valentine's Day.


Valentine's Day is one of those romantic minefields, isn't it? It can be full of anticipation and suspense. It can lift you up and slam you down. I remember one year, when I was in high school. I'd sent a card to the boy I had a crush on at the time. Anonymous, of course, because you can get away with that on Valentine's and besides, I didn't have the courage to actually tell him that I liked him. In my teenage heart of hearts, though, I felt that he must sense it was from me. And there was that glimmer of hope that he'd come up to me and that would be the start of our happily ever after.

That feeling sure wasn't hindered by the fact that when I'd come home from school the afternoon before, there was an anonymous Valentine's card in the mail for me. It was a really cute one, too. So, my mind was racing with the possibilities. Was it from him? Did I have a secret admirer? Ah, the joy. The wonder, the fluffy cloud of being liked, loved... I was in that day of romance. And actual part of it, because I had a card that someone out there had selected for me. Touched. Written in that kind of handwriting you produce when you don't want to be too obvious about your identity. And it had been delivered right to my door.

I spent the day looking for signs. Did any boy I know seem different? Shy, or nervous? It's easy to interpret – and misinterpret – glances and smiles and everything else. Still, I didn't spot anything much out of the ordinary. And the guy I fancied? He didn't come up to me. That was a shame.

I felt somewhat deflated, then, when I got home. Not completely, because I still had the card. Just, brought back to the ground a bit, because if a guy had feelings for me, couldn't they have been a little more obvious?

I expressed my thoughts to my mom... and she couldn't suppress a smile. That was weird. Surely she knew that this was a matter of great importance! All became clear soon enough. She confessed that the card was from her. Figuring that I wouldn't receive a card otherwise, she wanted to make my day. Which she had, in a way. But thanks, Mom, for the vote of confidence. The false hope. And, above all, for being right.

There was another Valentine's Day where I did have a boyfriend at the beginning of it, but by the end of it I didn't. On what's supposed to be the most romantic day of the year, I dumped him. In my defence, that was also the day that I discovered he'd cheated on me, so what can you do? No point staying together for a few more hours just for the sake of it.

With everything that can go right, and everything that can go wrong, it's a day that offers a lot of opportunities for writers. From sweet proposals to loneliness, fun dates to heartbreak, it's something to work with. An easy moment set aside for a wide variety of scenarios.

People may love it or develop a passionate dislike for it. Of course, there are those who feel meh about it full-stop. As with Mother's Day and Father's Day, they argue that you should show your care all year round. They have a point, of course. And yes, commerce makes good use of it by selling items that are supposed to be romantic. And there is that pressure, and the potential for disappointment. But as a writer, I can't complain too much.

That's because our characters can experience the same things that we do. And if we are kind to them, we can give them the happy ending that we have either found ourselves, or long for. Or not, as the case may be. It's your story. It would be nice, though, wouldn't it?

Kittiara



Some contests that might get the creativity flowing:


Write from the Heart - Poetry (CLOSED) (E)
Write a heartfelt poem based on the prompt and form provided.
#

2093224

by Lilli ☕
Kit'z Higher Ratings Contest (18+)
A contest for items with a higher content rating.
#

887621

by Kittiara
Invalid Item
This item number is not valid.
#

1364200

by Not Available.
The PET NEWS CONTEST (E)
CLOSED
#

1986337

by GeminiGem🐒
Invalid Item
This item number is not valid.
#

2105069

by Not Available.
Search for a WDC Heart Throb Poet (E)
A contest for the heart season- (Poetry Contest) OPENS Feb 1,2021
#

2110571

by Samberine Everose
Newbies ONLY Short Story & Poem Contest (13+)
-- CLOSED -- Back in June 2021.
#

1873271

by Sisco ~ Back!
The Dialogue 500 (18+)
Dialogues of 500 words or less.
#

941862

by W.D.Wilcox



Have an opinion on what you've read here today? Then send the Editor feedback! Find an item that you think would be perfect for showcasing here? Submit it for consideration in the newsletter!
https://Writing.Com/main/newsletters/action/nli_form



Don't forget to support our sponsor!




| | |
| --- | --- |
| ASIN: B07K6Z2ZBF | |



The Drama Newsletter Team welcomes any and all questions, suggestions, thoughts and feedback, so please don't hesitate to write in!


Wishing you a day filled with inspiration,

The Drama Newsletter Team.


| | |
| --- | --- |
| ASIN: B07NPKP5BF | Toy |



To stop receiving this newsletter, click here for your newsletter subscription list. Simply uncheck the box next to any newsletter(s) you wish to cancel and then click to "Submit Changes". You can edit your subscriptions at any time.