Printed from https://www.writing.com/main/newsletters/action/archives/id/8213
Poetry: April 05, 2017 Issue [#8213]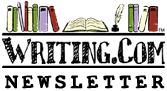 Poetry





This week: It's NaPoWriMo Time!

Edited by: eyestar~
More Newsletters By This Editor



1. About this Newsletter
2. A Word from our Sponsor
3. Letter from the Editor
4. Editor's Picks
5. A Word from Writing.Com
6. Ask & Answer
7. Removal instructions



Hello, I am happy to be back as a guest editor! April is NaPoWriMo Month! Find out why and how it all works!

Be inspired to write a poem!

"I wrote some of the worst poetry west from the Mississippi River, but I wrote. And I finally sometimes got it right."
~Maya Anjelou

'I consider myself a poet first and a musician second. I live like a poet and I'll die like a poet.'
~ Bob Dylan

"If you can't be a poet, be the poem".
~ David Carradine

"There is not a particle of life which does not bear poetry within it."
~Gustave Flaubert





| | |
| --- | --- |
| ASIN: B083RZJVJ8 | |

Following successful projects like NaNoWriMo, and their Woman's History Month, National Poetry Writing Month was started in 1996 by the Academy for the American Poets. It has become the largest literary celebration of poetry in schools, librairies, publishers with the intent of increasing the appreciation and reading of poetry.
What a fabulous and inspirational notion and more needed today than ever.

The Academy's goals in supporting this event is an effort

to encourage poetry readership year round

to highlight the legacy and ongoing achievement of poets

to assist teachers bringing poetry reading in classrooms

to encourage publications and distribution of poetry

and encourage support for poets


In March of 2003 Maureen Thorson, a poet who published the Big Game Books, announced she was doing the project NaPoWriMO. She invited others to join her and the Muse's fire leapt and spread. Now I have even seen GloPoWriMo as an added title!

http://www.napowrimo.net/

Now we celebrate 21 years of NaPoWriMO!


How do we play? Simply write a poem a day!
So, fellow poets, let's get active and write poems.


Celebrate us and all who have come before us! You can find all kinds of activities and prompts online
and right here:

Dew Drop Inn (18+)
April poem-a-day poetry spot!
#

1370829

by Katya the Poet


I completed my first NaPoWriMo here on WDC last year! Great fun and helped me practice my haiku skills. This year I am considering themes on Canada as we are celebrating 150 year birthday in July. Party time!
And hey, you non poets, you can party as well!
Read or recite your favourite poems, review poetry or books online, share favourite poems during the month in your communications! Have fun and maybe even give poetry writing a try!




My Picks for the Month


Sweet Embrace (13+)
My first attempt at Cote style poetry
#

2116387

by Dark Faery
Assassination of Julius Caesar, (E)
"Beware of The Ides of March!" Won 2nd place in The Bard's Hall Contest.
#

2115966

by Jeannie🐴
Invalid Item
This item number is not valid.
#

2115285

by Not Available.
Invalid Item
This item number is not valid.
#

2108352

by Not Available.
Invalid Item
This item number is not valid.
#

2115821

by Not Available.
The Pride of Bradford (E)
A sonnet about the shameful treatment of the Brontë sisters in their home town
#

2112864

by Robert Edward Baker
Invalid Item
This item number is not valid.
#

2113965

by Not Available.
The Lady and the Dolphins Three (E)
A Quatern Poem
#

2060343

by Lostwordsmith
Contests:


The Pink Fluffy Unicorn Contest (E)
The greatest writing challenge on WDC! PINK FLUFFY RESULTS NOW OUT!!! :)
#

2113126

by Robert Edward Baker
The PET NEWS CONTEST (E)
CLOSED
#

1986337

by GeminiGem🐒
A Story-Poem Contest!!! (E)
write a story that is in poetic form. No Prompts new or old! Quill winner!
#

2102427

by Lisa Noe Kittyluv um Puppyluv



Have an opinion on what you've read here today? Then send the Editor feedback! Find an item that you think would be perfect for showcasing here? Submit it for consideration in the newsletter!
https://Writing.Com/main/newsletters/action/nli_form



Don't forget to support our sponsor!




| | |
| --- | --- |
| ASIN: B083RZ37SZ | |

Inquiring muses want to know. Have you ever played in NaPoWriMo? Did you make it every day? Do you use prompts or free play as the muse inspires? Feel free to answer in a poetic way.
From Last Month's Newsletter: Thank you all!

From Hannah-Meg Knight

Hey, I really enjoyed reading this week's poetry newsletter - you introduced me to a new poet, whose poems are wonderful masterpiece! She was truly inspiring.

From Monty

E. Pauline Johnson is a poet that is new to me. I like her poetry and appreciate your News Letter.

From Sally

'August is laughing across the sky' - how wonderful! A brilliant newsletter, Mona, about a lady I had never heard of. Thank you for letting me take a peep into her life/works.

From TinaMarie

I did find it inspiring and your item gave me education. Inspired me enough to create poetry item right now.


| | |
| --- | --- |
| ASIN: 0997970618 | Book |



To stop receiving this newsletter, click here for your newsletter subscription list. Simply uncheck the box next to any newsletter(s) you wish to cancel and then click to "Submit Changes". You can edit your subscriptions at any time.



Printed from https://www.writing.com/main/newsletters/action/archives/id/8213