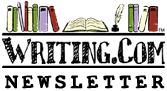 Action/Adventure





This week: A Quills Adventure

Edited by: Kittiara
More Newsletters By This Editor



1. About this Newsletter
2. A Word from our Sponsor
3. Letter from the Editor
4. Editor's Picks
5. A Word from Writing.Com
6. Ask & Answer
7. Removal instructions





The Quill Awards are a big, annual event on Writing.Com. It honours the excellent writing and community efforts of members of this website.

This week's Action/Adventure Newsletter, then, explains what the Quills are all about and why you shouldn't miss out on the action.

Kittiara

| | |
| --- | --- |
| ASIN: 0910355479 | |



Were you at the PreQuill Gala last Saturday? If so, I hope you had a good time! All of us on the live show certainly did. If you are reading this and wondering what I am on about, however, then allow me to explain...

What are the Quills?

"The Quill Awards"
[ASR] were founded in 2007, by Andrew
. The idea behind it is to recognise outstanding writing and community efforts. The event itself can be considered a big community effort – members from around the site nominate items, groups, contests and events they love. If there is a member whose portfolio is packed full of good stuff they can be nominated. If there is a member whose efforts go above and beyond what you'd expect, they can be nominated, too. Without these nominations, The Quill Awards could not exist.

Nor could they exist without the judges – community volunteers who spend time and effort choosing the best items in each general category. And the wider community gets to vote for the winners of each genre category. All in all, this year there are 55 categories writers and their items can win a Quill in. It is a big event, it's exciting and it's fun.

What is the PreQuills Gala?

"The PreQuill Gala (10th Annual Quills)"
[13+] is an event during which the finalists are announced for each category with a large amount of nominations. It is held after the judging has taken place. This year it took place on the 1st of April, and the finalists for 21 categories were announced. In addition, the current host of the Quills, Elle
, presented six early Quill winners with their awards.

Okay, so now what?

Now comes the main event. "The 10th Annual Quills Ceremony"
[13+] will be held on the 8th of April, at 3 pm W.Com time. There will be a live show, streamed through YouTube. The results will also be announced on the In-and-Out. You can come along and chat, cheer on your favourites, be cheered on if you were nominated, and interact with the people on the show. As said, this is an event for the community and everyone's welcome.

But I am new to this, so I kind of missed it all. What's in it for me?

You can still come along if you'd like! You may have friends who are nervously awaiting the results. There may be items you have read and reviewed and loved that are up for awards. You may well make new friends whilst there, or discover some real gems. And you never know, next year it may be your turn.

Also, when nominations open up again, you can nominate the items you come across that really touch you, make you think, that inspire you. If there's a contest you love, or an activity that you feel deserves the recognition, you can put it up for a Quill. There are plenty of categories to choose from, and if the demand is high enough new categories may well be created.

To nominate the works of others is a nice thing to do. Just imagine how it would feel if your work got nominated! It happened to me this year – I am a Quills newbie – and I can tell you that I felt very touched and honoured.

I get the message. You like the Quills.

Yes, I do. And I would encourage anyone and everyone to give it a go. Don't miss out on the action.
Kittiara



Here are some other writing adventures you might enjoy:


The Pink Fluffy Unicorn Contest (E)
The greatest writing challenge on WDC! PINK FLUFFY RESULTS NOW OUT!!! :)
#

2113126

by Robert Edward Baker
Zodiac Contest/CONTEST CLOSED (18+)
Create a character using personality traits from a Zodiac sign.
#

2115893

by GeminiGem🐒
The Dialogue 500 (18+)
Dialogues of 500 words or less.
#

941862

by W.D.Wilcox
WEIRD TALES CONTEST (18+)
A Contest Inspired by the Old Pulp Fiction Covers of Weird Tales Magazine
#

2083492

by Beacon-Light Forever
Invalid Item
This item number is not valid.
#

2085863

by Not Available.
Pond Poetry - ON HIATUS! (ASR)
A monthly poetry contest sponsored by The Talent Pond. Come on by!
#

1341392

by ~✿~ Krysha ~✿~
Elizabeth's Poetry & Short Story Contest (13+)
Open for November POETRY submissions.
#

2113830

by ElizabethHayes -SpringMistress
The PET NEWS CONTEST (E)
CLOSED
#

1986337

by GeminiGem🐒



Have an opinion on what you've read here today? Then send the Editor feedback! Find an item that you think would be perfect for showcasing here? Submit it for consideration in the newsletter!
https://Writing.Com/main/newsletters/action/nli_form



Don't forget to support our sponsor!




| | |
| --- | --- |
| ASIN: B01MQP5740 | Kindle |



The Action/Adventure Newsletter Team welcomes any and all questions, suggestions, thoughts and feedback, so please don't hesitate to write in!


Wishing you a week filled with inspiration,

The Action/Adventure Newsletter Team




| | |
| --- | --- |
| ASIN: 0997970618 | Book |



To stop receiving this newsletter, click here for your newsletter subscription list. Simply uncheck the box next to any newsletter(s) you wish to cancel and then click to "Submit Changes". You can edit your subscriptions at any time.