Printed from https://www.writing.com/main/newsletters/action/archives/id/8269-WDC-Tour-Part-4.html
Noticing Newbies: May 03, 2017 Issue [#8269]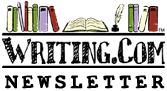 Noticing Newbies





This week: WDC Tour Part 4

Edited by: ember_rain
More Newsletters By This Editor



1. About this Newsletter
2. A Word from our Sponsor
3. Letter from the Editor
4. Editor's Picks
5. A Word from Writing.Com
6. Ask & Answer
7. Removal instructions





As a dyslexic writer, I understand how scary it can be to put yourself out there for others to read your work. But, it is something every writer needs to do. Whether you're submitting to a publisher or posting here for the WDC world to see, you have to get over it eventually or die forever in obscurity with your children wondering why Momma/Daddy never did anything with their work.

The purpose of my newsletter is to entertain a bit if I can, but it is also to help you look at writing ideas as a new member you might not have thought of. To address issues every writer faces at some point in time so you know you're not alone. On occasion, I will throw in a WDC technical issue on how to find your way around here or the ML. What I won't do is give you something that bores me. Yes, I know there will be spelling mistakes. I won't use every their, there or they're correctly. I may spell collage when I mean college. But, what you will get are real answers to problems I have conquered and some I'm still struggling just like some of you.

My one and only goal is to help our new members feel like the belong because you do. Different ideas are welcome. Different styles are welcome and yes even if you have in the past spelled cat K A T out loud and thought you were right or struggle to let characters lead and the plot follow, you have a place here on WDC. None of us are perfect. We all struggle and we are all here to help each other in that struggle.

Friends have jokingly suggested that I drank the WDC kool-aide. I will happily agree. I did and I am so glad I did. Here is to all of our new members finding their writing home with us as well.

Quick note: I lost my editor, He's moved three hours away and has very little internet access, all for the love of a girl. So please bear (or is it bare) with me there will be mistakes. I'm doing the best I can. Lucky for us all Firefox now offers a Grammarly app and it works here on WDC. (Note: I have found a new editor but thanks to the flash flooding this weekend I couldn't get this out fast enough to get it to her.)



| | |
| --- | --- |
| ASIN: B083RZ37SZ | |



Welcome to part Four of the tour. If you would like to see the first three parts the links to them follow:
The first part "Noticing Newbies Newsletter (February 8, 2017)"
, the second part at "Noticing Newbies Newsletter (March 8, 2017)"
and the third "Noticing Newbies Newsletter (April 5, 2017)"


As I said in part three, we will be continuing with the last few items you can create here on WDC that we haven't covered yet. If you will look at the railing of the steps you will see they are gold indicating that we are moving up to the Premium level. As we move through the door you can tell something here is different. Well, yes, here people have multiple signatures and more ways to share themselves with others.

To your right, you will see the computer center where you can create awesome web pages. These pages allow you to present your work as a web page. Rather than seeing everything with the sidebars, they are now gone and replaced with a header that can help navigate someone's port. Oh, look there is one coming up on the screen for you to check out right now. Be sure to check out all the links on the page it is designed to help our lost members out a bit. "The New Members Directory"


To your left are the photo albums. Working on a book and would like to keep the images of your characters straight? Put them in an album. Have lots of signatures you want to keep up with or a group whose images you want to have in one place? Put them in an album. You get the idea. You can use it for those things and much more.

Directly in front of you is our Merchant area known as shops. Here people sell everything from signatures and web page sets to handmade candles. It is pretty self-explanatory.

That large file cabinet over in the corner is where we store the documents. Have a draft of a story you don't want to lose? Upload the file here. Want to keep up with a file about your taxes and you're afraid you might lose it? Upload it here. Really if it is a doc file you want to keep you can upload it to the file cabinet. It comes in handy in November when National Novel Writing Month comes along.

Now there is one more level we need to look at. It is called Premium plus and we don't even have to leave the room. The speakers in the corner are our premium plus items. They hold the sound files you want to share with the rest of the world.

So, that is it. Those are all the items you can create at the different levels and what they are used for. I had other parts of this tour planned but my plans got washed away in a little flash flood over the weekend. So, if anyone has anything they would like me to talk about that I haven't then please let me know or check out that link I provided for the web page. When creating items you can also look to the top right of the page and find a link to how to create that item in our writing101 section or even scroll to the top of any page and find links on the right corner to help you with all of your needs.

I will see you back here next month either with part five or a new topic altogether. That just depends on the questions people ask in the mean time.





Some of our newest Members


Aom Am (E)
Aom Am and Mike met each other in the bus let see what happens there????
#

2120310

by NajwaQureshi
Afternoon in the city (E)
A young man has a day off for the first time in a week, and remembers his passion for art.
#

2120297

by Writer
Home (E)
I have a question. What's home mean for you?
#

2120250

by Jarianna
Invalid Item
This item number is not valid.
#

2120258

by Not Available.
Invalid Item
This item number is not valid.
#

2120008

by Not Available.
delusions (E)
its about how civilisation tries to create rationality out of our irrational world
#

2119974

by muddyirides
Reality or Theory (13+)
Is what your feeling real or theoretical?
#

2119940

by BeccaT
What you deserve (E)
Everyone deserves something they would love to fulfill in life
#

2119827

by Tatiana
Theocratic matriarchy (18+)
I'd like some feedback on this premise
#

2119785

by Martin
Paceless Flame (E)
a poem about my own ambition
#

2119707

by Vox Paranoia



Have an opinion on what you've read here today? Then send the Editor feedback! Find an item that you think would be perfect for showcasing here? Submit it for consideration in the newsletter!
https://Writing.Com/main/newsletters/action/nli_form



Don't forget to support our sponsor!




| | |
| --- | --- |
| ASIN: B004PICKDS | |



So what would you like to know?

Comments on my last newsletter

K.HBey
: This web site that I enjoy a lot, is wide and it is taking from me time to explore it and discover new options.You have done a good further exploration towards your present newsletter.Thanks a lot.




| | |
| --- | --- |
| ASIN: B07RKLNKH7 | Kindle |



To stop receiving this newsletter, click here for your newsletter subscription list. Simply uncheck the box next to any newsletter(s) you wish to cancel and then click to "Submit Changes". You can edit your subscriptions at any time.



Printed from https://www.writing.com/main/newsletters/action/archives/id/8269-WDC-Tour-Part-4.html