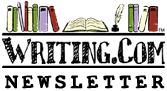 Romance/Love





This week: Conflict in Romance

Edited by: Lonewolf
More Newsletters By This Editor



1. About this Newsletter
2. A Word from our Sponsor
3. Letter from the Editor
4. Editor's Picks
5. A Word from Writing.Com
6. Ask & Answer
7. Removal instructions



Stories must have conflict, but we're rarely told why, or what conflict means. A lot of writers make the same mistake. When they first hear about putting conflict in their stories, they envision adding chase scenes or fist fights. However, conflict can hinge on something as basic as two people in love arguing about their future together. Just like real life. A story where the readers don't care about the characters is going to fall flat, no matter how many bullets fly past them.

| | |
| --- | --- |
| ASIN: B004PICKDS | |

What stands in the way of your hero and heroine falling in love at the end of Chapter 1? To make the romance satisfying for the reader, you must not only make the conflict believable, but make it substantial enough to carry the story.

Conflict has a special place in romance novels because romances have something that other novels don't have -- a strong emphasis on the relationship between a man and a woman. In a way, they don't just have one main character, they have two main characters. While most writers only have to worry about strengthening the conflict for one main character, you have to juggle the conflicts for the two characters. This is because the crux of the romance novel is the relationship between these main characters. It isn't just a subplot, it's the main plot. In the best romances, this relationship is intense.

In simplest terms, conflict is important to a story because without conflict, there is no tension, no reason to keep reading and find out what happens. Conflict stems from the fact that your characters' lives aren't perfect. Like you, they don't have everything they want. Even if they found everything they thought they wanted, they would probably realize there was something missing. Characters have to try to attain something, not necessarily wealth. Your main characters have to take risks to set things right. Other characters, or circumstances have to get in their way to make things interesting.

However, this also means that if the hero and heroine are always at odds, your readers could throw the book against the wall in frustration.

The romantic conflict is probably the most important conflict in a romantic story. The major conflict keeping the hero and heroine apart will be introduced in the first chapter. This issue will follow the characters through the course of the story - sometimes appearing resolvable, sometimes not - and will reappear even stronger in the darkest moment of the story. While the main romantic conflict will drive most of the story, it is common that a book will have more than just one romantic conflict.

In most novels, the hero and heroine will have their personal reasons for not wanting to fall in love, or for not wanting to fall in love with each other. It's important to know which conflict carries the book, and make sure secondary conflicts are set up and resolved in a way that it doesn't lessen the story flow.


The Letter. (13+)
When the Past Comes Calling...
#

2132590

by Sarah
What Neighbors Do (18+)
The first rule every young Naval officer should learn
#

2131249

by Life's a Beach... says Joey C
Invalid Item
This item number is not valid.
#

2121422

by Not Available.
The Fontaine (18+)
Jillian receives a mysterious inheritance - Co-written with Espero, Choconut, and Hannah
#

2119322

by Lornda
Invalid Item
This item number is not valid.
#

2110037

by Not Available.
A memory of spring (18+)
Xavier 'reads' memories from photos. This time it's love, war and a bench.
#

2040338

by Osirantinous



Have an opinion on what you've read here today? Then send the Editor feedback! Find an item that you think would be perfect for showcasing here? Submit it for consideration in the newsletter!
https://Writing.Com/main/newsletters/action/nli_form



Don't forget to support our sponsor!




| | |
| --- | --- |
| ASIN: B07N36MHWD | Kindle |


| | |
| --- | --- |
| ASIN: 1542722411 | Book |



To stop receiving this newsletter, click here for your newsletter subscription list. Simply uncheck the box next to any newsletter(s) you wish to cancel and then click to "Submit Changes". You can edit your subscriptions at any time.