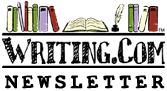 Fantasy





This week: Writing Advice

Edited by: Robert Waltz
More Newsletters By This Editor



1. About this Newsletter
2. A Word from our Sponsor
3. Letter from the Editor
4. Editor's Picks
5. A Word from Writing.Com
6. Ask & Answer
7. Removal instructions





Good advice is always certain to be ignored, but that's no reason not to give it.
-Agatha Christie

When you encounter seemingly good advice that contradicts other seemingly good advice, ignore them both.
-Al Franken

The only thing to do with good advice is to pass it on. It is never of any use to oneself.
-Oscar Wilde



| | |
| --- | --- |
| ASIN: B085272J6B | Kindle |



Recently, a forum post linked to this page of writing advice:

http://ocwriters.network/2017/08/29/top-10-writing-myths-holding-back/

If you're so inclined, take a look at that list (it's Part 1; the link to Part 2 is down below the comments). But I'm not going to address the specific points that author makes; what I have to say this week is more about advice in general.

In the years I've been doing these newsletters, I've given plenty of advice. I've even taken my own advice from time to time. Thing is, though, I've found that few people are willing to take someone else's advice - even if they asked for it. Sometimes, especially if they asked for it.

It's even worse for writers, I think. Writers are, after all, readers, and if there's one trope that holds true across all genres of fiction, it's this: In a story, advice given is never taken.

Think about it. Have you ever read a book, or seen a show, in which someone gives well-intentioned advice, and the advisee actually follows it? I can't think of any examples, myself, but I'm sure you can think of plenty of examples of advice not taken.

"Don't stray from the path."

*Characters stray from the path.*

"Don't wander off."

*Characters wander off.*

"Whatever you do, don't press the red button."

"You mean this one?" *Click*

In fact, if someone in a story gives someone else some advice, and the advice gets followed, well... that would leave the reader hanging, wouldn't it? We all want to know what happens.

So we writers, conditioned to this trope, probably tend to ignore advice at a higher rate than the general population.

I've always wanted to put a sign on a door in my house going, "Never open this door!" On the other side, of course, would be nothing but a motion-activated camera so I can catch people opening the door. But they don't have to know that. For all they know, I have clowns hidden away in there. Or spiders. Or clown spiders. Anyway, not going to happen because I never have guests anymore (probably something to do with the spiders).

So, knowing this, I have just one sentence of advice for you:

Never take any writing advice, ever.



Some writings for you:



Have an opinion on what you've read here today? Then send the Editor feedback! Find an item that you think would be perfect for showcasing here? Submit it for consideration in the newsletter!
https://Writing.Com/main/newsletters/action/nli_form



Don't forget to support our sponsor!




| | |
| --- | --- |
| ASIN: B07YJZZGW4 | Kindle |

Last time, in "Preparing for NaNoWriMo"
, I suggested that NaNo participants might want to do some world-building in September.


Write 2 Publish 2020
:

I've been tempted to join Nano again. Maybe this story will keep me writing to the end. I'm not sure if it will be an official Nano or just doing it on my own. Maybe just join the WDC version and not the other.



The choice is entirely up to you
Mumsy
: Physics . . . mathematics? I'm doomed!
And here I was planning to write a fantasy for NaNoWriMo this year. Wanna be my tutor?


I dunno. My cheerleading duties might conflict with that. Rah.


That's all for me for September - see you next month! Until then,



DREAM ON!!!




| | |
| --- | --- |
| ASIN: B07K6Z2ZBF | |



To stop receiving this newsletter, click here for your newsletter subscription list. Simply uncheck the box next to any newsletter(s) you wish to cancel and then click to "Submit Changes". You can edit your subscriptions at any time.