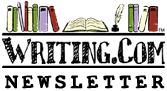 Action/Adventure





This week: Dig Into Ancestory

Edited by: Leger~
More Newsletters By This Editor



1. About this Newsletter
2. A Word from our Sponsor
3. Letter from the Editor
4. Editor's Picks
5. A Word from Writing.Com
6. Ask & Answer
7. Removal instructions



The purpose of this newsletter is to help the Writing.com author hone their craft and improve their skills. Along with that I would like to inform, advocate, and create new, fresh ideas for the author. Write to me if you have an idea you would like presented.
This week's Action / Adventure Editor
Leger~

| | |
| --- | --- |
| ASIN: B07YJZZGW4 | Kindle |





Ancestor Appreciation



In my ongoing quest for newsletter topics, I once again turn to the calendar for inspiration. This time it was September 27th, Ancestor Appreciation Day. Certainly, I'm not condoning digging up your great grandfather to thank him for those superbly shaped ears. But, looking into your genealogy, listening to your family anecdotes and learning the history of where your family came from, how they traveled and where they ended up in the world can inspire a lot of fine ideas for stories.

Ask questions of your family members, ask the elders for your stories. I know, not everyone has time to delve deeply into their background and discover every detail of their family history, but surely you know a little bit about your ethnic background or a little history. There are even DNA kits you can buy and swab your mouth to collect a sample and have your DNA checked. That right there sparks a lot of ideas in my head.

Obviously a lot less history and details were recorded in earlier times but I feel like that leaves a lot open for interpretation and storytelling. Starting out with some researched historical evidence and embellishing with plausible events can be a whole lot of fun while learning and writing about your family history. Give it a shot, and let me know where those ears came from. As always, Write On!


This month's question: Have you researched your family background? Did it spark a story?
Answer below
Editors love feedback!

Kleine-Levin Syndrome (13+)
The journal of a young girl suffering from a death-like condition and her experience.
#

2134728

by TheMidget
Excerpt: I think it's been about... I don't know maybe two months now? I honestly I have no idea. It's like I've lost all sense of time since all this shit first started happening. I literally check what time it is every chance I get, yeah I've become one of those people
Invalid Item
This item number is not valid.
#

2131044

by Not Available.
Excerpt: My sister moans. I turn to see if she is awake. No. The bed creaks wearily as she tosses and turns. Caught up in some horrible dream about a one-eyed man with evil on his mind. I know, because I have the same dream, every night it seems. Which is why I sit at the window, watching the dim figures of storm-tossed trees dancing outside.
Invalid Item
This item number is not valid.
#

2133351

by Not Available.
Excerpt: Or, not a fight really. That wasn't their way. Actually, they rarely fought at all, if ever. There were no screaming, raging shout-fests. Doors were never slammed, insults were never hurled, and words were never wielded as weapons. Their relationship had always been as smooth and easy as undisturbed lake water on a lazy summer day.
The Beast (E)
A short fantasy jaunt.
#

2134987

by textual
Excerpt: The dragon circled! Jane watched terrified, but she gauged it's flight. The slow graceful way it seemed to float on the air after every almost casual flap of its wings. The beast was playing psychological games with her. She held her sword, it's long skinny blade pointing out from her right thigh, her fingers wrapped tightly around the handle, the hilt like a cross her hand's only protection.
Butcher, Baker, Candlestick Maker (18+)
A lonely recluse has plans for the Lily Scouts on their annual fundraising drive.
#

2135362

by John Yossarian
Excerpt: "Well, good afternoon, young lady," Gerald Cates held up a hand to guard his eyes and blinked against the morning glare. Standing on his front stoop was the little blonde girl, her clipboard held tight against her chest. "I see the Lily Scouts are right on time for their fall sales crusade." He clapped his hands together with a meaty pop. "What do we have on the menu this year?"
Invalid Item
This item number is not valid.
#

2035490

by Not Available.
Excerpt: It was just after 2:30am when Anatole realised he could no longer endure Amaryllis's snoring. She had been snoring solidly for more than four hours, while poor Anatole had slept fitfully, covering his ears with a pillow to block out the noise. It had done him no good; he couldn't sleep that way.



Have an opinion on what you've read here today? Then send the Editor feedback! Find an item that you think would be perfect for showcasing here? Submit it for consideration in the newsletter!
https://Writing.Com/main/newsletters/action/nli_form



Don't forget to support our sponsor!




| | |
| --- | --- |
| ASIN: 0997970618 | Book |



This month's question: Have you researched your family background? Did it spark a story?
Answer below
Editors love feedback!
Last month's question: Do you like to use unusual words or foods in your writing?
How do you convey what it actually is?
Fyn
replied: Stouffers has Welsh Rarebit you can buy! While awesome over plain toast, it is also used in creating a 'Hot Brown" (yes, google-able) which is a layered open sandwich of toast, turkey, bacon, tomatoes and the cheese sauce and it is flat out amazing!

Quick-Quill
answered: In our family we have taken it a step further. We call it squeezed rabbit. It's tuna mixed with mayo, spread over toast topped with a slice of cheese and placed under the broiler until the cheese is melted. A real treat when my kids were growing.



Thank you for the feedback!




| | |
| --- | --- |
| ASIN: B07YXBT9JT | |



To stop receiving this newsletter, click here for your newsletter subscription list. Simply uncheck the box next to any newsletter(s) you wish to cancel and then click to "Submit Changes". You can edit your subscriptions at any time.