Printed from https://www.writing.com/main/newsletters/action/archives/id/8578-NaNoWriMo-Prep.html
Romance/Love: November 01, 2017 Issue [#8578]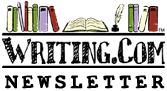 Romance/Love





This week: NaNoWriMo Prep

Edited by: Lonewolf
More Newsletters By This Editor



1. About this Newsletter
2. A Word from our Sponsor
3. Letter from the Editor
4. Editor's Picks
5. A Word from Writing.Com
6. Ask & Answer
7. Removal instructions



NaNo can make even the most seasoned writer nervous. Learning about techniques and resources can also help you prepare for NaNoWriMo, you'll be ahead of the game before you even begin your novel, and will have a greater chance making it to the 50,000 word finish.

| | |
| --- | --- |
| ASIN: 0997970618 | Book |

During the month of November here are a few things I'm implementing. It's something that I have done for the last 8 years, and I hope some of this will help you.

1. Tell your friends and family that you will be participating in NaNoWriMo this year. Explain how the contest works to anyone who is not familiar with it. It's crucial to your success to have a support system of people who understand what you are trying to accomplish and can offer encouragement.

2. Analyze your current free-time schedule and determine if there are any activities you can cut back on, or temporarily eliminate while you are participating in NaNoWriMo. This will give you additional dedicated writing periods that you can utilize during November.

3. Block out daily writing time on a calendar for each day during the month you are participating in NaNoWriMo. Take into consideration that there may be certain days of the week that can yield more designated writing time than others and adjust your writing schedule accordingly.

4.Distribute copies of your writing schedule to family and friends, so they are aware of when you will be unavailable. Once people know more about your writing schedule during NaNoWriMo, they will be more respectful of your designated writing time.

5. Set aside time for brainstorming ideas about the novel you intend to write and record them using a notebook. Generate concepts surrounding your novel's plot, main characters, and setting. Having a general blueprint for your novel will keep you on track during your writing.

6. Sign up or log in at the official NaNoWriMo
website. The site will keep track of your word count progress during the NaNoWriMo writing competition and connect you with other writers in your region, so you can give and get moral support from fellow writers during NaNo. For all of you who may be participating in NaNo, and have signed up for the site feel free to add me as your writing buddy there: I'm Lonewolfmcq
Be sure to include some social time in your schedule during NaNoWriMo, so close friends and family don't feel neglected. This will also provide motivation for you to complete your writing for the week so you can fully enjoy being away from your computer.


Don't try to do it all. Trying to keep up your normal schedule in addition to participating in NaNoWriMo can cause burnout.



~ ~ ~



I'm also participating in a WDC event called the NaNoWriMo Write - A- Thon as a member of

Team Red

this year. The deadline to sign up as a writer is 11:59 PM WdC time on October 31st, 2017. However, if you don't take part as a writer please sponsor one of the many talented writers that are participating.
NaNoWriMo Write-A-Thon (ASR)
A NaNoWriMo fundraiser... compete as a NaNo writer or donate by sponsoring one!
#

1546312

by Jeff

Invalid Item
This item number is not valid.
#

1968907

by Not Available.
The Clifton Curse - NaNo 2010 (18+)
A love triangle, a family curse, jealousy, and forgiveness - first draft
#

1720149

by Joy
Minor Character 1 Back Story (13+)
Required Assignment 15 for NaNo Prep
#

2062066

by Geneva Fox
Saving Rowan (ASR)
A brief background story for my NaNoWriMo project, Shapeshifter's Moon
#

2015911

by RebelQueen
Ace of Scrolls: Backstory (ASR)
Meet Kat and Luke - potential preface to my NaNo Novel
#

2013066

by Fran 🏅🇬🇧🇬🇧🏅



Have an opinion on what you've read here today? Then send the Editor feedback! Find an item that you think would be perfect for showcasing here? Submit it for consideration in the newsletter!
https://Writing.Com/main/newsletters/action/nli_form



Don't forget to support our sponsor!




| | |
| --- | --- |
| ASIN: B07NPKP5BF | Toy |


| | |
| --- | --- |
| ASIN: 1542722411 | Book |



To stop receiving this newsletter, click here for your newsletter subscription list. Simply uncheck the box next to any newsletter(s) you wish to cancel and then click to "Submit Changes". You can edit your subscriptions at any time.



Printed from https://www.writing.com/main/newsletters/action/archives/id/8578-NaNoWriMo-Prep.html