Printed from http://www.writing.com/main/newsletters/action/archives/id/8634-Tis-the-Season-for-RAOK.html
Contests & Activities: December 06, 2017 Issue [#8634]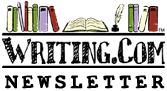 Contests & Activities





This week: 'Tis the Season for RAOK

Edited by: Gaby
More Newsletters By This Editor



1. About this Newsletter
2. A Word from our Sponsor
3. Letter from the Editor
4. Editor's Picks
5. A Word from Writing.Com
6. Ask & Answer
7. Removal instructions



Carry out a random act of kindness, with no expectation of reward, safe in the knowledge that one day someone might do the same for you.
~ Princess Diana

Writing.Com presents "Writing Prompts", the app with an endless supply of creative inspiration for writers!

Get it for Apple iOS, Android or Kindle Fire.
Creative fun in the palm of your hand.

Well, the year is getting closer to the end but that doesn't mean that the acts of kindness have to stop. As the past few months have changed for me, in more ways than one, and the holidays are approaching, I've learned that random acts of kindness are not simply a nicety we can do or afford, but that they are needed.

Without telling you that you should run a fun auction, contest, or a raffle, or another activity that can create fun on the site, because that goes without saying, I think we should also focus on the little things. Don't they matter the most anyway? If you can, if you feel inclined to, do something nice for someone you know, or maybe don't know.

If you click on the shop link on the left side and go to the WdC Shop, a new page will open for you. You can shop for items for yourself, which you can also add to your personal wish list, or... You can click on All Wish Lists and check out the wishes from others. I've done it a few times in the past as well as received gifts from people at random and it sure brightens up ones day, I'll tell you.

Think about it! It doesn't have to be anything large and if the shipping is high, you can always send out something smaller like a C-Note for the holidays, a note saying you're thinking of them or just to wish them happy holidays. Not everyone is fortunate enough to celebrate them with family.

'Til next time!
~ Gaby

Secret Santa 2018 (18+)
A fun way to get in the holiday spirit!
#

1494614

by Leger~
The Joy of Giving Raffle (E)
My Christmas Raffle for members of WDC.
#

2102403

by amy-Looking Forward
The Pink Fluffy Unicorn BIRTHDAY Contest (E)
The greatest writing challenge on WDC — RESULTS POSTED!
#

2113126

by Robert Edward Baker
Advent Silent Auction (13+)
A silent auction for December to raise GPs for some awesome groups
#

2141974

by Andy52in52~Wodehousing
Holiday Cheer Fundraiser (E)
Closed. Reopens December 2018.
#

2141909

by Warped Sanity
Leger's Christmas Raffle (E)
Three members and RAOK will win!
#

1828348

by Leger~



Have an opinion on what you've read here today? Then send the Editor feedback! Find an item that you think would be perfect for showcasing here? Submit it for consideration in the newsletter!
https://Writing.Com/main/newsletters/action/nli_form



Don't forget to support our sponsor!







To stop receiving this newsletter, click here for your newsletter subscription list. Simply uncheck the box next to any newsletter(s) you wish to cancel and then click to "Submit Changes". You can edit your subscriptions at any time.



Printed from http://www.writing.com/main/newsletters/action/archives/id/8634-Tis-the-Season-for-RAOK.html