Printed from http://www.writing.com/main/newsletters/action/archives/id/8635-The-Decorations-in-A-Fantasy-Story.html
Fantasy: December 06, 2017 Issue [#8635]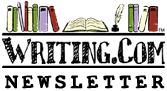 Fantasy





This week: The Decorations in A Fantasy Story

Edited by: Dawn Embers
More Newsletters By This Editor



1. About this Newsletter
2. A Word from our Sponsor
3. Letter from the Editor
4. Editor's Picks
5. A Word from Writing.Com
6. Ask & Answer
7. Removal instructions





Fantasy Newsletter by Dawn

Taking a look at how we decorate for the holidays and that it's something we also can include with speculative fiction stories.



Setup as a game show for your brain, Sketchy Memory helps you test and train your memory with a variety of challenges. In each, you'll need to remember what you see.

Get it for Apple iOS.
Creative fun in the palm of your hand.



Around this time of year, and okay or maybe people started weeks ago, there is a fair bit of decorating going on for the holidays. Outside, at home or even in the work place, there are things to help represent the holidays and the use of decorations is often used for a number of reasons. Whether religion based, wanting to spread cheer/joy or just out of tradition, we have reasons that we decorate and it's something we can also incorporate when it comes to our speculative fiction stories. And we can do so in more than one way.

One place we do this is a bit more obvious when you think of decorations. That is with the cover. We decorate our stories when we create a cover that has an image in order to attract someone to read it. Even if not publishing or just in rough draft form, we can have some type of image used to help represent the story here on WDC since we can have a cover image for the static item. We can also create images that relate to the story if the inspiration strikes. Some people do maps, character sketches and even landscapes to help themselves visualize their story more. This in some ways is a form of decorating.

But it's not just the outside part of the story involved in the process or the author adding an image onto a document. Characters can decorate too. We create these different worlds and tell stories in them that include more than plain rooms with barren walls. So, there is a little decorating that gets involved. When we create the world, in a sense, as a writer we do the decorating.

And during the tale, the characters might come across times or have traditions that involve changing their atmosphere. It might not be putting up a tree and covering it with lights, but they can still do something. In fact, if you have a world that includes magic there are many possible things you could have them do or create. A variety of fun or even weird traditions could blossom within the story, not taking up too much time or space to distract from the main story of course. Having such will help add a bit of reality to the world, make it more visual to the reader and could add some points of interest too.

Just have to let loose, get out the tinsel (or maybe not, magic can only do so much in the clean up process) and have a little fun decorating your story.



Short Shots: Official WDC Contest (E)
Use the photo to inspire your creativity. Write a short story and win big prizes!
#

1221635

by Writing.Com Support
World Weavers' Championship (13+)
Contest currently closed.
#

2012128

by Tileira
Thrice Prompted (E)
This is now reopened. this is for everybody who joins, or wishes to join our group.
#

2016845

by David the Dark one!
The LGBT Writing Contest: Open (18+)
Bi-monthly contest for LGBT characters. Great prizes and reviews.
#

1980539

by Os the Capricorn
Science Fiction Short Story Contest (18+)
A contest inspired by the serious need for more good sci-fi
#

2140378

by BlackAdder
Grief (E)
My entry for the Science Fiction Short Story contest, we are in need of good sci-fy.
#

2141513

by Mariella Stift
Android (13+)
Mr. Green and his son receive a special package in the mail.
#

2141754

by Genipher-gone fishing!
Heaven's Citadel (13+)
A nobleman yearns to reach a place of dreams.
#

2142016

by brom21



Have an opinion on what you've read here today? Then send the Editor feedback! Find an item that you think would be perfect for showcasing here? Submit it for consideration in the newsletter!
https://Writing.Com/main/newsletters/action/nli_form



Don't forget to support our sponsor!






How do you use decorations in or involving your fantasy stories?


Last time, for the fantasy newsletter I discussed whether or not magic was included in the story. One response came in for the topic.

Comment by Elfin Dragon - poetry fiend

Magic has to be from the very beginning of my story because if i don't create it that way it won't flow right. Even if it's just a small spark, it has to be there.







To stop receiving this newsletter, click here for your newsletter subscription list. Simply uncheck the box next to any newsletter(s) you wish to cancel and then click to "Submit Changes". You can edit your subscriptions at any time.



Printed from http://www.writing.com/main/newsletters/action/archives/id/8635-The-Decorations-in-A-Fantasy-Story.html