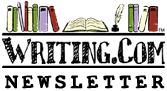 Poetry





This week: Clement Clarke Moore

Edited by: Stormy Lady
More Newsletters By This Editor



1. About this Newsletter
2. A Word from our Sponsor
3. Letter from the Editor
4. Editor's Picks
5. A Word from Writing.Com
6. Ask & Answer
7. Removal instructions



This is poetry from the minds and the hearts of poets on Writing.Com. The poems I am going to be exposing throughout this newsletter are ones that I have found to be, very visual, mood setting and uniquely done.
Stormy Lady

Writing.Com presents "Party Prompts", the iPhone app with an endless supply of dinner party conversation starters and inspirations!

Get it for Apple iOS.
Creative fun in the palm of your hand.



I read this every Christmas to my children growing up. Now that they have graduated college and are miles away I thought I would share it with you. Happy Holidays to all my writing.com friends and family.

'Twas the Night Before Christmas
(or A Visit from St. Nicholas)
by Clement Clarke Moore

'Twas the night before Christmas, when all through the house
not a creature was stirring, not even a mouse.
The stockings were hung by the chimney with care,
in hopes that St. Nicholas soon would be there.

The children were nestled all snug in their beds,
while visions of sugar plums danced in their heads.
And Mama in her 'kerchief, and I in my cap,
had just settled our brains for a long winter's nap.

When out on the roof there arose such a clatter,
I sprang from my bed to see what was the matter.
Away to the window I flew like a flash,
tore open the shutter, and threw up the sash.

The moon on the breast of the new-fallen snow
gave the lustre of midday to objects below,
when, what to my wondering eyes should appear,
but a miniature sleigh and eight tiny reindeer.

With a little old driver, so lively and quick,
I knew in a moment it must be St. Nick.
More rapid than eagles, his courses they came,
and he whistled and shouted and called them by name:

"Now Dasher! Now Dancer!
Now, Prancer and Vixen!
On, Comet! On, Cupid!
On, Donner and Blitzen!
To the top of the porch!
To the top of the wall!
Now dash away! Dash away!
Dash away all!"

As dry leaves that before the wild hurricane fly,
when they meet with an obstacle, mount to the sky
so up to the house-top the courses they flew,
with the sleigh full of toys, and St. Nicholas too.

And then, in a twinkling, I heard on the roof
the prancing and pawing of each little hoof.
As I drew in my head and was turning around,
down the chimney St. Nicholas came with a bound.

He was dressed all in fur, from his head to his foot,
and his clothes were all tarnished with ashes and soot.
A bundle of toys he had flung on his back,
and he looked like a peddler just opening his pack.

His eyes--how they twinkled! His dimples, how merry!
His cheeks were like roses, his nose like a cherry!
His droll little mouth was drawn up like a bow,
and the beard on his chin was as white as the snow.

The stump of a pipe he held tight in his teeth,
and the smoke it encircled his head like a wreath.
He had a broad face and a little round belly,
that shook when he laughed, like a bowl full of jelly.

He was chubby and plump, a right jolly old elf,
and I laughed when I saw him, in spite of myself.
A wink of his eye and a twist of his head
soon gave me to know I had nothing to dread.

He spoke not a word, but went straight to his work,
and filled all the stockings, then turned with a jerk.
And laying his finger aside of his nose,
and giving a nod, up the chimney he rose.

He sprang to his sleigh, to his team gave a whistle,
And away they all flew like the down of a thistle.
But I heard him exclaim, 'ere he drove out of sight,

"Happy Christmas to all, and to all a good night!"

Clement Clarke Moore was born in 1779 in New York. Moore's father, Reverend Benjamin Moore, was well known. He was the Episcopal Bishop of New York. His father was a part of George Washington's first inauguration and he also gave last rights to Alexander Hamilton. Clement Moore was an author and a noted Hebrew scholar. It is said that he spoke five different languages and was a real-estate owner and developer in Manhattan.

Moore had many accomplishments, but he is remembered only for his poem " 'Twas the Night Before Christmas." It has been told that Moore wrote the poem on Christmas Eve in 1822. He was riding in a sleigh on his way back from Greenwich Village after picking up a turkey for Christmas dinner. Some even say that the large man driving his sleigh that night was the inspiration Moore used for his chubby St. Nicholas.

When Moore arrived home he read his poem to his six children and his wife. It is said that he thought no more about the poem and it was family friend that submitted the poem to a local newspaper. It was published anonymously in the New York, Sentential. Moore didn't copyright the poem, and only claimed it as his own close to a decade after it was first published. He finally included the poem in a book of his poetry in 1844.

Moore died in 1863 he is buried in a cemetery in lower Manhattan, New York.


Thank you all!
Stormy Lady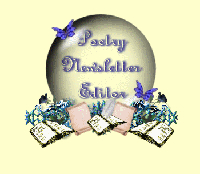 ~~~~~~~~~~~~~~~~~~~~~~~~~~~~~~~~~~~~~~~~~~~~~~~~~~





~~~~~~~~~~~~~~~~~~~~~~~~~~~~~~~~~~~~~~~~~~~~~~~~~~
The winner of "Stormy's poetry newsletter & contest"
[ASR] is:

Invalid Item
This item number is not valid.
#

2140192

by Not Available.


Perched in a tree outside the window
watching the people of the house,
celebrate the holiday with noisy horns.
Waiting, for the lights to dim.
Then her dream becomes reality
stocking the innocent and the wayward.
In the distance -
wolves howl – making sweet music -
at the full moon, as it scurries through starlight.
A creature of the night herself
walks the shadowy streets.
With little hope for the city to survive.


Honorable mention:

Late Night Delivery (E)
Not everyone has a perfect life.
#

2141559

by Dorianne

~~~~~~~~~~~~~~~~~~~~~~~~~~~~~~~~~~~~~~~~~~~~~~~~~~

~~~~~~~~~~~~~~~~~~~~~~~~~~~~~~~~~~~~~~~~~~~~~~~~~~


These are the rules:

1) You must use the words I give in a poem or prose with no limits on length.

2) The words can be in any order and anywhere throughout the poem and can be any form of the word.

3) All entries must be posted in your portfolio and you must post the link in this forum, "Stormy's poetry newsletter & contest"
[ASR] by December 30, 2017.

4) The winner will get 3000 gift points and the poem will be displayed in this section of the newsletter the next time it is my turn to post (January 3, 2018)

The words are:



New Years resolution gone astray champagne dancing laughter
Good luck to all
~~~~~~~~~~~~~~~~~~~~~~~~~~~~~~~~~~~~~~~~~~~~~~~~~~

~~~~~~~~~~~~~~~~~~~~~~~~~~~~~~~~~~~~~~~~~~~~~~~~~~

Invalid Item
This item number is not valid.
#

2142060

by Not Available.
Elmwood Liquor (13+)
What's in a name?
#

2141870

by Cinnamon Fruitcake
Reflections (13+)
Upon our history this poet reflects
#

2142102

by Andy52in52~Wodehousing

~~~~~~~~~~~~~~~~~~~~~~~~~~~~~~~~~~~~~~~~~~~~~~~~~~


~~~~~~~~~~~~~~~~~~~~~~~~~~~~~~~~~~~~~~~~~~~~~~~~~~

"Rainy days and little white lies'' (E)
A poem about a rainy day.
#

2141445

by writerchuck
Done Gone (E)
When all things are finished ...
#

2141617

by ChrisDaltro-Chasing Moonbeams
Ways to Disappear (E)
for the Writer's Cramp
#

2141860

by ridinghhood--p. boutilier

~~~~~~~~~~~~~~~~~~~~~~~~~~~~~~~~~~~~~~~~~~~~~~~~~~


~~~~~~~~~~~~~~~~~~~~~~~~~~~~~~~~~~~~~~~~~~~~~~~~~~

From Dreams You Came (E)
Entry to write from the heart - 1/12/17- 22 lines
#

2142154

by alf8collier
Tied to Mortality (E)
A poem about our temporary existance in a turning world
#

2142203

by Mariella Stift
Suspended in Twilight (E)
Entry for Daily poem challenge - quatern - 16 lines
#

2142458

by alf8collier

~~~~~~~~~~~~~~~~~~~~~~~~~~~~~~~~~~~~~~~~~~~~~~~~~~







Have an opinion on what you've read here today? Then send the Editor feedback! Find an item that you think would be perfect for showcasing here? Submit it for consideration in the newsletter!
https://Writing.Com/main/newsletters/action/nli_form



Don't forget to support our sponsor!







To stop receiving this newsletter, click here for your newsletter subscription list. Simply uncheck the box next to any newsletter(s) you wish to cancel and then click to "Submit Changes". You can edit your subscriptions at any time.