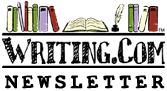 Romance/Love





This week: Fashioning your Protagonist

Edited by: Samberine Everose
More Newsletters By This Editor



1. About this Newsletter
2. A Word from our Sponsor
3. Letter from the Editor
4. Editor's Picks
5. A Word from Writing.Com
6. Ask & Answer
7. Removal instructions



Happy New Year to everyone! I'm again your guest editor this week in the Romance/Love Topic. First, I will not be tired in saying Thank you to all the beautiful people here in this wonderful land of WDC for all their generosity in helping and teaching us to grow in our writings, and it's always been an honor to be part of this official WDC newsletter. Sharing my opinions and views through my articles (and other humble bits) is a privilege that I truly appreciate.

Have you ever been in love with the main character or muse in a novel or story that you had read?
You can make them very alive in your romance story. Make your reader be in love with your protagonist by some few thoughts as follow.

Our art prompt generators use various mediums, time periods, art styles, colors, sketches, genres and words, unleashing an endless supply of fantasy to fuel your muse. Now you can have instant artistic inspiration and ideas right at your finger tips, whether online or off!

Get it for Apple iOS.
Creative fun in the palm of your hand.

Dear Friends,

If we have a passion in writing, definitely, we also have a passion in reading, because these two crafts will always be together, as the simple logic, "we can't write if we don't know how to read." So, therefore, as a wide reader book lover, I hope you already read thousands of pocketbooks and books since the day that you've started to read. Right!

Now, I wonder if you've fallen in-love already into the main character of the story or in the novel that you had read?

I remember when I was still a teenager and studying in college, I often heard from my close friends after they read a certain pocketbook, that they liked and loved the main character of the novel. They've wished that the protagonist especially the male character will become alive, so usually, girls will answer yes to their admirer when they will see on them a certain character or qualities that will remind them on their favorite novel-protagonist.

Who will never forget the male protagonist of Shakespeare in his all-time favorite romance novel- Romeo and Juliet, or some of fairy tale male character like the Beast in the Beauty and the Beast or Alladin, though, these are already classic stories and they are vintage characters, but it still creates an impact and can't be easily forgotten by the society because of their fundamental-concrete legacy already.

I wonder if which one is more striking on these unforgettable stories. Is it the story that makes us love the character or the way how the author creates and build her/his protagonist.

In the Romance Genre, one of the main element in building a good Romance story is the strong foundation for creating and building our main Characters: the male and female or the lovers. Different scenes or exposure of the main characters that are really needed in the story that will introduce more of their personality can make the reader be intact and know them more intimately and have the possibility to love them by readers.

Even in choosing the names of your characters, it is important because it gave a different impression as well as will stir something within your readers through their own delight, imagery, and experience. I found some weaknesses in the names of Roger, Mario, or Bong because it reminds me of some goons here in our place, while the names Mathew, Jim, or Romeo gave me a strong impression to have good qualities and are passionate guys because it reminds me of some characters who have a legacy already. Are their names also are flexible and can link even in any setting of any story?
It's better to experiment creating names of your characters so that their names will become unique.

The different scenes can create or reflect qualities on them even if it will not formally state in the story. Instead of saying He was handsome, kind and gentleman.
Why not create a scene showing that he was kind and gentleman. If you are a female writer, pretend that you are his beloved in the story and how he in your taste would he be showing his handsomeness and being kind or gentle that will make you fall in love to him.

Like for instance:

Mathew decided to wait outside her house, even she doesn't like to talk to him because of what he did. The strong rain makes him shiver, but Mathew preferred to stay and wait for her call.

The scene above shows Mathew is patient, and sincere, rather than stating it that Mathew is sincere and a patient guy.

And once your reader is in love with your characters, they will follow them even if in many books or chapters like the epic hero characters of John Carter, Superman and beloved Romeo of Juliet.

Now, think about your ideal girl or guy and make them alive through creating a character on them.
Write in On and share here.


Pieces around the community to read and think about.


Love (18+)
A Spoken Word Poem
#

2111485

by Lostwordsmith
Truth Rose (E)
Entry for Daily Flash Fiction Challenge 3/28/16. Prompt: diamond, rose, shop 296 words
#

2079507

by Snow Angel
Aries Ram I Am (E)
article on Aries Astro sign
#

1851887

by eyestar~Go Power Raiders
Libra-Goddess of Love (E)
A poem written for MB project,It's about how unique and beautiful Libras are.
#

2028746

by ~Minja~


Contest where you can test your skill in creating and building your main character


The Writer's Cramp (13+)
Write the best story or poem in 24 hours (or less) and win 10KGPs.
#

333655

by SoHoHoHophy
Character Flaws Contest (E)
Come yarn me a tale about a flawed character!
#

2144029

by Genipher-gone fishing!
Just One Point of View Contest (18+)
It's all about third person limited point of view
#

1992580

by Max Griffin 🏳️‍🌈
A Romance Contest ~~ CLOSED (13+)
A short story contest for the Seasons of Romance:
#

1892844

by Osirantinous
Write From the Heart Story Contest (E)
CONTEST CLOSED
#

2121278

by ∞Purple Princess∞
The PET NEWS CONTEST (E)
WRITE ABOUT A BELOVED PET.
#

1986337

by GeminiGem
Paranormal Romance Short Story Contest (13+)
A Monthly Romance Contest -- a 2016 Quill Award Winner
#

2089860

by Jim Hall
Dear Me: Official WDC Contest (E)
What are *your* goals for the new year? Think it over, write a letter and win big prizes!
#

597313

by The StoryMistress



Have an opinion on what you've read here today? Then send the Editor feedback! Find an item that you think would be perfect for showcasing here? Submit it for consideration in the newsletter!
https://Writing.Com/main/newsletters/action/nli_form



Don't forget to support our sponsor!




Feedback from our readers in my "Romance/Love Newsletter (December 20, 2017)"
I love comments!

Thank you so much for sharing what it's like to celebrate Christmas in the Philippines. My traditions as a young girl are now different from what I celebrate with my boys but I always enjoy making sugar cookies with the kids. There's a lot of love put into making them and creating different designs ~ from StephB Keeping Warm


Hi Samberine,

Thank you for including "Invalid Item"
in the Christmas edition of your newsletter.
Much appreciated.
Wishing you a warm and wonderful holiday season~ from Mia Mia - in Autumn Rains


Hey, thanks for the cultural lesson about Christmas in the Philllipines.
Also, many thanks for plugging the Unicorns in your newsletter~ from Robert Edward Baker

Merry Christmas. It's wonderful~ from phanuelp

Thank you all for reading.
Don't hesitate to send me question or if you like to add an opinion or an item to be featured in my next newsletter.
You can send it through our mailbox below.

Until next time.



To stop receiving this newsletter, click here for your newsletter subscription list. Simply uncheck the box next to any newsletter(s) you wish to cancel and then click to "Submit Changes". You can edit your subscriptions at any time.