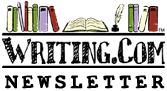 Contests & Activities





This week: When it's Time, it's Time

Edited by: Octobersun
More Newsletters By This Editor



1. About this Newsletter
2. A Word from our Sponsor
3. Letter from the Editor
4. Editor's Picks
5. A Word from Writing.Com
6. Ask & Answer
7. Removal instructions





I am Octobersun
, and I will be your guest editor for this issue.



Setup as a game show for your brain, Sketchy Memory helps you test and train your memory with a variety of challenges. In each, you'll need to remember what you see.

Get it for Apple iOS.
Creative fun in the palm of your hand.

When it's Time, it's Time



All contests and activities on Writing.Com have a beginning and ending time. But how do you know when it's time to enter?


If you look at your clock at home, it can tell you the time you set it to. That will most likely be the timezone that you live in. Those who live in the USA
are the closest to that magical time called "Writing.Com time." Those on the East Coast even get to live in that very sweet spot of not having to worry about it because there it's very likely that the time on their clock at home is the same time as Writing.Com time.

Since Writing.Com exists on the internet, we can access it from all over the world
. This means we might be in the United Kingdom
or in Australia
. Or some other place that does not have the same time of day as Writing.Com time.

So, if I don't want to whip out my world clock each time I want to take part in an activity or contest on Writing.Com, how do I find out when's the right time?

Easy. Look at the clock
. That would be the clock in the left sidebar. It will tell you the day of the week, the month, day of the month, year, and the exact time in EST (Eastern Standard Time), or, as we like to call it, "Writing.Com time."

Many contest will not accept your entry if it's submitted late. Don't miss out on a chance to win because you were looking at the wrong clock
. Always check the Writing.Com
in the left sidebar to be sure you're on time. Like the white bunny in Alice in Wonderland.







For ROUND V., beginning 1/22/2018, I'll be accepting ONLY NEW writes written between January 22 - March 1st. Wait until the contest OPENS please before posting your write to WdC, m'kay? Thanks.

The 4 Controversies ORIGINAL Contest (18+)
Got OPINIONS? Groovy! Try Non-Fiction. Dbl 2016 Quill Winner - CLOSED
#

2083509

by WhataNutso


For ROUND V., beginning 1/22/2018, I'll be accepting ONLY NEW writes written between January 22 - March 1st. Wait until the contest OPENS please before posting your write to WdC, m'kay? Thanks.

The 4C's SPECIAL Contest - CLOSED (18+)
SPECIAL Round V. CONTEST for FICTIONAL Stories & Poems. Entrez Vous! 1-22-18 thru 4-1-18!
#

2146706

by WhataNutso


All tasks must be completed and posted in the forum by 11:59pm on the final day of the month.

MHWA Mental Health Challenge (18+)
Back in Jan 2019! Monthly challenge that encourages MHWA members to maintain productivity
#

2146101

by Char ♡


You must post to this forum within each week.
Writing.Com time is the only valid standard.
Sign ups will be accepted until March 31, 2018.

I Write in 2018 (E)
Write and review once a week for all of 2018
#

2143433

by Octobersun


The goal of the group is to help YOU reach your goals.

TLC Support Forum ~ Reach Your Goals! (13+)
Lose weight, eat & live healthier, kick some old habits...Whatever your goals, we're here!
#

2073942

by Patrece~So busy!!!


WILL CLOSE AT 11:59 PM THE LAST DAY OF THE MONTH.

Scheming Scoundrel's Forum of Finesse (E)
Forum Encouraging Participation in A Changing Selection of WdC Activities & Contests!
#

2147198

by LJ-Catching Moonbeams


Each round starts at 12am WDC time and ends at 11:59 pm.
That gives you 24 hours, minus a minute, to WOW me.

Daily Snapshot (E)
Jump start your imagination!
#

2146647

by Genipher-gone fishing!


Each week the deadline is Sunday by 9:59 pm WDC time.

The Weekly Quickie Challenge (18+)
Can you excite in 869 words? Month: December Theme: Holiday Season
#

1355442

by Dawn Embers


Monthly Contest from 1st to end of month

The Cliff Hanger Contest (13+)
How edgy can you make that short story ending?
#

2147990

by bobturn


The deadline for entries is the last day of the month @ 11:59PM WDC time.

Sinister Stories Contest (13+)
A horror contest for everyone! Can you write a terrifying tale? February Special Round!
#

1556724

by Jeff



Have an opinion on what you've read here today? Then send the Editor feedback! Find an item that you think would be perfect for showcasing here? Submit it for consideration in the newsletter!
https://Writing.Com/main/newsletters/action/nli_form



Don't forget to support our sponsor!




What do you do to remember to enter contests on time?



To stop receiving this newsletter, click here for your newsletter subscription list. Simply uncheck the box next to any newsletter(s) you wish to cancel and then click to "Submit Changes". You can edit your subscriptions at any time.