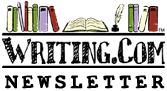 Poetry





This week: Children's Poet: Shel Silverstein

Edited by: eyestar~
More Newsletters By This Editor



1. About this Newsletter
2. A Word from our Sponsor
3. Letter from the Editor
4. Editor's Picks
5. A Word from Writing.Com
6. Ask & Answer
7. Removal instructions



Hiya! I am happy to be back as a guest editor and want to share one of my favourite kid's poets (and songwriter),Shel Silverstein.


"If you are a dreamer, come in,
If you are a dreamer, a wisher, a liar,
A hope-er, a pray-er, a magic bean buyer…
If you're a pretender, come sit by my fire
For we have some flax-golden tales to spin.
Come in!
Come in!"
Shel Silverstein, invitation to "Where the Sidewalk ends."

"If the track is tough and the hill is rough, THINKING you can just ain't enough!"

"Never explain what you do. It speaks for itself. You only muddle it by talking about it."

"I never read reviews because if you believe the good ones you have to believe the bad ones too."

"I think if you are creative, you should just go about your business, do your work and not care about how it's received."

—Shel Silverstein

Writing.Com presents "Party Prompts", the iPhone app with an endless supply of dinner party conversation starters and inspirations!

Get it for Apple iOS.
Creative fun in the palm of your hand.

I first found Shel Silverstein's works when teaching grade school and fell under the spell of his book "Where the Sidewalk Ends" and " The Giving Tree". The children found his work funny and indeed he has a zany way with images both poetic and drawings! I later learned he was talented in many areas and the creator of some famous songs like "The Unicorn Song" and "A boy named Sue" sung by Johnny Cash!
He won a Grammy for it in 1970.




Put Something in!
"Draw a crazy picture,
Write a nutty poem,
Sing a mumble-gumble song,
Whistle through your comb.
Do a loony-goony dance
'Cross the kitchen floor,
Put something silly in the world
That ain't been there before." From A Light in the Attic



Sheldon Silverstein was born in Chicago in September 1930 and was a poet, playwrite, illustrator, and writer. A Korean Vet, he did cartoons for Stars and Stripes in the 1950 and learned to play guitar and wrote songs, picked up by a variety of singers. He even created illustrated travel journals for PLAYBOY on different subjects like baseball.

He was a survivor and espoused peace and creativity. He had not planned to be a children's author but was introduced to Ursula Nordstrom at Harper Collins, by a friend and in 1964 his parable and first book, The Giving Tree was published and went into the top 10 best sellers list. It has sold over five million copies and is a classic in children's literature and has a deep message for us all!

In 1974 his first collection of poems Where the Sidewalk Ends was published and in 1981, A Light in the Attic came out. He had a knack for making the children smile, even though he lost his own daughter to a cerebral aneurysm when she was 11.

His work can be "darkly humourous" and filled with strange characters like the" Bloath" and his cartoon illustrations are appealing.



"In the undergrowth
There dwells a Bloath
Who feeds upon poets and tea.
Luckily, I know this about him
While he knows almost nothing of me!"






Magic
"Sandra's seen a leprechaun,
Eddie touched a troll,
Laurie danced with witches once,
Charlie found some goblins' gold.
Donald heard a mermaid sing,
Susy spied an elf,
But all the magic I have known
I've had to make myself."
from "Where the Sidewalk Ends"




Shel died in May 1999 and leaves behind a wealth of wit and zany lore, oft compared to Dr. Suess.

His desire: " I hope that no matter what age, everyone would find something to identify with in my books, pick one up and experience a personal sense of discovery."

So, go play in this zany adventurous world!


Sources:
http://art-sheep.com/20-of-our-favorite-shel-silverstein-poems/
http://famouspoetsandpoems.com/poets/shel_silverstein/biography
http://thewhynot100.blogspot.ca/2014/05/46-short-and-sweet-shel-silverstein.html...
https://www.youtube.com/watch?v=NMFCkOzmDlw






My picks this week.
Enjoy!


Antidote (13+)
Emotional poem. Winner of "The Daily Poem" contest prompt "bleeding words."
#

2147634

by PWheeler ~ 1 year celebration!
Rainbow Magic (E)
A poem about appreciating the beauty and mystery of nature's spectral wonder.
#

2147761

by Mordee2
Snow Flakes (E)
A poem about snow flakes
#

2147326

by T.L.Finch

"Icelandic Folklore"

"Belarus: Belovezhskaya Pushcha "

"The Morning Tableau"
Cat On My Head, Dog On My Feet (E)
Where am I supposed to sleep? 2017 Quill Honourable Mention.
#

2141318

by Jayne
The Strangest Man... (E)
A children's poem for 'The Littlest Poetry Contest'.
#

2032763

by Sally Snowflake
Invalid Item
This item number is not valid.
#

2144962

by Not Available.
The Daily Poem (13+)
Think you can write a contest winning poem in 24 hours? Test yourself now!
#

2133562

by Lorraine
Open Expression: A Poetry Contest (13+)
a prompt-free contest for all poetic styles, and for any rating--a 2017 Quill Nominee
#

2127492

by Jim Hall



Have an opinion on what you've read here today? Then send the Editor feedback! Find an item that you think would be perfect for showcasing here? Submit it for consideration in the newsletter!
https://Writing.Com/main/newsletters/action/nli_form



Don't forget to support our sponsor!







To "Poetry Newsletter (January 10, 2018)"


Thanks for your kind comments.
Apondia
"This is the first time I ever read your newsletter. I have subscribed. There is so much here to learn about poetry. I'm intrigued. Sincerely, apondia"

Monty
"A good bunch of links you gave. Thank You."

Gypsy Ann Winter Faery
"Great newsletter. It is packed full of information and resources. Thanks."





To stop receiving this newsletter, click here for your newsletter subscription list. Simply uncheck the box next to any newsletter(s) you wish to cancel and then click to "Submit Changes". You can edit your subscriptions at any time.