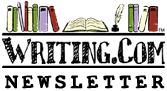 Action/Adventure





This week: Making the Time to Write

Edited by: Kittiara
More Newsletters By This Editor



1. About this Newsletter
2. A Word from our Sponsor
3. Letter from the Editor
4. Editor's Picks
5. A Word from Writing.Com
6. Ask & Answer
7. Removal instructions





It's not always easy to find the time to write. Sometimes we have to make it, instead...

This week's Action/Adventure Newsletter is all about why it's important to keep on writing.

Kittiara

Writing.Com presents "Writing Prompts", the app with an endless supply of creative inspiration for writers!

Get it for Apple iOS, Android or Kindle Fire.
Creative fun in the palm of your hand.



How are your plans for the year going so far? Have the last few weeks been filled with action, or are you taking it slow? Maybe you're like me, and stuff keeps getting in the way of what you want to do. Frustrating when that happens, isn't it?

I have not managed to do much at all in the way of writing. Yes, I have written an essay for university, but I kind of had to. I've blogged a little, but not as much as I've wanted to. I've written one story... and that's it for my creative writing. Not a single poem. No articles. Definitely not what I'd hoped for.

Some writers are very organised. They set aside time for their writing every single day, or a couple of times a week, or whatever suits them best. I'm not organised at all. Writing tends to happen when it happens, even if I've wanted to write for a certain contest or prompt. When life gets busy, I struggle to come up with a piece of at least a reasonable quality. And if I know I can't produce anything that's at least reasonable enough to turn into anything remotely good at a later date, I can't bring myself to go for it.

It's not like I tend to spend a whole lot of time on my writing. On a good day, I can write a poem within 15 – 30 minutes. A short story might take me a couple of hours. I like it that once an idea grabs hold of me, and I put the first words down on the page, it tends to flow. Sometimes I'll glance guiltily in the direction of those who create story outlines and have character notes. Mine just tend to happen. Hey, whatever works though, right?

Sometimes, however, it's good to make time for our writing. It's all too easy for time to rush by, and those contests we wanted to enter close the round we'd wanted to write for. Ideas we had fade away. We're running here, there and everywhere, always thinking we might get around to it tomorrow, or the next day, or definitely next week...

I don't know about you, but I feel better in myself once I've written something. Especially when I know that what I've produced is pretty good. During the process of writing, my mind's on that rather than what's worrying me. Or what's worrying me pours into my writing and brings some relief. Then, there's the sense of accomplishment at having written a piece. My portfolio is enhanced by this latest addition. Writing is something in my life that's a positive, which makes it worth cherishing.

Anything that's worth cherishing is worth making time for. I know that's not as easy as it sounds. Even if it's but an hour a week, though, that's an hour a week being creative, an hour a week you're tapping into something that's a part of you. If it wasn't a part of you, you'd be unlikely to be a member of a writing website. You'd be unlikely to be reading this newsletter.

I know that there are people who argue about who can call themselves a writer. Some set very high standards, like being a bestselling novelist. I'm pretty simple when it comes to this – if you write items, whether they be stories, poems, novels, articles, and so on, you're a writer. There's that certain something inside of you that drives you to write. And that means that if you can't sit down to write, even once in a while, the writer in you will feel unfulfilled.

Be kind to yourself, then. Write something the first opportunity you get. I know that I'll be doing the same.

Good luck!

Kittiara



"The Quill Awards"
[ASR], 2017 edition is sorting through the nominations to prepare them for judging and for the public vote. Here are some items that were nominated for the Action/Adventure category:


Thunder, Thunder in the Hills (E)
Lannister soldiers spot a dragon in the distance.
#

2130628

by StephB Happy 2019
Sea Song of the Antilles (13+)
Never come between a Bajan sailor and his rum. 1st Place Around The World, Quill nominee.
#

2128059

by Azrael Tseng
The Bovine Legend of Finnegan (E)
How a Bull Helped Save a Country
#

2110543

by ♥HOOves♥
Battle Royale (13+)
Celtic lore says King Oak and King Holly battle every solstice...
#

2143762

by Genipher-gone fishing!
The Presidential Press Briefing (18+)
Chris Burke attends his first presidential press briefing.
#

2121298

by Robert Edward Baker
SUNSET OF THE KILLERS THREE. (ASR)
A cowboy takes revenge in this Story Poem. 2017 Action Adventure Quill Winner
#

2113570

by Monty
The Leprechaun who was not an elf (E)
Show and her plushie friends meet a leprechaun for the first time- WC 1422
#

2114581

by Dragon's prepping for CNY!
Slayer of Darkness (18+)
An old acquaintance returns with an unbelievable tale and a seemingly impossible request.
#

2137485

by Jack Tyler
I Dream Of Tomorrow (13+)
An encounter with a black hole offers a father a last chance for redemption
#

2122962

by John Yossarian
Game Warden (18+)
Chapter One: Encounter on a country road.
#

2144500

by Satuawany



Have an opinion on what you've read here today? Then send the Editor feedback! Find an item that you think would be perfect for showcasing here? Submit it for consideration in the newsletter!
https://Writing.Com/main/newsletters/action/nli_form



Don't forget to support our sponsor!






The Action/Adventure Newsletter Team welcomes any and all questions, suggestions, thoughts and feedback, so please don't hesitate to write in!


Wishing you a week filled with inspiration,

The Action/Adventure Newsletter Team.







To stop receiving this newsletter, click here for your newsletter subscription list. Simply uncheck the box next to any newsletter(s) you wish to cancel and then click to "Submit Changes". You can edit your subscriptions at any time.