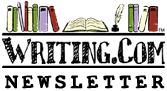 Mystery





This week: Bankrolling Your Vigilante

Edited by: Jeff
More Newsletters By This Editor



1. About this Newsletter
2. A Word from our Sponsor
3. Letter from the Editor
4. Editor's Picks
5. A Word from Writing.Com
6. Ask & Answer
7. Removal instructions






"The most beautiful experience we can have is the mysterious. It is the
fundamental emotion that stands at the cradle of true art and true science."


-- Albert Einstein





Trivia of the Week:

Murder Most Unladylike is a British children's mystery novel (retitled as Murder is Bad Manners in the United States) written in the style of a casebook, which follows two fictional schoolgirl detectives as they try to solve the murder of their science teacher. Its author Robin Stevens has received several awards nominations for the work, including the Carnegie Medal. What makes those accomplishments all the more impressive is the fact that Stevens just celebrated her 30th birthday last month.



Our writing prompt generators use current events, scene elements, words, sketches, colors, genres and writing types, unleashing endless random bits of fantasy to fuel your muse. Plus, we've included our database of 600 creative writing prompts so you've got them right at your finger tips!

Get it for Apple iOS, Android or Kindle Fire.
Creative fun in the palm of your hand.




BANKROLLING YOUR VIGILANTES



When your character is a law enforcement professional (e.g., a cop or FBI agent) or belongs to a formal organization (e.g., the CIA or military), it's easy to provide them with the resources they need. They're solving crimes in their official, professional capacity, which usually means they're drawing a salary to support themselves and have access to equipment and technology that helps them conduct their work. Cops and FBI agents, for example, can send evidence to the lab to be analyzed, travel on the government's dime, etc. And military and covert operatives have a network to provide them with cover identities, international travel, and the hardware they need to get the job done.

But what happens when your character is a vigilante, solving crimes or resolving situations outside officially-sanctioned channels?

Unless one of the plot points in your story is specifically how the character manages to resolve the narrative using limited resources, there needs to be some explanation for how they're able to access and utilize the various tools at their disposal.

Being independently wealthy is one of the easiest ways to accomplish this. Characters like Batman/Bruce Wayne, Iron Man/Tony Stark, Jack Morgan (from James Patterson's Private series), Sam and Remi Fargo (from Clive Cussler's Fargo series), and Evan Smoak (from Gregg Hurwitz's Orphan X series) are all independently wealthy individuals who have access to virtually limitless financial resources. Need a lab to process some evidence, or to traverse the globe on a moment's notice? Just a swipe of the credit card gets it done.

If your character isn't independently wealthy, perhaps they have helpful connections with more established organizations. Veronica Mars (the titular character from the television series) and her father are private investigators, but often use their connections and shared past with the county sheriff's department to help procure information. Adrian Monk (Monk) and Shawn Spencer (Psych) are consultants who work with their local police departments and therefore have access to department resources. Mickey Haller (from Michael Connelly's Lincoln Lawyer series) is a defense attorney who occasionally enlists the help of a motorcycle gang to help him with his various needs.

While money and networking are the two main methods of providing a vigilante character with resources to get the job done, antiheroes might flat out break the law to get what they need (stealing equipment, trespassing to use something without authorization, etc.), or perhaps they have access to a certain finite number of resources that let them get by. For about the price of a high-end sports car or modest home, your character could instead be a recreational pilot with a Cessna 172S, which is more than enough aircraft to get you all around the East Coast of the United States.

When you're writing crime-solving (or crime-committing!) characters that aren't backed by some kind of official organization, give some thought to how they will have access to the resources they need to complete the task at hand. Even a somewhat cliched super-wealthy character is far superior to one that just happens to conveniently stumble across everything he or she needs to reach their goal.


Until next time,

Jeff



If you're interested in checking out my work:
"Jeff's Jibber-Jabber"

"New & Noteworthy Portfolio Items"


This month's official Writing.com writing contest is:




I also encourage you to check out the following items:






EXCERPT:

Inside the store Annie looked at the Valentine's candy lined up in the special holiday section and frowned. She hadn't thought about Valentine's in 20 years since her husband's passing. He always bought her a box of chocolates and for a moment she considered buying a box for herself. My God, she thought to herself, look at the price of these chocolates. Must be pretty special chocolates. I'll just go buy what I need.






EXCERPT:

"I'm sure they didn't forget your birthday. They just didn't remember it right away. Or something," John mumbled.

"Right away? I'll say. I turned 50 a year ago," said Sandy. She wasn't angry, but couldn't figure out why her family forgot her birthday, and a big milestone at that. They always wanted to celebrate even when she didn't want to.

Sandy turned left on 5th Avenue as she waited for some other excuse from her husband, but nothing came. John checked his phone, confirming directions to the restaurant. He was taking her for a quiet dinner for her fifty-first birthday. Was this going to make up for no one doing anything last year?






EXCERPT:

Vikram dealt with the night life of his city daily. As a hardworking engineer, the only joy he knew was drinking with his friends. He had to meet them at a pub few streets away from his house. He usually went back home after a few drinks, but today his friend Ajay got a promotion at his job so he was forced to drink some more. Later that night before leaving Ajay gave everyone some cigarettes saying, "This is not your everyday cigarette boys, it has magical properties...don't smoke them all tonight." and laughed loud enough for everyone in the pub to hear him. All of his friends gave it back to him saying he was crazy, except Vikram. He kept two in his pocket and walked away saying goodbye to his friends. Ajay later called him and said, "seriously mate, don't smoke it all! "






EXCERPT:

"The chocolate's gone!"

"Nobody's been here but me."

"Someone took it without you noticing, then."






EXCERPT:

The old stone manor with its gothic gables was sold after being on the market for years. The realtor couldn't understand why Mr. Moore was so upset. He was never there; he was always flying all over the world. What difference did it make if the new owner was going to bulldoze the house down and start over? It had been damn near impossible to find a potential buyer who didn't believe in ghosts and if they happened to run into Gator over at the Bug-Away pest control, they just drove on out of town after talking to him.






Have an opinion on what you've read here today? Then send the Editor feedback! Find an item that you think would be perfect for showcasing here? Submit it for consideration in the newsletter!
https://Writing.Com/main/newsletters/action/nli_form



Don't forget to support our sponsor!





Feedback from "Mystery Newsletter (January 10, 2018)"
about knowing when to fold 'em:


Editing is BLUE
writes: "I love your newsletters. They are so inspiring and push me to think beyond my limitations. Sometimes I wonder if I've fallen off the edge."



Thanks for the kind words.
One of the best things about writing is that there's always room for improvement. Not everything you write will be phenomenal success, but everything you write does make you a better writer, little by little. Keep at it!



To stop receiving this newsletter, click here for your newsletter subscription list. Simply uncheck the box next to any newsletter(s) you wish to cancel and then click to "Submit Changes". You can edit your subscriptions at any time.