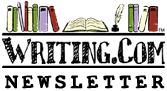 Comedy





This week: Different styles to make a good laugh

Edited by: Samberine Everose
More Newsletters By This Editor



1. About this Newsletter
2. A Word from our Sponsor
3. Letter from the Editor
4. Editor's Picks
5. A Word from Writing.Com
6. Ask & Answer
7. Removal instructions



Hello everyone, I'm Samberine Everose, and I'm here again your guest editor this week in the Comedy Topic of the WDC Newsletter, and just like I've been saying before, I will not be tired in expressing my thankfulness to all the beautiful people here in this wonderful community of writers for not only helping us to improve our writings but giving us also encouragement and inspiration every day.


What makes a good laugh?
Here are some of its different styles,
I know you knew them already,
Are you aware of them?


Our writing prompt generators use current events, scene elements, words, sketches, colors, genres and writing types, unleashing endless random bits of fantasy to fuel your muse. Plus, we've included our database of 600 creative writing prompts so you've got them right at your finger tips!

Get it for Apple iOS, Android or Kindle Fire.
Creative fun in the palm of your hand.


Dear Friend,

Greetings!

Smiley Face, Happy Face or Comedian in our natural language-Tagalog we called it "Comediante", it reminds me of the late Dolphy our comedy king actor, or the late American Comedy Actor Robin Williams wherein they gave naturally a good laugh to audience, in the way how they act through their body language, voice or movement.

Or in other words, Smiley Face/Happy Face are those people who can give you a good laugh.

In writing, how can we create and make our readers give a more good laugh?
In my opinion and through my own observation here are the following styles for you all to consider before planning to write or give a good laugh to your readers or audience.


1. The Question and Answer Style

-This is the most basic style in writing in the Comedy Genre that can produce a good laugh, the short sentence or the simpler the better style.
Just like for example:
Q: What do you call a fish without eyes?
A: Fsh.

But if you like to make it complex, you can add more of it like this, but the more you add this style, the more you make it complex, but make and only concentrate it in one subject.


2. The Cause and Effect Style

- This is mostly describing a movement or action, or as the title said: the cause and its effect especially if its funny.
For example, I ate potatoes this morning so the result: I have no choice than to contribute air pollution after.

The main concentration here is the action or movement of the characters that are funny, this style were mostly seen in mute movies like the cartoon Tom and Jerry where they seldom to say any words but their action speaks more.


3. The Biography or Experience Style

- You have a funny experience or adventure- you can write them down and share about them and mark it- its not a fiction but its a fictitious.
4. The Personification Style

- Personifying something like cartooning is fun and very funny especially if the theme is a comedy. Just think about your pets on how they talk and gossiping about you.
5.The Playing with words Style

- This is often used between two or more than people who are in conversation, especially if trying to make the talk to be less formal, this is effective to meetings where a confrontation is expecting.
You can find this also in some anecdote where the funny words are not usually vulgar but when you ponder it, its funny.

But, remember my friend mostly a good joke either in writing or in verbal, will produce more a good laugh and can be more effective when one has good positive thoughts. Positive thoughts through entertaining the good thoughts and dump all the negative thoughts can help to stimulate or boost the brain in producing happy hormones, and once you already a tune yourselves and you start to feel good, it will reflect in your writings and in you.

So think positive and Write On!


Pieces by awesome WDC Authors for you to check On.!
Poetry - Funny (E)
Poems to make you smile and lighten your day
#

2153255

by PWheeler ~ love ~ joy ~ peace
I Don't Want To Be Married! (E)
My 5-year old granddaughter experiences her first Girl Guide camp.
#

2082936

by SandraLynn
Invalid Item
This item number is not valid.
#

2156500

by Not Available.
The Giraffe and the Orangutan (E)
A poem about an orangutan who thinks she can fly, and a giraffe who says "no".
#

1589138

by Tim Chiu
Flowers and Chocolates (E)
One of my favorite memories when I was a kid
#

2004251

by Samberine Everose
Contest for you to try those styles to give a good laugh to your readers.
Good Deeds Get CASH! (E)
Write reviews to win cash prizes!
#

1908150

by Writing.Com Support
Short Shots: Official WDC Contest (E)
Use the photo to inspire your creativity. Write a short story and win big prizes!
#

1221635

by Writing.Com Support
Adaptive Writers Contest (ASR)
This contest intends to challenge writers to write outside of their comfort zone
#

2150828

by Slime-J~Has given up
Pond Poetry - ON HIATUS! (ASR)
A monthly poetry contest sponsored by The Talent Pond. Come on by!
#

1341392

by ~♥~Krysha~♥~
Verdant Poetry Contest (E)
NATURE-themed quarterly contest.
#

2000001

by Choconut ~ Emporium Catch-Ups
Daily Snapshot (E)
Jump start your imagination!
#

2146647

by Genipher-gone fishing!



Have an opinion on what you've read here today? Then send the Editor feedback! Find an item that you think would be perfect for showcasing here? Submit it for consideration in the newsletter!
https://Writing.Com/main/newsletters/action/nli_form



Don't forget to support our sponsor!




Feedback from our readers in "Romance/Love Newsletter (April 11, 2018)"
I love comments!

No Comment.
Thank you all for reading.
Don't hesitate to send me a question or if you like to add an opinion or an item to be featured in my next newsletter.
You can send it through our mailbox below.Until next time.



To stop receiving this newsletter, click here for your newsletter subscription list. Simply uncheck the box next to any newsletter(s) you wish to cancel and then click to "Submit Changes". You can edit your subscriptions at any time.