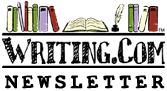 Romance/Love





This week: The Greatest of all Romance

Edited by: Samberine Everose
More Newsletters By This Editor



1. About this Newsletter
2. A Word from our Sponsor
3. Letter from the Editor
4. Editor's Picks
5. A Word from Writing.Com
6. Ask & Answer
7. Removal instructions



Hello everyone, I'm Samberine Everose, and I'm here again your guest editor this week in the Romance/Love Topic of the WDC Newsletter, and just like I've always been saying, I will not be tired in expressing my thankfulness to all the beautiful people here in this wonderful community of writers for not only helping us to improve our writings but giving us also encouragement and inspiration every day.


Did you know that True Love already has given- it is just waiting for you to receive it.


Certain situations demand dramatic music. Now you have it!

Get it for Apple iOS, Android or Kindle Fire.
Creative fun in the palm of your hand.



Dear Friend,

Greetings!

The first time that I've read and perceived a romance book is when I've learned to read about fairy tales in where I always find a happy ending on it, and as a typical girl after I read the story it often use to grab my full attention into daydreaming, forgetting things around especially if the romance that I've read will tickle my heart and the author will let me feel and be like the protagonist in the story.

So mostly I've always thought after I read a fairy tale like the Cinderella- Wow! this is the greatest romance book that I've read , and when I read again another romance book like the Florante & Laura- I will again in my daydreaming saying it's the greatest romance that I've read.

Until I reach my puberty age and begin to feel doubt on fairy tales story's happy endings and was charmed to pocketbooks which state some reality about romance that love is not always in bed of roses like Romeo and Juliet of Shakespeare, Michael & Nancy of Danielle Steel and other Tagalog Authors which left me thinking what now would be the greatest of all romance?, Is it happy endings or in tragedy endings?

Mostly in the romance novel, authors often used the plot of sacrificing of oneself for our loved ones, and I can say that readers always find it as new and it always gives a twist to the story, because as the word romance and love is the main domain on it, one of the most real definitions of true love is Sacrifice.

True experiences will do a lot also to create a good plot for our romance story- The true Love stories of others, their love stories. Have you already tried to ask the love story of your parents or your grannies? When my late grandma was still with us, I often like to listen about her romance with grandpa, on how she was courted and fell in love with grandpa, and I smile when I saw her giggling like she was still on her younger times again.

But, let's face the reality, other might say romance is not always been in the happy endings like fairy tales, but sometimes we should also consider that if we really like to aim for a happy endings in our Romance we will try and let ourselves to sacrifice to face first the pains of thorns and learn on them before we will be laid in the bed of roses.

Through our experiences, our sorrow, heartaches, pain, struggle, and joy we can conclude, define and learn things about it. Through our own love romance stories in where we can have the idea to create a real scene, a conflict, and its Solutions to give inspiration to others through our writings that there are still and will always have happy endings and great romance.

There's a real love story that I know that was taken place before- and have a happy ending and True love pours.

He's been here with us, He taught us about the Truth, He healed the sick, He gave hope and light but they condemned Him. He was tortured in public, nailed and died on the cross and after 3 days He rose from the grave. His amazing Love to us, He let His self to be sacrificed – the pure lamb. Now we are saved from the death and as He rose from the grave we may also rise from the grave and be with Him in eternal Life.

That is the greatest romance that I've known now. His True Great Love that He gave to us.


Pieces by awesome WDC Authors for you to check On.
Love Can Survive Anything... (E)
Love can survive anything as long as both people are willing to make sacrifices.
#

105851

by Incurable Romantic
Loving with Class (13+)
Love means sacrifice. A fairy tale. Won Short Shots
#

1505455

by Joy
A Piece of My Heart (E)
A Poem about giving oneself to others
#

1971032

by Elfin Dragon - poetry fiend
The Potter and the little teapot (E)
The story of a little teapot
#

2153437

by Samberine Everose
Contest you want to try On.
Holiday Short Story Contest (E)
Write a short story based on an obscure holiday with the prompt provided.
#

2142083

by Lilli
The Hunter Games-CLOSED already (E)
A summer activity game: Can you beat the WDC summer's hot challenge?
#

2159670

by Samberine Everose
Word Pictures Contest (13+)
Share your lyrical worlds here and receive a review just for entering!
#

2149424

by Ray Scrivener
Twisted Traditional Poetry Contest. (13+)
A bi-weekly contest that challenges traditional norms and puts creativity to the test.
#

2156513

by CJ
The Newbies + Open Poetry Contest (18+)
Poetry contest for Newbies + anyone in first year at WDC. Won 2016 Quill Best New Contest.
#

2085863

by Sally
The Daily Poem (13+)
Think you can write a contest winning poem in 24 hours? Back for April only!
#

2133562

by Shaye
Pretty Pesky Prompts (E)
Closed until December! Contest to push you to your limit and beyond with strange prompts
#

2105059

by Pesky Amanda is a NaNo WINNER!
Adaptive Writers Contest (ASR)
This contest intends to challenge writers to write outside of their comfort zone
#

2150828

by Slime-J~Has given up



Have an opinion on what you've read here today? Then send the Editor feedback! Find an item that you think would be perfect for showcasing here? Submit it for consideration in the newsletter!
https://Writing.Com/main/newsletters/action/nli_form



Don't forget to support our sponsor!




Feedback from our readers in "Spiritual Newsletter (June 20, 2018)"
I love comments!

This is excellent advice indeed. At my advanced age, I have not choice about rest.
~Zeke

Thank you.


That's why God created Sunday/Sabbath. On this day we need to put aside our weekly commitments to rest, regroup and center our spiritual rejuvenation with God. To praise him for His providence the past week and thank him for what He will do in the coming week. Praise him, Praise him, all ye little children...the song goes on.
~Write 2 Publish 2020

You are right.Thank you.


Great newsletter Sam, Your right everyone needs a day to rest and recharge your mind and body. I love that you put how important it is to have family time during your down time. I feel it helps families bond and stay close together.

I want to tell you thank you for adding my beautiful piece
Words to Soothe Your Soul (E)
The words inspired by another
#

2158481

by LegendaryMasK❤

~LegendaryMasK❤

You are right, you are very welcome-Thank you.


Wonderful article, Samberine! It is a great reminder that, Just like our Creator, we need time to rest, relax and enjoy the day with God. Rest is not only good for the body but also good and necessary for the mind.

Wonderful article,

~Morningstar

You are right.Thank you.
Thank you all for reading.

Don't hesitate to send me a question or if you like to add an opinion or an item to be featured in my next newsletter.
You can send it through our mailbox below.Until next time.



To stop receiving this newsletter, click here for your newsletter subscription list. Simply uncheck the box next to any newsletter(s) you wish to cancel and then click to "Submit Changes". You can edit your subscriptions at any time.