This week: Opposites Attract - Opposites in Poetry

Edited by: RedWritingHood♡WDC
More Newsletters By This Editor



1. About this Newsletter
2. A Word from our Sponsor
3. Letter from the Editor
4. Editor's Picks
5. A Word from Writing.Com
6. Ask & Answer
7. Removal instructions



"Poetry is when an emotion has found its thought and the thought has found words."
Robert Frost
"A poem is a communication from one soul to another that makes one or both hearts sing."
Walter Mayes

| | |
| --- | --- |
| ASIN: B07K6Z2ZBF | |








Opposites Attract - Opposites in Poetry




Opposites are found everywhere, including poetry. This month I will share a couple of poetry terms utilizing opposites, and two types of poetry that are opposites.



POETRY TERMS


Antithesis: This is where a poet will combine opposites into a line of poetry, stanza or complete poem. These could be two opposite words or phrases. Blake utilized this in several of his poems.


Irony: This term can come in many forms. According to Elements of Poetry, "irony is a figure of speech in which actual intent is expressed through words that carry the opposite meaning."




Fixed Verse


Fixed verse is any poem with a strict requirement on how it's formatted (ie: rhyme, meter, etc.) as you are creating it. Fixed verse examples are many of your and my favorites like, pantoum, sonnet, and haiku.



MUST HAVES


--Some sort of strict rule that guides the formatting of the poem.

Examples are:

--line count like haiku

--meter and rhyme like the sonnet

--and repetition of lines like the pantoum



COULD HAVES or WHAT IS THE POET'S CHOICE IN ALL THIS?

--So this varies depending on the form and is everything else not dictated by the formatting rules. Most often it will be the topic, but not always.




Free Verse


Turco felt free verse was a contradiction in terms, free verse as most poets know it is poetry without strict rules. Does that mean that creating good poetry is easier without restrictions? It depends on your definition of easy and your poetry process.

Variations of free verse: Drury's poetry dictionary talks about variations of free verse along the lines of: short-lined, long-lined, variable-length, and spatial arrangement. New Princeton Encyclopedia talks about an avant-garde variation. Since we are talking about a form without restrictions, to me the variations are just ways to categorize this poetry. If these variations inspire you, yay! If not, ignore them and create great poetry.



MUST HAVES


--No restrictions on and no regular patterns of meter, rhyme, etc.



COULD HAVES or WHAT IS THE POET'S CHOICE IN ALL THIS?


--Amount of lines per stanza.

--Amount of stanzas.

--Rhyme: although there usually is not a regular rhyming pattern. If rhyme is used it's usually sporadic or internal.

--Topic.

--and everything else you can think of related to your poem.



SOURCE NOTES:

Drury, John. the po.e.try dic.tion.ar.y. 2nd edition. Cincinnati: Writer's Digest Books, 2006. Print.

The New Princeton Encyclopedia of Poetry and Poetics. Edited by Ales Preminger and T. V. F. Brogan. 1993.

Turco, Lewis. The Book of Forms. 3rd. Lebanon, New Hampshire: University Press of New England, 2000.

https://learn.lexiconic.net/elementsofpoetry.htm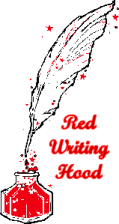 Theme: Irony, free verse and any fixed verse that caught my eye.



















Have an opinion on what you've read here today? Then send the Editor feedback! Find an item that you think would be perfect for showcasing here? Submit it for consideration in the newsletter!
https://Writing.Com/main/newsletters/action/nli_form



Don't forget to support our sponsor!




| | |
| --- | --- |
| ASIN: 1945043032 | |
| | |
| --- | --- |
| ASIN: B083RZJVJ8 | |
| | |
| --- | --- |
| ASIN: B01DSJSURY | |





Have a question, answer, problem, solution, tip, trick, cheer, jeer, or extra million lying around?

If so, send it through the feedback section at the bottom of this newsletter OR click the little envelope next to my name RedWritingHood♡WDC
and send it through email.


Comments on last month's newsletter:


From: Lilli ☕

Comment: A great newsletter filled with practical tips that I can implement immediately! Thank you!!



You are most welcome, and thank you for your kind comments!






To stop receiving this newsletter, click here for your newsletter subscription list. Simply uncheck the box next to any newsletter(s) you wish to cancel and then click to "Submit Changes". You can edit your subscriptions at any time.