This week: Julie Hill Alger

Edited by: Stormy Lady
More Newsletters By This Editor



1. About this Newsletter
2. A Word from our Sponsor
3. Letter from the Editor
4. Editor's Picks
5. A Word from Writing.Com
6. Ask & Answer
7. Removal instructions



This is poetry from the minds and the hearts of poets on Writing.Com. The poems I am going to be exposing throughout this newsletter are ones that I have found to be, very visual, mood setting and uniquely done.
Stormy Lady

Certain situations demand dramatic music. Now you have it!

Get it for Apple iOS, Android or Kindle Fire.
Creative fun in the palm of your hand.



Pictures of Home
by Julie Hill Alger

In the red-roofed stucco house
of my childhood, the dining room
was screened off by folding doors
with small glass panes. Our neighbors
the Bertins, who barely escaped Hitler,
often joined us at table. One night
their daughter said, In Vienna
our dining room had doors like these.
For a moment, we all sat quite still.

And when Nath Nong, who has to live
in Massachusetts now, saw a picture
of green Cambodian fields she said,
My father have animal like this,
name krebey English? I told her,
Water buffalo. She said, Very very
good animal. She put her finger
on the picture of the water buffalo.

On March 13, 1927 in Norfolk Virginia, Rear Admiral James Albert Alger and his wife Majorie welcomed their daughter Julie Hill Alger into the world. Julie spent her childhood in several different schools and states. Rear Admiral James Alger moved his family around a lot, as did most military families at at the time. Julie had a brother David who would follow in his father's footsteps and become a military man himself. Julie went to college at San Jose State College in San Jose, California. After graduation she began teaching at the University of Massachusetts, then went on to be a Writer In Residence at Cummington Community of the Arts.

Julie married John White, but the couple divorced after the birth of their daughter, Victoria Alger White. Julie worked as a freelance writer of poetry, haiku and short stories. It was in her later years that her poetry became more serious in nature. This lead her to being known as one of the best 20th Century Contemporary American Poets.

Julie spent her time working on committees and boards to help other writers advance in their field. She was also passionate about advocating against animal abuse and contributed to many feminist causes. She was a member of the Western Massachusetts Chapter of the National Writers Union, the University of Massachusetts Staff Association, Amherst Writers and Artist and the National Organization for Women.

Julie spent the last years of her life living in the same town Emily Dickson lived in Amherst, Massachusetts. She wrote many stories and poetry in her last few years of life. Julie developed breast cancer in the spring of 1992, which then metastasized to her bones by 1994. She passed away on January 13, 1995.
​
Death In The Family
By Julie Hill Alger

They call it stroke.
Two we loved were stunned
by that same blow of cudgel
or axe to the brow.
Lost on the earth
they left our circle
broken.

One spent five months
falling from our grasp
mute, her grace, wit,
beauty erased.
Her green eyes gazed at us
as if asking, as if aware,
as if hers. One night
she slipped away;
machinery of mercy
brought her back
to die more slowly.
At long last
she escaped.

Our collie dog
fared better.
A lesser creature, she
had to spend only one day
drifting and reeling,
her brown eyes
beseeching. Then she
was tenderly lifted,
laid on a table,
praised, petted
and set free.

Luna
By Julie Hill Alger

I walk home at August moonrise
past a bright window.

Inside the room
an old woman sees the full moon
and turns off the lamp.

Afterimage shines in my eye:
pale face, snowy hair.

Moonlight streams over the dark house
like cool milk.
When the lamp is out, is the woman
still standing there alone?

In memory, her upraised hand glows;
in the house it is darker than shadow.
I stand on the sidewalk,
moonstruck.

Metaphysics of an old lamp:
the shade has less meaning
than a soul's body.

Physics of a window:
Glass is thicker than night air,
thinner than wonder.

The question of whiteness
bears looking into.

So does a window.

Sounds of a moonlight night
are softer than rainwater.

Before responding to a face
at the window, first ascertain whether
it's looking out or looking in.

Also, whether it's the moon
or someone else.

None of this, of course,
explains the perfumes of August
or the way the moon silvers the grass.

Turn around and look again-
She is still there.

The first question has not
been answered. What was it?




Thank you all!
Stormy Lady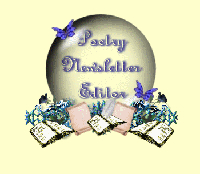 ~~~~~~~~~~~~~~~~~~~~~~~~~






~~~~~~~~~~~~~~~~~~~~~~~~~

~~~~~~~~~~~~~~~~~~~~~~~~~~~~~~~~~~~~~~~~~~~~~~~~~~
The winner of "Stormy's poetry newsletter & contest"
[ASR] is:



Light and Shade of Life (E)
The way I understand life.
#

2196492

by jaya


Light and shade of life


Even as I go through some trying times
every dawn, everyday feels truly fine.
Each day wears a new color, a new quality
through which I can learn to live with jollity.


Minutes too change color and shade.
Mood and mind make me walk, or wade
through waves of life that surround me.
The subtle hand of the Supreme I sometimes see.


I wonder why we think so much about our lives,
when most of the time it is events that govern our ties.
Pleasure brings hope; pain makes us go through fire.
The first makes us happy, the second gives reason to cry.


If I reign in emotions and thoughts, the culprits
that damage our health, happiness and small bits
of satisfaction, perhaps I can rise above the morass,
and see the very purpose behind life I come to pass.



Honorable mention:

Words Sharper Than Swords (18+)
A book of poetry for written for The Ultimate Poetry Challenge - 52 poems in 52 weeks.
#

2190042

by The Dark_Huntress Returns!

~~~~~~~~~~~~~~~~~~~~~~~~~~~~~~~~~~~~~~~~~~~~~~~~~~

~~~~~~~~~~~~~~~~~~~~~~~~~~~~~~~~~~~~~~~~~~~~~~~~~~


These are the rules:

1) You must use the words I give in a poem or prose with no limits on length.

2) The words can be in any order and anywhere throughout the poem and can be any form of the word.

3) All entries must be posted in your portfolio and you must post the link in this forum, "Stormy's poetry newsletter & contest"
[ASR] by September 7, 2019.

4) The winner will get 3000 gift points and the poem will be displayed in this section of the newsletter the next time it is my turn to post (September 11, 2019)

The words are:



school bells laughter noisy hallway books paper butterflies
Good luck to all
~~~~~~~~~~~~~~~~~~~~~~~~~~~~~~~~~~~~~~~~~~~~~~~~~~

~~~~~~~~~~~~~~~~~~~~~~~~~~~~~~~~~~~~~~~~~~~~~~~~~~

Running from the Past (E)
Community challenge August 2019 from media "Run boy Run"
#

2197716

by Lisa Noe~Kittylove
Feline Amazon Special Delivery (E)
Reach Out and Touch Amazon Packages!
#

2197276

by ♥tHiNg Unplugged♥
Perfect Summer Night (E)
On a hot summer night.
#

2197562

by amy-Looking Forward

~~~~~~~~~~~~~~~~~~~~~~~~~~~~~~~~~~~~~~~~~~~~~~~~~~


~~~~~~~~~~~~~~~~~~~~~~~~~~~~~~~~~~~~~~~~~~~~~~~~~~

Skara Brae (E)
History found in the wind swept Orkney Islands
#

2197699

by Sand Castles Shopgirl 739
Miracle of Life (E)
The chances of being born are almost zero.
#

2197872

by Gita
Summer Sundays (E)
The things which make a perfect English Sunday in summer.
#

2197778

by A E Willcox

~~~~~~~~~~~~~~~~~~~~~~~~~~~~~~~~~~~~~~~~~~~~~~~~~~


~~~~~~~~~~~~~~~~~~~~~~~~~~~~~~~~~~~~~~~~~~~~~~~~~~

Sight (13+)
Thoughts on the loss of sight.
#

2197234

by Beholden
The Honey Bee and I (E)
Dialogue between a Honey bee and a human about what's causing the die off.
#

2197312

by BusmanPoet
The Voices at Night (E)
Guilt and shame can lead to anxiety/panic attacks. Learn the lesson then let guilt pass.
#

2197552

by Canis Lupus

~~~~~~~~~~~~~~~~~~~~~~~~~~~~~~~~~~~~~~~~~~~~~~~~~~








Have an opinion on what you've read here today? Then send the Editor feedback! Find an item that you think would be perfect for showcasing here? Submit it for consideration in the newsletter!
https://Writing.Com/main/newsletters/action/nli_form



Don't forget to support our sponsor!







To stop receiving this newsletter, click here for your newsletter subscription list. Simply uncheck the box next to any newsletter(s) you wish to cancel and then click to "Submit Changes". You can edit your subscriptions at any time.