Printed from https://www.writing.com/main/view_item/item_id/1182043-Christmas-and-Teddy-Bears
| | |
| --- | --- |
| | What I think Teddy Bears have to do with Christmas. |
I am sure we see pictures in magazines all the time with Christmas trees all decorated so beautifully. Santa Claus, reindeer, Christmas stockings on the hearth, dolls, toy soldiers and teddy bears by the Christmas Tree. Teddy Bears? I was wondering what they have to do with Christmas. Those, warm fuzzy brown bears with the big, innocent, sweet black button eyes. They make great decorations and add life to the Christmas Tree or any decor for any season. This is what I think.

Children love teddy bears. Maybe a teddy bear is by the tree honoring a little baby born just recently. Of course, all children grow into adults and leave home. There are several bears in front of the tree. Each one could represent each child that has grown up. Maybe the teddy bears belonged to each child as she or he was growing up. Maybe a teddy bear represents a child who passes away before they reached adult hood. This is sad but the teddy bear may have belonged to that child and gives some comfort. Maybe the beloved teddy bear belonged to a parent who has passed on and this is a way of remembering that person. On a happier note, maybe the teddy bear was a gift from a future spouse or sweetheart and the woman will always chersh this gift from that special someone. So, the teddy bear will definitely be displayed from Christmas to Christmas. A teddy bear could also represent hope for the future and be a comfort to someone going through a rough time.

A teddy bear can be passed on from child to child of each generation. I love teddy bears. I have a light brown Steiff bear that I named Stefano. All you "Days Of Our Lives" fans, like me know Stefano Dimera. My Stefano is a good, sweet bear. I cherish him because he made it through a house fire and like Stefano, the Phoenix, my bear is a survivor. He doesn't even a burn mark on him. I love him. I have a Boyd's sable, soft brown bear and a white bear that my husband got me from Wal*Mart a few years back. I have a stuffed Panda Bear and three other brown bears. These bears look pretty around the Christmas Tree and I love all my items that I have collected. My Teddy Bears say: "Welcome to our Home." They are friendly and they give love and comfort. I think Teddy Bears are a big part of Christmas. Santa gives out a lot of Teddy Bears at Christmas time. Santa loves toys and I know this includes Teddy Bears. From me and my Teddy Bears, I wish all of you a Merry Christmas.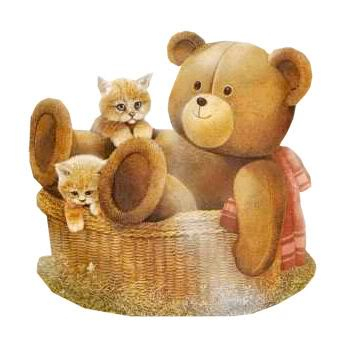 © Copyright 2006 Princess Megan Rose (tigger at Writing.Com). All rights reserved.
Writing.Com, its affiliates and syndicates have been granted non-exclusive rights to display this work.
Printed from https://www.writing.com/main/view_item/item_id/1182043-Christmas-and-Teddy-Bears