MAY THE STARS FOREVER SHINE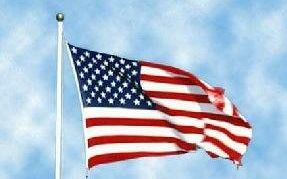 The sight of our Old Glory waving in the breeze
brings an old veteran like me down to my knees.
I know that freedom is hard-fought for and won;
keeping us free means that the job's never done.
I see the news that our young women and men
have taken up the cause and must do so again.
It's not for lack of courage that I can't join the fray.
I'd fight for freedom in a minute if I had my way.
"Now rest easy" they tell me, "You stood the test,
your part is now done, we will finish the quest."
So with a wave of the hand, I wish them all well,
to come safely home from their own taste of hell.
Guard well our freedom, don't let it ever be lost.
It is worth what we give, regardless of the cost.
The duty is ours to make sure that, in due time,
we can look up and see that the stars still shine.
We are blessed with a country, beautiful and free.
Yet even here, there are those who do not agree.
Still the red, white and blue of Old Glory is so fine
May its day never end, may the stars forever shine.
Countrymom
10/26/08