Printed from https://www.writing.com/main/view_item/item_id/1842962-The-Path-of-My-Disbelief
(11)

by

elizjohn

What is it that causes one to lose faith, to disbelieve?
I believed once—
When my arms held my future:
A bundle of arms and legs that trembled and shook
And a tiny mouth that yearned for my mother's milk.

I believed once—
When I reveled in the sound of all my tomorrows:
Of giggles and chuckles and the warm sound of laughter
As happy smiles sought my own.

I believed once—
When my eyes gazed upon all my great expectations:
On a life on the verge of great adventure,
With the breath of my blessings at her back.

I believed once—
Even as a darkness lurked:
A threat that waited in shadows with ugly anticipation
As evil pervaded his thoughts.

I believed once—
Until I looked at the face of my eternal hell:
Of the man that robbed me of my future,
Stole all my tomorrows and shattered my great expectations.

I believed once—
When I said a prayer of goodbye:
A eulogy of promise for her life beyond this world,
Her memory forever marking the point of my sorrow.

I believed—
Once.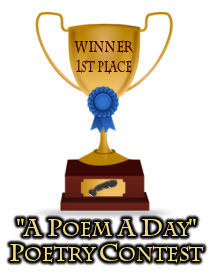 © Copyright 2012 elizjohn (elizjohn2000 at Writing.Com). All rights reserved.
Writing.Com, its affiliates and syndicates have been granted non-exclusive rights to display this work.
Printed from https://www.writing.com/main/view_item/item_id/1842962-The-Path-of-My-Disbelief