Printed from https://www.Writing.Com/view/1855163
| | |
| --- | --- |
| | A poem about a Princess with a supernatural ending. Written for Stormy's Contest. |
The Princess and some of the King's men-
went with the Princess who was on a mission.
She weeps all the time.
She wrapped her cloak around her.

The woods were dark and it was cold.
An owl called out to them.
They could still hear his echoes
as they vibrated the woods.

Moonbeams lit up the night.
The King's men wanted to go home.
They were scared but the Princess showed no fear
and the night seemed to get darker.

The men held their lanterns high-
so they could light the way. It was eerie and growling-
noises could he heard. The men had no idea why the
Princess wanted them to be out in the dark woods.

The growling noises came closer
and a splashing noise came across the river.
The men froze in their tracks and the Princess
was all smiles and held out her arms.

A beautiful wolf fell into the Princess's arms as the wolf-
licked her face and changed into a man!
Her lover. This is why they were here.
The Princess was happy and her life was complete.

A gypsy had put the wolf curse on her lover.
She could only find him when the moon was full
and it had to be this very night.
The men were merry and she
sent them away back to the castle.

She wouldn't be returning home to the castle.
The Princess and her lover both turned into wolves
and across the river they went. They were going to-
live out their lives in the mountains away from the Kingdom.

They could be wolves or humans when they pleased.
They raised their pups and were happy in love.
They were free and for their wolf pack, life was good.
You can see them when ever the moon is full.



** Image ID #1835610 Unavailable **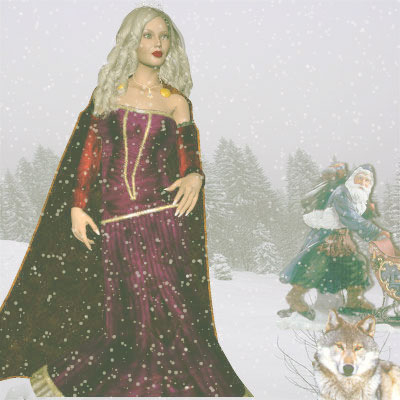 © Copyright 2012 Princess Megan Rose (tigger at Writing.Com). All rights reserved.
Writing.Com, its affiliates and syndicates have been granted non-exclusive rights to display this work.
Printed from https://www.Writing.Com/view/1855163