Dangling Above the Clouds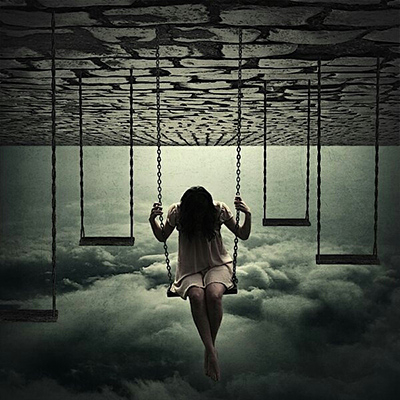 She had said this would help,
My wrong thoughts brought me here.
All this rage, all this fear.




Yup, here I am, again. Caught dangling above the clouds and the cement-block roof hanging above me. My world so topsy turvy and all from my wrong thinking. This imagined purgatory to repent those things I thought and shouted and did. The pressure from within sprouted out and sprayed everyone around, everyone in sight; not even a little bit of control, had I. So here I am again, sitting in my imagined purgatory. Sitting here to think about what I did.

Only when I feel the remorse, will my retreat dissolve away from me. But damn-it! I wasn't wrong this time. He took from me that which is mine. He deserved that pain I give him, he'd hurt me for the last time.

Look there below me, those roiling clouds darkening and lightning flashing. And above me the cement blocks are dripping their lye tainted drops upon me. The splintery board on which I sit sways dangerously. My outrage is wrong stubborn thinking, or the chain swing wouldn't be trying to dump me. I hang on tight to the chain anchored deeply into the cement roof above me. Here I am, struggling with my stubborn wrong thinking.

Maybe I was wrong to hurt him, but he was hurting me. "Don't I have a right to protect myself?" I say at the top of my lungs. I scream through new tears as my fear escapes me with the words I dare speak.

"Yes, you are allowed to protect yourself, you can also choose to run. In this case, you should have slapped him, then skedaddled to me when he had let go of your arm."

The clouds are still roiling from all my internal upheaval, but I see some of the silver edges where the light of reason fades away the darkness of my anger and fear. Mother guide, she knows. She tells me she will protect me. But, I need to learn to run away and run to her and not be so mean when he grabs at me.

"You hurt him pretty bad this, time. He needed stitches and a bandage to stop the bleeding."

Mother's voice is stern and disapproving. I did wrong and I hurt him more than he had hurt me. "I'm sorry, Mommy. I will be good. Please, can I get off the swing and come inside?"

A patch of blue sky peeks throught the slow brightening clouds below me. Finally, I am starting to think the correct things. The blue sky is always a good thing to see in my imagined purgatory.

"Are you sure you are ready to come in? What will you do the next time your brother takes away your little Gregory."

"Oh, Mommy, I have learned my lesson. I will run to you and not hurt him again. I will be a good girl, Mommy. I promise."

I step off the swing with tentative moves, but my bare feet feel the texture of green grass beneath my feet. My Mother Guide isn't that much older than me, but this time she won't spank me. My brother has tape and gauze on his head. He hands me back my Gregory. "I sorry." He says.

"I sorry, too. Does it hurt really bad?" I say as I look at his head.

"Maybe, hurts a little, but I got ice cream, so that was okay."

"Okay, time for naps. Upstairs, to bed with both of you."

I hold my Gregory doll tight. When I get to bed and Mommy closes the door, I turn to him. SLAP! "You naughty little, boy. You got me in trouble."

Then I fall asleep.

620 words


"Night & Day Poetic Prose Contest"


This story written for the