Printed from https://www.writing.com/main/view_item/item_id/2010645-Take-Thou-Thy-Son
(4)

by

Brenpoet

Abraham prepares to obey God's will. Genesis Chapter 22.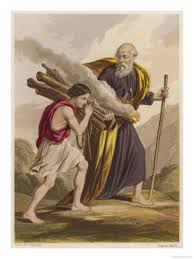 Take Thou Thy Son

Almighty God told Abraham to take
His son and be prepared to give him up;
A sacrifice that He Himself would make
When Jesus drank from sorrow's bitter cup.

He bound the lad and raised his hand to slay
His precious Isaac at the Lord's command,
God saw his faith and trust in Him that day
And spared him of that grief none can withstand.

A ram caught in the thicket would suffice,
Bound, slain and for the altar thus prepared,
It is by not witholding sacrifice
And meeting with God's will that we are spared.

Such was the sacrifice God asked of me;
A grieving sad acceptance of His will,
A greater plan that's too obscure to see
Keeps us in faith and trusting of Him still.


© Copyright 2014 Brenpoet (brenmaple at Writing.Com). All rights reserved.
Writing.Com, its affiliates and syndicates have been granted non-exclusive rights to display this work.
Printed from https://www.writing.com/main/view_item/item_id/2010645-Take-Thou-Thy-Son