Printed from https://www.writing.com/main/view_item/item_id/2079195-Jane-Austen-Special-Edition-Newsletter
A Special Jane Austen Newsletter
Editor: Megan Princess Megan Rose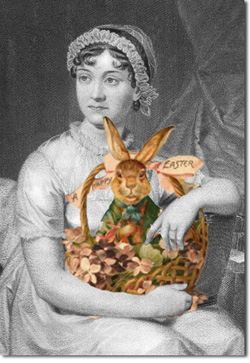 Hi Everyone! This is a special edition newsletter and I have a few things to share. I have a new group Darcy's Ladies and a Darcy Writing Challenge. I commissioned a new Darcy Merit Badge and I hope it will be out soon. To get one, check these out:

The Darcy Writing Challenge (ASR)
Writing challenge to earn the Darcy Merit Badge.
#

2077921

by Princess Megan Rose
Darcy's Ladies (E)
For all ladies who love Darcy and Jane Austen.
#

2076376

by Princess Megan Rose


I love Darcy and it hit me to commission a new Merit Badge. I thought why not. I hope you will want a Darcy Merit Badge.

What's new in Jane Austen's world? I found some news and I want to share it. Okay. Here goes.

Charleston Heston. Remember him? He played in "The Ten Commandments" and "Benhur." My mother liked him. He was a Jane Austen Fan. He had copies of Emma, Mansfield Park and Sense and Sensibility in his collection. I was really impressed. These books sold at an Auction of his things for $3,000 to 7,000 Dollars.

Sir Walter Scott was a big fan of Emma when he read it and he insisted on meeting Jane Austen. She was honored to meet him.

Here is a sad piece of news. On Jane Austen's tombstone, there is no mention of her being an author. How sad. You know, they can add this to her tombstone now. It isn't too late. Like seriously.

Jane had a younger brother George who was sick and had epilepsy and was deaf. Her family didn't raise him. He was raised by another family. Jane's father had a special school for boys and didn't want to be bothered with George's problems. I have worked with mentally challenged people and handicapped people for years and I feel sad when families even now reject their handicapped children.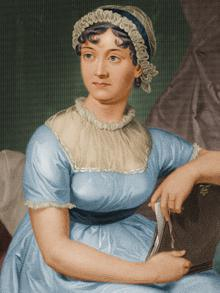 Jane was a big fan of Bath Buns. This was brioche bread served with lots of butter. I would think frosting of some kind would be nice, I would want strawberry jam on mine.

Jane was good at sewing and she sewed buttons on her brother's clothes and was known to make a dress or two as well as hats.

I read that Jane was a fan of children. She didn't write any children's stories but she loved to read to them and spend time with them.

Jane was not a fan of Prince Reagent. She didn't like him but he read Emma and loved the story. Jane's brother Henry got sick and Henry's Doctor was also Prince Reagent's Doctor and he wanted to met Jane. She went to his fancy house for dinner and they became friends. Henry got well.

In Jane's novels, people were always traveling on Easter. Darcy was traveling at Easter and so were some other characters in Jane's novels. I read that Jane visited a friend at Easter and loved holding his bunnies. Jane went to church on Easter and she and Cassandra always got new dresses at Easter. So did her mother and brothers.

I am saving the best for last. Folger Shakespeare Library has Darcy's shirt on display. You know the one Colin Firth wore in the scene he dove in the water at Hyde Park in Pride and Prejudice? Didn't he look sexy? I can't find out where this library is but I would love to see it.

I ordered a new book called "The Jane Austen Files." It has a lot of Jane's letters and new info about her and I hope to read it and share it with you next month.

I hope everyone has a nice Easter. I hope you don't mind the extra newsletter. I wanted to share what's new with Jane Austen. You can always e-mail me if you know any Jane Austen News. You can leave messages here.

Jane Austen Discussion Forum (ASR)
A Forum for authors and members who love Jane Austen.
#

1710273

by Princess Megan Rose
Jane Austen Meeting Place (ASR)
A place to meet other members and write about what you love about Jane Austen.
#

1992432

by Princess Megan Rose


Check out my Dear Friend Minja's JA Contests:

Jane Austen Contest (13+)
Short story contest to celebrate Jane Austen's literature
#

1978499

by ~Minja~
Once Upon a Jane Austen Activity (ASR)
Three months' activity for the lovers of Jane Austen's literature
#

2074187

by ~Minja~



See you next month. Thanks for reading and being a Jane Austen Fan.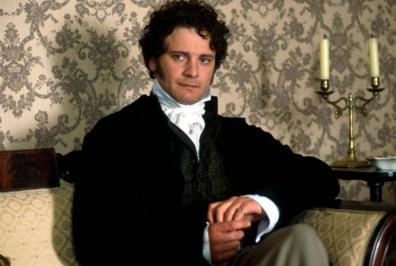 ** Image ID #2035548 Unavailable **

© Copyright 2016 Princess Megan Rose (tigger at Writing.Com). All rights reserved.
Writing.Com, its affiliates and syndicates have been granted non-exclusive rights to display this work.
Printed from https://www.writing.com/main/view_item/item_id/2079195-Jane-Austen-Special-Edition-Newsletter