Printed from https://www.writing.com/main/view_item/item_id/2164633-July-SuperPower-Newsletter
(1)

by

Maryann

Fun times and events for our group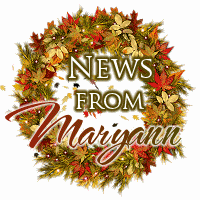 Hello SuperPower Reviewers!

I hope July is truly awesome for you so far. Gosh, the summertime seems to be flying!


I'm sure the students are enjoying time off from school, and people are taking in the sights and sounds of their favorite vacation getaways. As for myself...I've been working hard to teach my new puppy how to be a well-behaved doggy. Gosh, she's almost six months old! She'll be taking her 'good citizen' test in August. Fingers crossed that she will pass!
Congratulations to France for being the World Cup champion! I don't follow it too much myself, but the big event couldn't be missed.

Enjoy the barbeques, swimming, strolling, and atmosphere of the summer. Some of the western parts of the United States hit temperatures around 110 degrees this week.
Wherever you are, please be safe and happy.

Head's up...The August Review raid will take place on August 22nd. No spoilers, but Eyestar and I are very excited about the theme.

I'm on the daily crediting shifts this week, so I'll see you on the affiliated pages.

B I G
"WdC SuperPower Reviewers Group"
has won TWO awards in the most recent Quill Awards.
We won 'Best Group' and 'Best Community'.
It was wonderful that we won those during our 10th anniversary year.

Congratulation to ALL of YOU. Together, you make up the best community on our fantastic site.

Speaking of anniversaries...

The first week of September will mark the 18th WDC Birthday celebration.
Wow! What a milestone! It was like yesterday that the small site of Stories.Com started up. Look what we've become now!


A couple of you have already started to host birthday items to represent "WdC SuperPower Reviewers Group"
during this celebration.
If you are also representing our group, please let us know so we can add it to our flaunting lists.

Once it gets started, please remember to support these fun themed activities. We will have more news about such activities in August. Stay tuned.

The following are just a very few group and member items. If you have an item which you'd love to plug, why not make a post over at: "Superpower Reviewers HUB"









Can't participate? Why not leave a review?


" Magic Words Contest "
13+: A fantasy short story contest. Fantastic Prizes. CLOSED
"The Daily One Scene Contest"
E: Another contest that isn't a Short Story or Poetry one. It's another scriptwriting one.
"Rach's Chocolate Emporium "
13+: A place to purchase reviews, merit badges, and awardicons. We also sell yummy chocolate.
"The Humorous Poetry Contest"
18+: The contest where the rating doesn't matter!~ Last round open~(Oct/22)
"Invalid Item"
:
"Anniversary Reviews"
E: Celebrate Writing.Com member account anniversaries with reviews. Earn GPs and MBs.

"Invalid Item"
:
"The Ghost Club"
18+: My Very First Meeting...
"Map of My Port"
E: Guide to items in my port.
"Invalid Item"
:
"True Love Pantoum"
13+: Poem about romantic love
"God's frog"
E: How do we pursue God? Is it with the exuberance of a six year old?
"Three Wishes"
18+: be careful what you wish for...a two-time 2018 Quill Award Finalist
"Leaves"
E: Seemingly simple leaves.


© Copyright 2018 Maryann (mhicks at Writing.Com). All rights reserved.
Writing.Com, its affiliates and syndicates have been granted non-exclusive rights to display this work.
Printed from https://www.writing.com/main/view_item/item_id/2164633-July-SuperPower-Newsletter