Printed from https://www.writing.com/main/view_item/item_id/834999-Cross-Of-Salvation
(19)

by

Brenpoet

A poem about the Easter Story.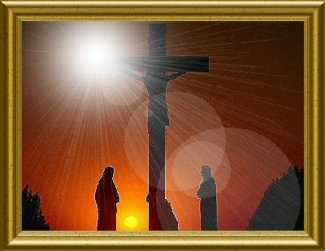 Cross Of Salvation

Cross of shame on which He died
My salvation glorified.
For my sins He suffered long,
This is my soul's grateful song.

For me He died at Calvary
Nailed to crudely fashioned tree.
As soldiers mocked 'neath blackened sky,
He hung between two thieves to die

Friday's death laid in the tomb,
Three dark days in cavernous womb.
When women came to give their care,
They found two Angels seated there.

"He is risen!" they were told
"See the cloth in tidy fold."
He ransomed our iniquity,
Forever He has set us free.

Easter Sunday! All is well!
He will forever with us dwell.
For our souls He paid the price,
And waits for us in Paradise





© Copyright 2004 Brenpoet (brenmaple at Writing.Com). All rights reserved.
Writing.Com, its affiliates and syndicates have been granted non-exclusive rights to display this work.
Printed from https://www.writing.com/main/view_item/item_id/834999-Cross-Of-Salvation