Printed from https://www.writing.com/main/view_item/item_id/996974-Pin-Doll
(6)

A poem inspired by finding an old pin doll in an antique store.
Pin-Doll

I am a small, simple pin-doll,
sojourner on the path of needles
and the path of pins.
I am Ridinghood.
The wolf said I must choose from the two,
motherhood and pins,
the needle path of freedom.
But I have not chosen and
traveled with two maps, practicing invisibility,
mastering bilocation, stitching a prayer into each lace.
I am the magick grandma of the forest,
wise woman, crone, keeper of herbs
and incantations. I live in a hut with two doors,
where gypsy daughters may entertain lovers.
Embracing all between the swaddling and the shroud,
I wash the newborn, and wash the dead.
Pins will pick up pieces of all they contact.
I am a full, ripe, scarlet poppet,
a small, simple pin-doll.


To be published in the inaugural issue of Goblinfruit an e-zine dedicated to exploring fantasy and fairy tales. http://www.goblinfruit.net


In the oldest versions of RidingHood, the wolf does tell her she must choose the path of pins or the path of needles. Prostitutes often wore needles on their sleeves to signify their profession--while young chaste girls were frequently apprenticed to seamstresses to become more "polished" and marriageable. The old fairy tales speak to our universal hearts.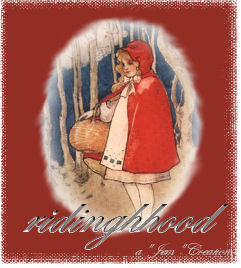 © Copyright 2005 ridinghhood--p. boutilier (ridinghhood at Writing.Com). All rights reserved.
Writing.Com, its affiliates and syndicates have been granted non-exclusive rights to display this work.
Printed from https://www.writing.com/main/view_item/item_id/996974-Pin-Doll