Printed from https://www.writing.com/main/books/entry_id/636108-Not-such-a-welcome-home-
| | |
| --- | --- |
| | A glimspse into my musings ... as rambling, twisted & demented as they may be |
#
636108
added
February 16, 2009 at 10:50am
Restrictions:
None
Not such a welcome home ...
Ahhhh the drama of Mara. *snickers* Hubby is home safe .... about 8:30 Saturday night ....I fixed a great dinner, we talked, headed to bed and my stomach was killing me. The pain got worse until labor would have been preferable. Squirming and whimpering woke up the poor hubby about 1:30 am. When if went to the point of tears, he bundled me off to the ER. After an inept nurse put a port in my arm, they did a blood test, urinalysis, and then finally a CT Scan to waste 3 hours, our country bumpkin hospital couldn't find anything and the pain had subsided to a bearable level. SOooo they gave me a shot for the pain and some vicadin for later and sent me home with instructions to stick to clear liquids and come back if it intensified again.

So I spent all day in bed yesterday and am feeling so so today. I had to go to work because we are having a big 25th Anniversary party for our boss ...25 years as a State Farm Agent. I feel like someone is alternating kicking me in the gut and stomping on my back, but am thankful that it hasn't intensified again.

Thank you to those that sent your well wishes.
I never underestimate the power of prayer and positive thinking.
Aren't you glad you met me??? A laugh a minute!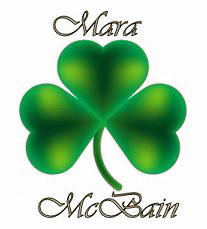 © Copyright 2009 Mara ♣ McBain (UN: irish_hussy69 at Writing.Com). All rights reserved.
Mara ♣ McBain has granted Writing.Com, its affiliates and its syndicates non-exclusive rights to display this work.
Printed from https://www.writing.com/main/books/entry_id/636108-Not-such-a-welcome-home-